Eating produce all year round — both cooked and raw — is one of the healthiest habits on earth. Salads take care of the latter, but they're not exactly crave-worthy in the winter when most of us would rather have warm foods like soups and stews (or starchy comfort foods).
Something that works like a charm to make cool weather salads more enticing is adding something warm or even piping hot to them. And in some cases, serving them warm altogether. Here are 10 seriously delicious warm winter salads that will keep you eating your veggies all season, and coming back for more!
Warm Mediterranean Potato Salad, enhanced with zucchini and artichoke hearts, can be made any time of year, though with its rosemary option is especially fitting for cool weather.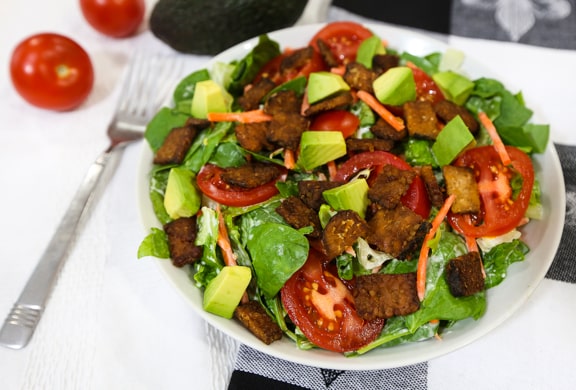 The smoky-sweet flavor of tempeh bacon makes simple Vegan BLT Salad sizzle. Especially in winter, when salad is a lot less tempting than soups and stews, adding something warm and hearty like tempeh bacon makes it more appealing.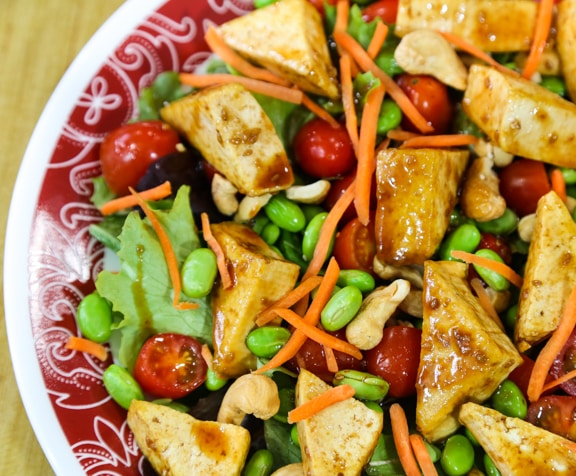 Hot and Cool Tofu Teriyaki Salad features tofu that's been cooked in tasty teriyaki sauce. Though it can be served once the tofu is at room temperature, it's most appealing while it's still hot, contrasting with the other ingredients. For me, this is a winter favorite!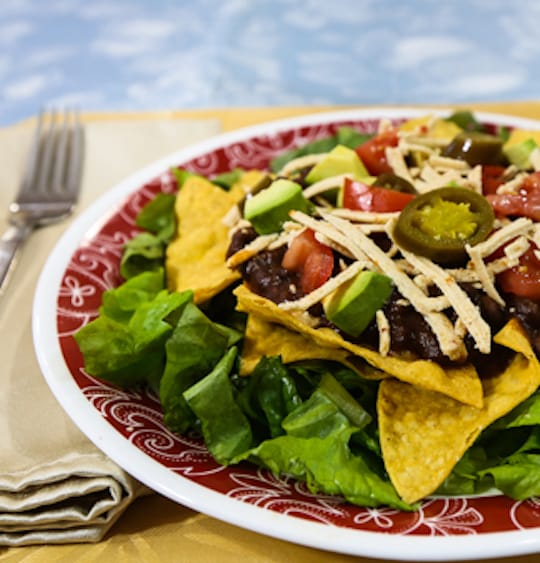 Layered Taco Salad, a cousin to loaded nachos, couldn't be easier to make. The heat is supplied by a layer of Amy's Chili (for convenience), and the spice by chili peppers or salsa. If you'd like to go DIY, this is also an excellent way to use leftover Classic Veggie Chili.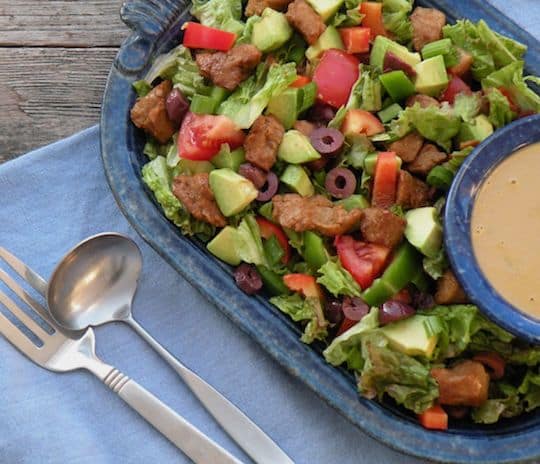 Unless you're avoiding gluten, Hearty Seitan Salad is quite a treat. Featuring strips of high-protein seitan and embellished with avocado and olives, this salad is also delicious served in wraps.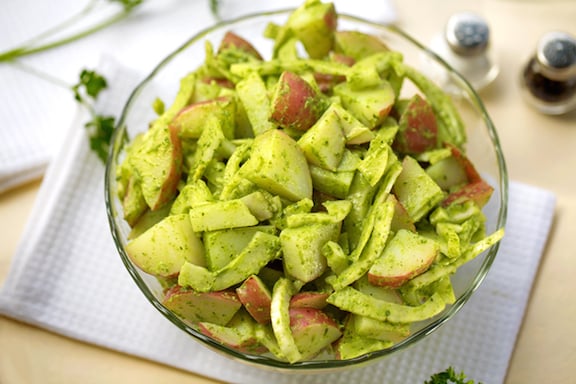 Warm Potato and Fennel Salad with Parsley Sauce is another potato salad meant to be served entirely warm. It's bathed in a richly flavored parsley sauce, and gets a lovely anise flavor from fresh fennel. This is definitely a simple and elegant potato salad to enjoy during the cooler months.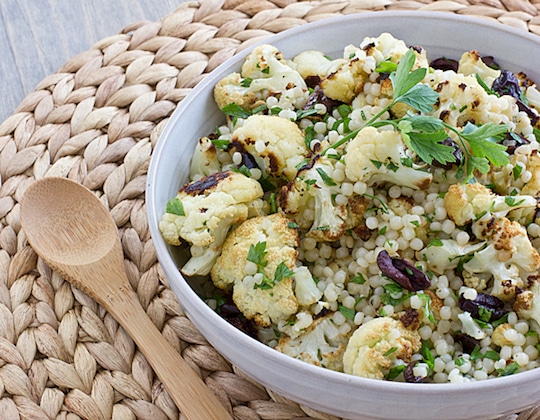 From OhMyVeggies, Warm Cauliflower & Israeli Couscous Salad is a winter delight, made with roasted cauliflower and kalamata olives.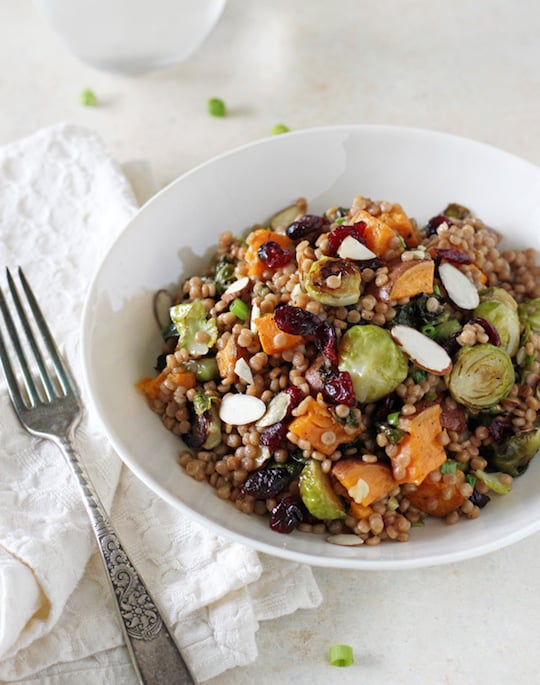 And one more delicious warm salad featuring Israeli couscous and roasted veggies from OhMyVeggies — Brussels Sprouts and Sweet Potato Israeli Couscous Salad will brighten up your everyday winter meals; file it away to try with your winter holiday meals as well.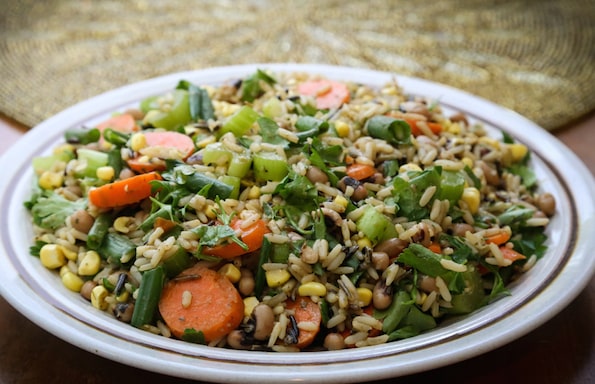 Wild Rice Salad with Corn and Black-Eyed Peas, embellished with vegetables and herbs, is an invigorating melange of flavors, textures and colors. You can serve it warm or at room temperature.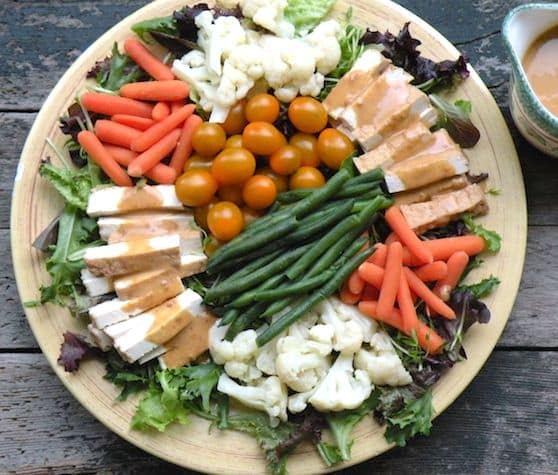 Gado-Gado is a composed salad is inspired by the classic Indonesian platter that combines raw and lightly cooked vegetables. Its name translates loosely to "mix-mix." There are different regional variations, but some of the constant veggies include carrots, cauliflower, and green beans. Though this recipe calls for refreshing the lightly steamed veggies under cool water, you can easily skip that step and serve them alongside and (and atop) the uncooked ones. The delicious peanut sauce pulls everything together once it's on the plate. (and hey, you can warm up the peanut sauce as well!)