Search Results for:
cauliflower avocado bake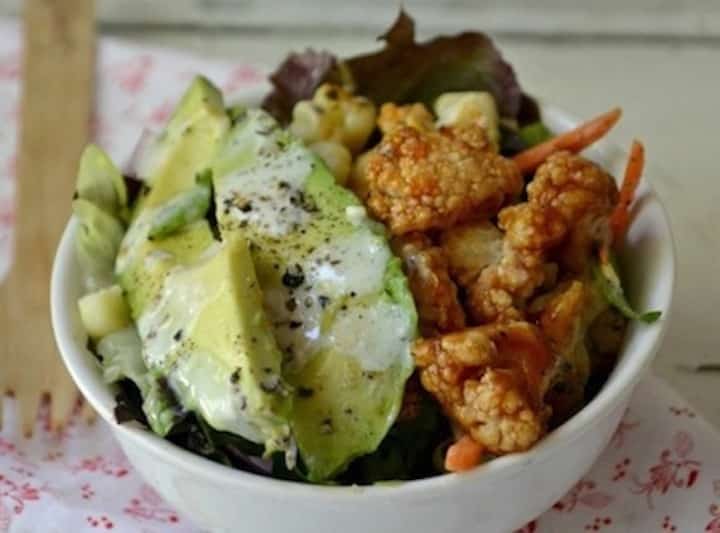 This vegan and gluten-free salad, with the unusual central feature of cauliflower enveloped in barbecue sauce, make a fantastic summer main dish salad, though it would be welcome year round. Once the cauliflower is done, the rest comes together in a flash. Recipes and photos contributed by Cara Reed, from Fork and Beans.
If you want a food that's going to give your body the nutrients and vitamins it needs every day, grab yourself an avocado. Try some of these avocado recipes to see just how great it can be!
Avocados don't just taste amazing, they're also packed with loads of nutrients. These green fruits provide folate, vitamins B, C, K and E, fiber, niacin, potassium and more. The monounsaturated fats help your body absorb the nutrients from other foods as well. more→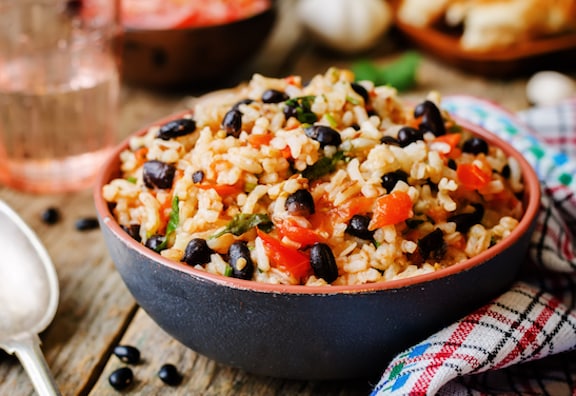 Protein is essential for optimal health. Without protein, there can be no bodybuilding. In fact, protein is such a vital component of human nutrition that we cannot survive without it let alone hope to grow new muscle mass. Simply put, protein is a major constituent of all our cells in our bodies.
With regard to food for vegan bodybuilding, additional physical effort in the form of strength or endurance training mandates an increase in the daily amount of protein required for recovery and regeneration including the additional growth of muscle cells. more→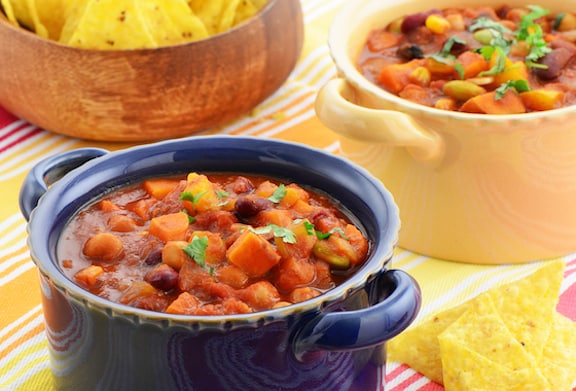 It can be challenging to be either vegan or gluten free, but when you're both, it's doubly tricky to find suitable vegan gluten free recipes. VegKitchen offers lots of vegan gluten free recipes for every meal of the day. Use this list as a great resource for easy, everyday recipes to suit both dietary needs.
For all recipes that contain products that have both GF and non-GF versions, (like soy or teriyaki sauces, broth, and tortilla products), read labels carefully to be sure you're using GF versions. Please contact us (form is above right) if we've gotten anything wrong here as far as GF and we will make the correction post haste!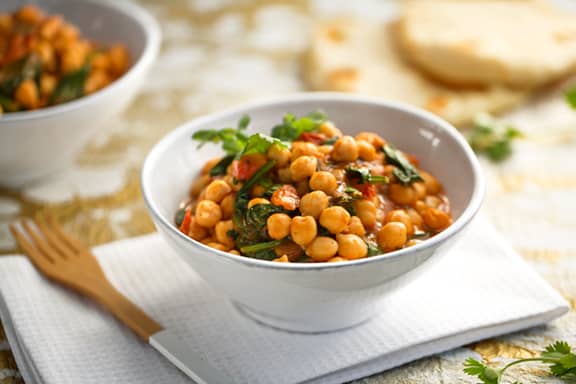 Even people who say they don't like beans often like chickpeas. Here are some of our favorite healthy chickpea recipes —  easy, tasty, and vegan. Chickpeas are among the most flavorful of the legume family, and add flavor, protein, and texture to so many kinds of dishes — soups, stews, pastas, salads, and sandwiches. Add them to your repertoire today! more→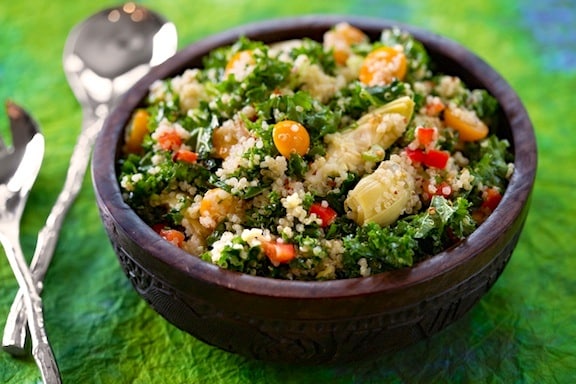 If you need an easy way to serve up a ton of protein and nutrients in one go, you'll want to look into these vegan quinoa bowl recipes. These quinoa bowl recipes serve up fruit, veggies and tasty spices all heaped onto some delicious quinoa. Serve these up for an easy breakfast, lunch or dinner—seriously, you can have them any time of day! more→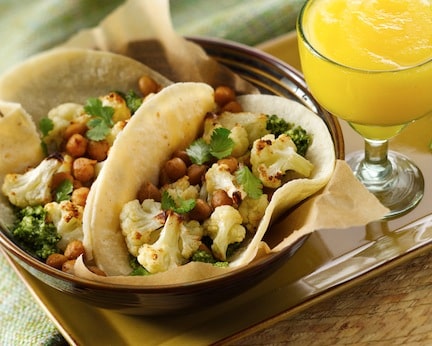 Southwestern and Mexican-inspired meals, including vegan fajitas, quesadillas, tostadas, and tacos are incredibly easy to prepare and to build meals around. Often, you only need to prepare whatever it is that's going to be enclosed in the tortilla, and then set everything else out. Everyone at the table assembles and embellishes their own creation to their own liking. It's all so festive and colorful — no wonder these kinds of meals are often referred to as fiestas! Take a look at these offbeat  Cauliflower Power Tacos — veggie lovers will devour these tacos filled with roasted cauliflower, crispy chickpeas and flavorful cilantro pesto. more→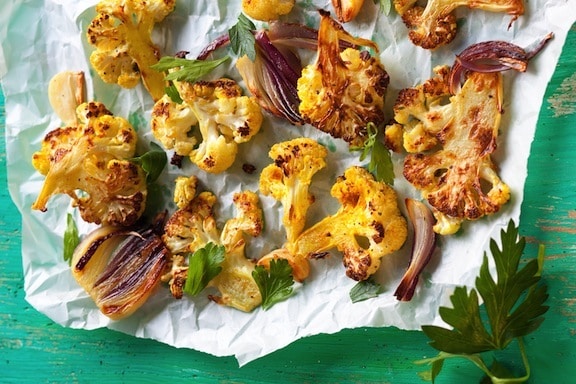 Roast them. Roasting vegetables brings out their natural sweetness, and as with the vegetable fritters above, makes them a comfort food. Try Roasted Cauliflower, above, or combinations of cruciferous veggies (cauliflower, brussels sprouts, etc.), root vegetables, and squashes, Explore our wide array of Roasted Vegetable Recipes.  more→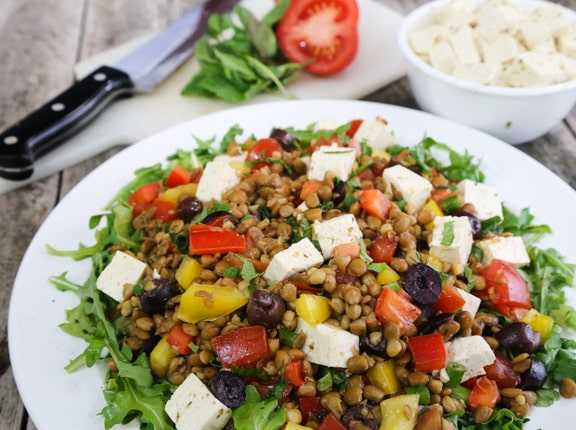 Even if your kitchen is air-conditioned, there's something nice about not having to turn on a single burner to make dinner when it's hot outside. Here's a varied range of vegan entrees, along with ideas for rounding them out, for just those kinds of days. Hearty Greek-Flavored Lentil Salad with Tofu "Feta" keeps its no-cook promise by using canned lentils. Serve this gorgeous and luscious dish with fresh pita and finish with a fruity dessert. more→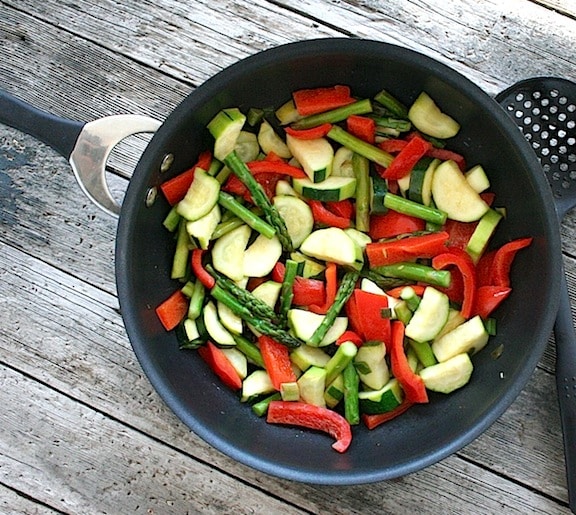 Here's a handy list of the easy veggie recipes you'll find on VegKitchen, from Asparagus to Zucchini, for the most common vegetables from your garden, farm market, or grocery. Most everyone needs to eat more veggies, and here are some tasty ways to do so. more→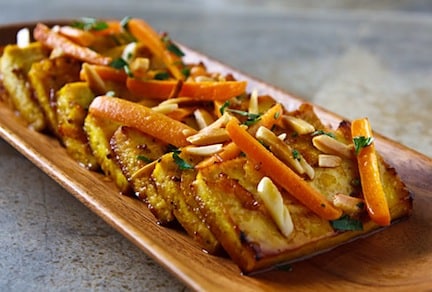 It's time to find the perfect vegan Easter recipes. To create delicious vegan Easter dinner recipes and menus (as well as desserts and treats, all of which also apply to vegetarian tastes), we need only to look to the fresh produce of early spring; light leafy greens, asparagus, beets, carrots, and bright, citrusy flavors. Easter, a holiday for both reflection and rejoicing, carries many connotations of renewal of life. Use these mix and match menu suggestions to create a memorable Easter feast for your family and friends. For lots more vegan Easter recipes and menus in book form, consult Vegan Holiday Kitchen. more→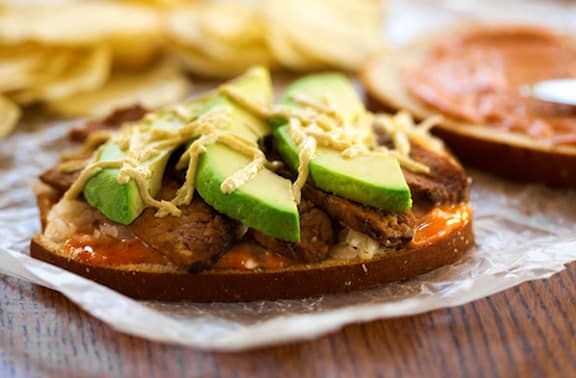 If you're feeding teenagers, especially the male variety, you know that they go through mountains of food, and your grocery bill mounts alarmingly. Here are a handful of hearty, filling dishes that won't break the bank. Now I'm not saying that young women won't like these hearty dishes, but in my experience, at least, they don't eat in nearly the quantity of their male counterparts. more→