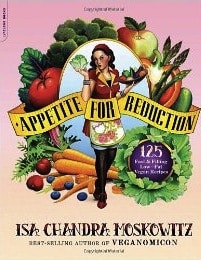 I adore the cover artwork, don't you? It's so beautiful, I'm inspired to write another book just so I can ask Lisa Diercks to design the cover. Did I mention that Isa wrote this book just for me? Well, not really. It only feels like she wrote it for me. Actually, she wrote it for her own personal reasons. But let's be honest: Who among us hasn't eaten more than our fair share of vegan cupcakes and cookies? (Thanks in no small part to Isa.)

After all that indulgence, I celebrate Isa Chandra Moskowitz for creating Appetite for Reduction: 125 Fast and Filling Low-Fat Vegan Recipes* and for filling it with so many gorgeous, delicious, low-fat, low-calorie, winning recipes.
AFR is written in Isa's characteristic easy, breezy style,—and it's peppered with lots of helpful sidebars, like the "Ingredient Scavenger Hunt". The introduction to each recipe is sprinkled with amusing tidbits like "Don't be like Dick Cheney, cook your pasta properly!" This will make you smile a lot, which is a very good thing to do when you're playing with food.
You won't find any tempting desserts in this book, but what you will find are more than 270 pages of super-satisfying soups, salads, sandwiches, sides, stews, bakes, bowls, casseroles, curries, and pasta dishes, many with whimsical names like Unfried Refried Beans, Cajun Beanballs and Spaghetti, and 2nd Avenue Vegetable Korma residing in equally adorable-sounding chapters like "Rub-Your-Tummy Veggies" and "Talk Pasta to Me (& Noodles!)." These dishes are made with easy-to-find ingredients, and you won't have to spend hours in the kitchen preparing them (many can be made in under 30 minutes!). The 14-page insert of full-color photographs will make your mouth water, even if you're not hungry and will inspire you to roll up your sleeves and get cooking. (The photo of Spinach Lasagna with Roasted Cauliflower Ricotta & Spinach is jaw-droppingly spectacular.)
If you haven't already sampled the recipe for Isa's OMG Oven-Baked Onion Rings, you'll want to go straight to page 55 as soon as you get this book in your hot little hands. (Or maybe you'd like to take a quick detour to the color insert facing page 146, where you'll find a mouth-watering photo of Isa's onion rings.) These babies brought back happy childhood memories of paper-mâché masks and huge side orders of onion rings from the Belaire Diner—but without the newspaper and the high-fat grease. Making them was gobs of fun. Eating them was even more fun!
Deciding what to make next was a bit more challenging. OK, maybe not so much. Everybody knows how much I love barbecue. I honed in on the recipe for Tamarind BBQ Tempeh and Sweet Potatoes. This was seriously the most delicious barbecue sauce I've ever eaten and by far, the easiest to make. I marinated the tempeh for over an hour and was glad I did, because the sexy-sweet, tangy-tart flavor of tamarind made the sauce really sizzle. This dish would have been great with onion rings, but since I'd already eaten like a hundred of them that day, I served it with Polenta Stuffing (one of Isa's recommendations.) It wasn't even Thanksgiving, but it sure seemed like a holiday meal!
I really wanted to try the recipe for Quinoa, White Bean, and Kale Stew, but I didn't have any white beans on hand. So instead of substituting, I chose Smoky Tempeh and Greens Stew, as I always seem to have tempeh in the fridge. (Interestingly, Isa says you can substitute white beans for the tempeh in this dish, if you happen to be out of tempeh). The seasonings in this dish (think: lots of smoked paprika) were very mellow, but blended together beautifully. Only Isa could get me excited about a dish that has lima beans in it. And this one tasted better with every bite!
Mark and I were really in the mood for pasta. But which recipe? (Pasta de Los Angeles and Creamy Mushroom Fettuccine were both contenders). I decided on Fusilli Roasted Veggie Primavera, because fusilli is fun to say and tickles your tongue when you eat it. This was one of those dishes that makes you want to sing Italian love songs while you're making it, and makes you feel like you're in Little Italy while you're eating. In a word: magnifico!
If you want to treat your taste buds to lots of delicious new recipes and your be very good to your waistline at the same time, don't wait another second to get yourself a copy of Appetite for Reduction.*
Gail Davis is the author of So Now What Do I Eat? The Complete Guide to Vegetarian Convenience Foods, Vegetarian Food for Thought,* and scores of magazine and newspaper articles on healthy living. She is also a speaker, nutritional consultant, and personal food coach, and has taught thousands of eager epicureans how to incorporate vegan cuisine into their lifestyle. She shares her favorite products, books, and recipes on her blog, Hungry Vegan. 
*This post contains affiliate links. If the product is purchased by linking through this review, VegKitchen receives a modest commission, which helps maintain our site and helps it to continue growing!