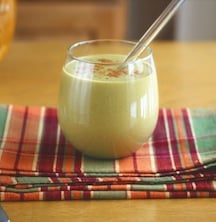 I know that pineapple isn't a component of all carrot cake recipes, but the carrot cakes I liked the most were always those that included it.  Similarly, you can omit the coconut if you're not a fan.  The walnuts add Omega-3s add more protein. Recipe and photo contributed by Ricki Heller, from Diet, Dessert and Dogs.

Makes 1 serving
2 to 6 leaves mild-tasting lettuce (to your taste)
1 large carrot, steamed
1 tablespoon lemon juice
½ cup  fresh or frozen pineapple chunks
1 tablespoon unsweetened shredded coconut
2 tablespoons raw walnut pieces
½-inch piece fresh ginger, peeled
7 to 10 drops plain or vanilla stevia liquid, to your taste
1 teaspoon cinnamon
1 scoop of your favorite plain or vanilla protein powder
(I used SunWarrior vanilla)
1 cup unsweetened soy, almond, rice or hemp milk
Combine all ingredients in a high-speed blender and blend until perfectly smooth, scraping down sides a couple of times if necessary (for a cold smoothie, add 2-3 ice cubes).
Pour into a large glass and garnish with a sprinkle more cinnamon, if desired.
Ricki Heller is the author of Sweet Freedom and several e-books on specialty cooking subjects. Visit her at Diet, Dessert, and Dogs.