Spinach, baby corn, and tiny orange sections are featured in a salad that yields abundant pleasure with little effort in preparation. This is a perfect one to team with an Asian-style stir-fry or noodle dish.  Photos by Evan Atlas.
Serves: 4 to 6
3 to 4 ounces baby spinach leaves
15-ounce can baby corn, drained
1 heaping cup daikon radish or white turnip, cut into matchsticks
12 baby carrots, sliced in halves or quarters lengthwise
(depending on thickness), or 1 cup coarsely grated carrot
3 tiny seedless oranges, such as clementines, sectioned,
or one 11-ounce can mandarine oranges, drained
2 scallions, thinly sliced
¼ cup toasted slivered almonds
Salt and freshly ground pepper to taste
Dressing:
2 tablespoons lemon or lime juice, or more, to taste
1 tablespoon dark sesame oil
2 tablespoons orange juice, preferably fresh
2 teaspoons agave nectar
Combine the salad ingredients in a serving bowl and toss together.
Combine the dressing ingredients in a small bowl and stir together. Pour over the salad just before serving and toss well. Taste to adjust tart / sweet balance, then serve.
Nutrition information
Per serving: Calories: 151; Total fat: 2g; Protein: 3g; Carbs: 31g;  Sodium: 61mg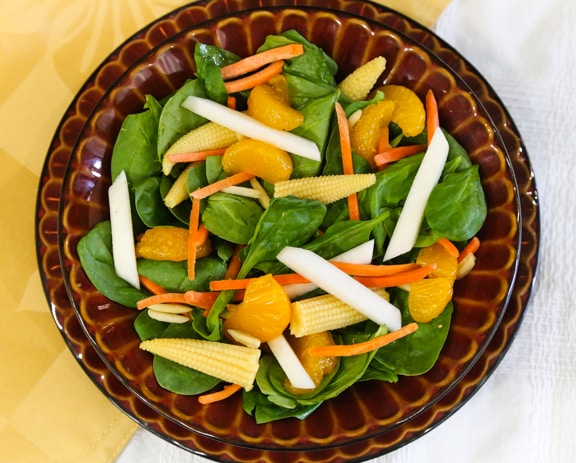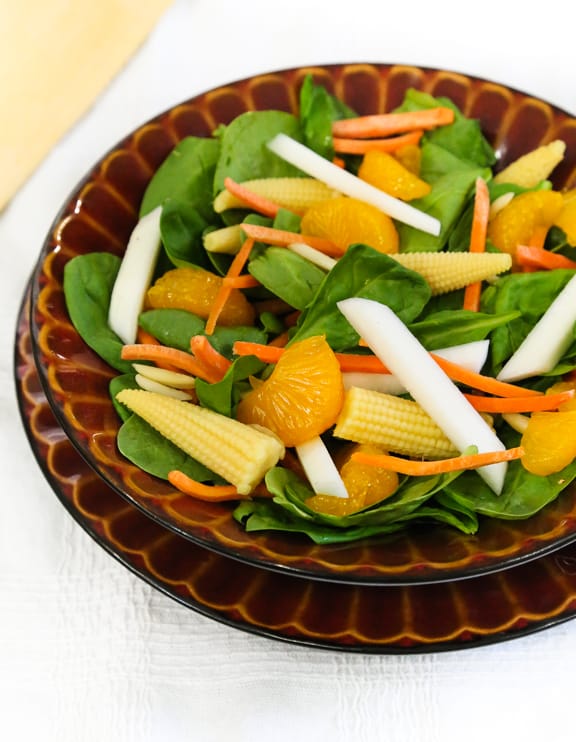 Explore more of VegKitchen's: