Commonly used and well-loved as a vegetable in Asian cuisines, edamame, or fresh green soybeans come in fuzzy green pods containing two of these bright green beauties. Read on to get to know more about them, learn how to cook them, and explore some easy and tasty edamame recipes.
If you haven't prepared them at home, you might have encountered edamame in Japanese restaurants, where they're listed among the appetizers. Popped out of their pods and lightly salted, they're quite addictive! Their flavor is kind of a cross between fresh green peas and fresh baby lima beans — but better.
Edamame can be found fresh in specialty stores, and are easier to find in the frozen foods section of natural foods stores and well-stocked supermarkets. Frozen edamame come in the pod of shelled; what you choose is up to you. They're not markedly different; the shelled variety make for ease of use.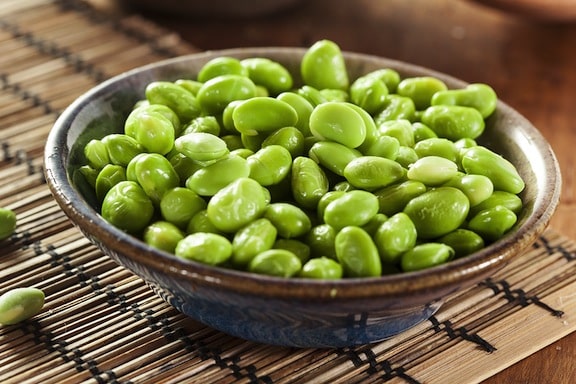 Edamame are more easily digested than cooked soybeans (or any unfermented soy). They're high in protein, as high in vitamin C as oranges, and are rich in the B vitamin thiamine and Vitamin A. They retain more of the nutrients that would otherwise be lost in the process of drying soybeans.
A few ways to use them:
Use edamame wherever you'd use green peas (or baby lima beans).

They're also a nice substitute for chickpeas in spreads or guacamole.

Use them just as they are as an appetizer or a simple side dish to add protein to the plate.

Edamame are great mixed with cooked grains in warm salads or pilafs.

They also have a nice affinity with tomatoes and tomato-based sauces.
To prepare
For fresh (not frozen) edamame, use enough water to allow them plenty of space to simmer in a large saucepan; bring to a boil, add the shelled or unshelled edamame, and simmer for 3 to 5 minutes. Scoop one out after 3 minutes, rinse with cool water (pop out of the pod if cooking unshelled) and see if they're done to your liking. If not, continue to cook for another minute or two.
Another easy way to prepare them is to cover edamame in the pods with boiling water in a heatproof dish and let stand for 10 minutes, then drain.
If using frozen edamame, simply follow package directions.
Whether using fresh or frozen edamame, it's customary to sprinkle with salt, but that's optional.
Edamame recipes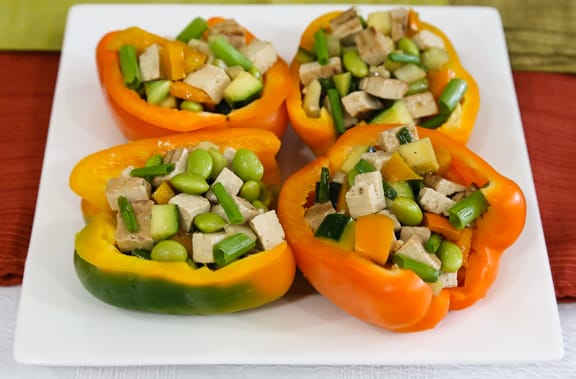 Asian-Flavored Edamame and Tofu Chopped Salad: This unusual salad combines edamame (fresh green soybeans) with baked tofu and crisp, finely bell pepper and zucchini. It goes well with Asian-style rice or noodle dishes (hot or cold), and can also be served on a bed of greens, in lettuce cups, or stuffed into raw bell peppers for a nice touch.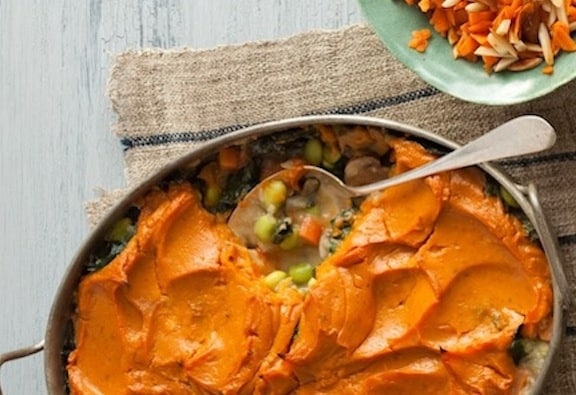 Sweet Potato and Edamame Shepherd's Pie: This vegan sweet potato variation on shepherd's pie by Robin Asbell makes a festive holiday centerpiece, especially for Thanksgiving or Christmas. Greens and edamame meld with mushrooms in the creamy sauce, creating a burst of flavor that's both exciting and comforting.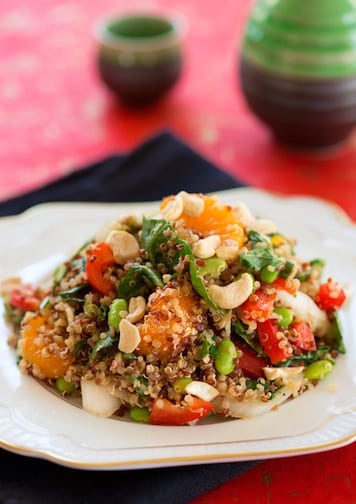 Quinoa with Edamame and Oranges: Tiny orange sections provide a surprising burst of sweetness in this high-protein grain dish. It's flexible, too—use a different grain if you'd like.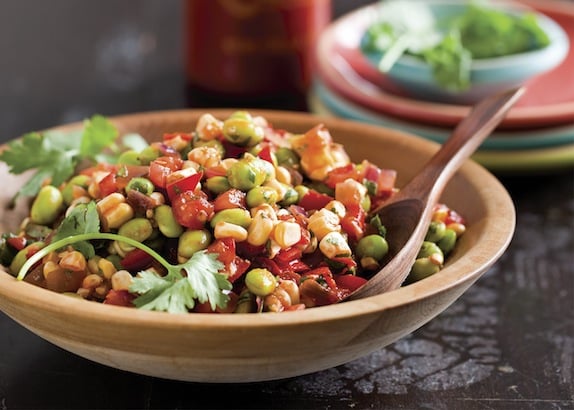 Edamame-Sriracha Succotash: To chill or not to chill: that is the question. While it's true that succotash is delightful served warm, this version can be served cold as a refreshing salad from summer through late fall.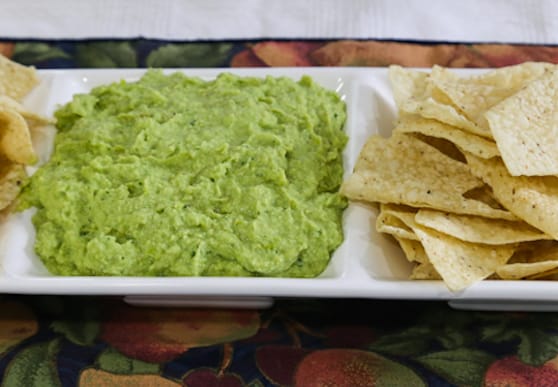 Edamame Guacamole: If you'd like some protein in your guacamole and chips, blending the prime ingredient  — avocado — with edamame (fresh green soybeans) is a great way to do so.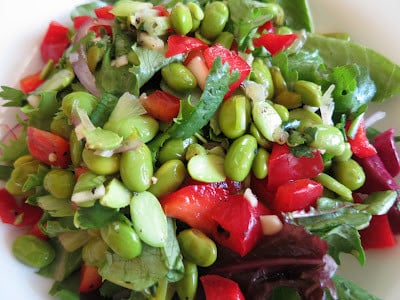 Edamame Salad with Red Bell Pepper: This folate-rich and high-protein salad can be served with or without greens; either way, it's delicious!