Quesadillas make great appetizers to serve with drinks, or as part of meals with soups and salads. They can also be served with heartier dishes such as veggie chili. A quesadilla is a sort of Mexican grilled cheese sandwich in a flour tortilla. Melted cheese is the common denominator of quesadillas, as it helps everything hold together. It's easy to veganize quesadillas simply by using vegan cheese (my favorite is Daiya shreds, as they melt so very nicely — any variety, though the spicy pepper jack is particularly good for this purpose). To improvise and make your own combinations, see the basics in Easy Quesadillas or Soft Tacos — this isn't the kind of dish for which you need to follow an exact recipe.
Let's start with Avocado and Sweet Potato Quesadillas (shown above, and which can also be made into soft tacos, as can some of the other combinations below). The combination of ingredients in these quesadillas is downright sensuous.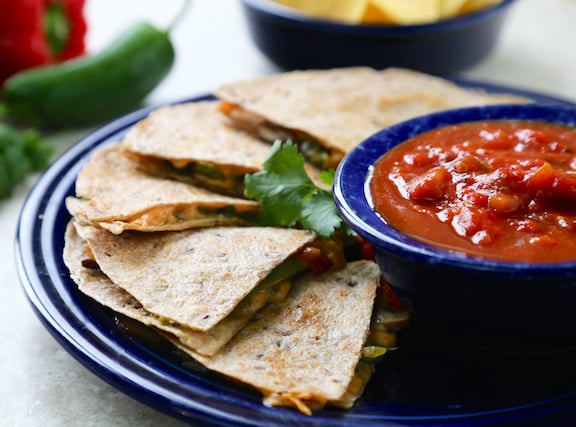 Mushroom and Bell Pepper Vegan Quesadillas are simple and light. They're good served with a hearty grain pilaf or a bean dish, and also make a nice accompaniment to a well-seasoned chili.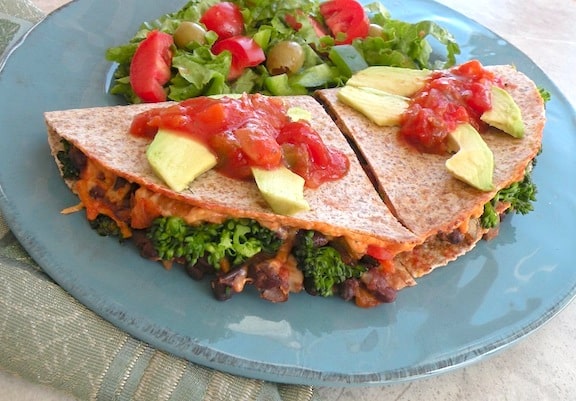 Quesadillas with Black Beans, Broccoli, and Portabellas are generously filled, making a substantial one-dish meal that's easily completed with a simple salad on the side.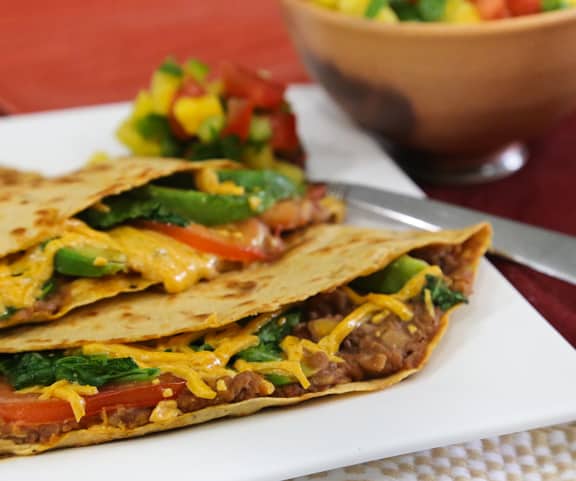 A sweet and spicy pineapple salsa adds an intriguing flavor element to these easy Big Quesadillas with Refried Beans, Spinach, and Avocado. Serve with a simple quinoa salad for a nice meal.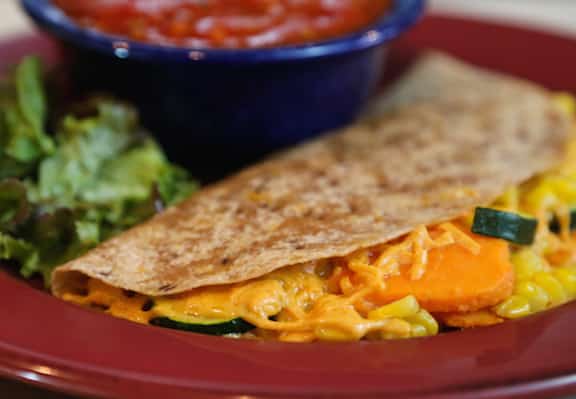 The combination of ingredients in Quesadillas with Sweet Potatoes, Zucchini, and Corn is especially delicious with salsa verde (tomatillo salsa), though it's great with tomato-based salsa as well. For a hearty meal, serve with a simple pinto bean dish like Frijoles Borrachos.