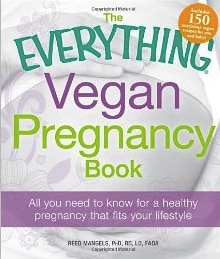 Any woman can feel confident about a vegan pregnancy with the easy-to-read but comprehensive Everything Vegan Pregnancy Book*, written by a registered dietitian who also holds a doctorate in nutrition.
Dr. Reed Mangels, widely respected among dietitians as a leading expert on veganism, is an instructor in the nutrition department at the University of Massachusetts and a co-author of the American Dietetic Association's position statement on vegetarian diets. A long-time vegan herself, she's raised two vegan children, and serves as advisor to the Vegetarian Resource Group.
Given the author's professional and personal experience, it's not surprising that The Everything Vegan Pregnancy Book answers any question that a pregnant woman and her family could possibly have—including meeting nutrient needs, choosing supplements, eating safely while camping, dealing with skeptical family members, and writing up a birth plan.
The book begins with guidelines for getting healthy for women who are contemplating a pregnancy and takes readers through the nine months of pregnancy, along with information on labor and delivery and infant feeding. Dr. Mangels also shares 150 very easy vegan recipes, perfect for pregnant women and their families.
With a focus on practical information, this is an essential guide for both new and long-time vegans. Even those who have already experienced a vegan pregnancy will find important information here.
Everything Vegan Pregnancy Book* will reassure family members that a vegan diet is a safe and healthy choice for pregnant women, while providing the essential information that every pregnant vegan woman needs.
Virginia Messina is a dietitian specializing in vegan nutrition. Her new book is Vegan for Life: Everything You Need to Know to be Healthy and Fit on a Plant-based Diet.* Learn more about vegan nutrition by reading her blog The Vegan RD, or by following her twitter.
*This post contains affiliate links. If the product is purchased by linking through this review, VegKitchen receives a modest commission, which helps maintain our site and helps it to continue growing!