Excerpted and adapted from from Plant Power: Transform Your Kitchen, Plate, and Life with More Than 150 Fresh and Flavorful Vegan Recipes by Nava Atlas. ©2014, published by HarperOne, reprinted by permission. Photo above by Hannah Kaminsky. The plant-powered kitchen need not be magazine-gorgeous and outfitted with the latest gadgets and appliances. These things would be nice, of course, but they're not required to create delicious meals. Still, an assortment of basic tools can make life in the kitchen easier and, in some cases, more enjoyable. Just as with pantry items, you don't have to run out and buy all these items at once—or at all. These are tools I enjoy having in my kitchen and that you might, too, as as you begin to enjoy more plant-based meals. Everyone has their favorite kitchen helpers; for me, these first four items are must-haves: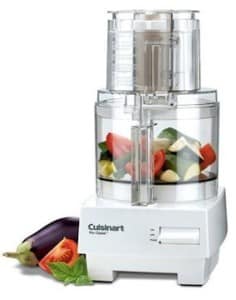 Food processor: A food processor's multiple uses—chopping, grating, and pureeing— make it your best friend among kitchen tools. If you get one of the name brands and take care of it, it may outlive you! I've had the same Cuisinart* food processor for at least fifteen years, and it shows little sign of slowing down.
Wire whisk or coated wire whisk: This inexpensive tool helps make sauces, dressings, and gravies, and it helps when cooking fine grains (such as polenta) to lump-free textures. For cake and pancake batters that come out smooth without overbeating, a whisk is a must.
Kitchen shears: Shears, or kitchen scissors, have endless uses in the kitchen—cutting long Asian noodles, thinly slicing scallions and basil leaves, opening packages, even cutting pizza into wedges if you don't have a pizza wheel.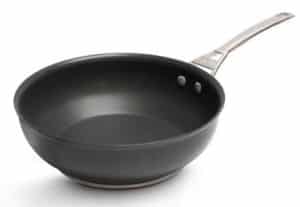 Stir-fry pan: This type of wok-shaped pan will serve you well if you enjoy making stir- fries. It's easier to deal with, in many ways, than a traditional wok—from cleaning to storage. If you make plenty of dishes involving quick-cooked veggies, you'll get a lot of use from a good stir-fry pan. The one made by Circulon*, with a hard-anodized surface, has served me well. Here are a few more items that are quite useful; while they're not absolute necessities, having any of them adds to the ease and enjoyment of your life in the kitchen!
Immersion blender: If you have no room for a full-fledged blender, or don't want to spring for one, an immersion blender can do a lot of the same tricks. My favorite way to use it is for pureeing soups in the same pot in which they cook. With it, there's no need to transfer hot ingredients in and out of a food processor or blender. Easy to use, even easier to clean, and costing a fraction of what a food processor or blender costs, immersion blenders like this one by Cuisinart* are also good for making smoothies and velvety sauces.
Pizza pan or pizza stone: A pizza pan is nothing more than a large round pan designed for baking pizzas. And a pizza stone is just that—a smooth round stone used for the same purpose. A stone ensures crisper crusts and is more tolerant of sharp pizza wheels. With veggie-driven pizzas in regular rotation in our home, both these tools have seen much use. If you like to make pizza, they won't break the bank.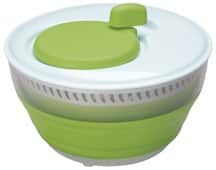 Salad spinner: A salad spinner isn't an absolute must have. Even as a huge fan of salads of all kinds, I did without one for a long time. But once I finally got one and started using it, I was sold! I regret all those paper towels I wasted, blotting delicate leaves for salads and wraps and pressing liquid from kale before massaging it or making kale chips. A salad spinner works kind of like the spin cycle in your washing machine, except that it needs no electricity.
Nut chopper or grinder: I enjoy my nut chopper, which grinds a few nuts at a time into a container, making the process easy and neat. While you can definitely live without it, nut enthusiasts will enjoy this item. It's handy for turning nuts into a tasty topping for noodle dishes, grains, salads, and cereals.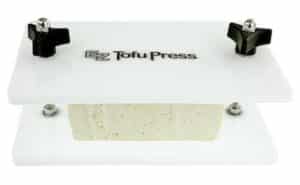 Tofu press: Despite the fact I've been using and enjoying tofu for ages, this is the most recent addition to my roster of favorite kitchen tools. Tofu presses are simple devices using springs or tightening bolts to extract water from tofu efficiently, without any further weights and using no paper towels whatsoever! I enjoy both the EZ Tofu Press and the TofuXpress, which work a bit differently from each other but are both quite handy.
Produce keepers: Especially in the summertime, when garden are bursting with greens and farm market season is in full swing, produce keepers (such as the ones pictured in the first photo above) really do extend the life of produce. Of course, it's ideal to use produce as soon as possible after you harvest or purchase it, but these kinds of containers extend freshness when need be. See our review of the produce keepers by Progressive International.
*This post contains affiliate links. If the product is purchased by linking through this review, VegKitchen receives a modest commission, which helps maintain our site and helps it to continue growing!