In diner lingo, anything spinach is called "Popeye," hence the name for this variation on the classic club sandwich. Although we often see club sandwiches with a third slice of bread, they were originally made with two slices. Some people believe the name came from the club cars, which date back to the late 1800s. This grilled vegetable sandwich recipe is from  American Vegan Kitchen: Delicious Comfort Food from Blue Plate Specials to Homestyle Favorites* (© 2010, Vegan Heritage Press) by Tamasin Noyes.
Serves: 4
½ cup port wine, dry red wine, or vegetable broth
3 tablespoons soy sauce
1 ½ teaspoons dried rosemary
1 ½ teaspoons dried parsley
1 ½  teaspoons dried thyme
3 cloves garlic, minced
2 tablespoons ketchup
⅓ cup olive oil, divided
Salt and black pepper
4 large Portabella mushroom caps, gills removed,
lightly rinsed, and patted dry
2 medium zucchini, trimmed and cut lengthwise into ¼-inch thick slices
1 (12-inch) loaf ciabatta bread, or 4 individual ciabatta rolls
2 large red bell peppers, cut into quarters
1 medium onion, cut into ¼-inch thick slices
1 cup vegan pesto
3 cups packed fresh baby spinach
In a 9 x 13-inch pan, combine the wine, soy sauce, dried herbs, garlic, ketchup, 1 tablespoon of the olive oil. Season with salt and pepper, to taste. Add the mushrooms and zucchini slices and marinate for 15 minutes.
Heat the grill to medium high. Cut the bread in half horizontally, removing some of the insides to create more room for the filling. Brush the cut sides with 2 to 3 tablespoons olive oil. Transfer to the grill, cut-side down. Grill until just turning golden brown, about 2 to 3 minutes. Remove and set aside.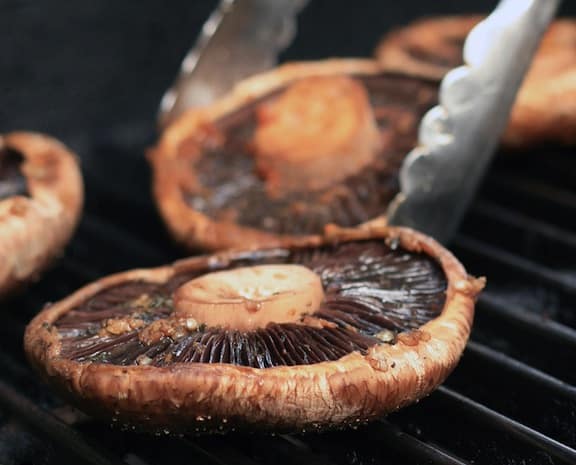 Grill the mushrooms, zucchini, bell peppers, and onion, brushing with remaining olive oil as needed, so the vegetables do not dry out. The time will vary, but should take about 5 minutes per side. Remove the vegetables as they are done cooking.
To prepare the sandwiches, spread the cut sides of the bread with pesto. Layer the vegetables evenly over the sandwich starting with the mushrooms, then the zucchini, bell peppers, and onion. Layer with the fresh spinach, then add the top of the loaf. To serve, press down on the sandwich while cutting, using a serrated knife. Cut into four sections and serve immediately.
Visit Tamasin Noyes' blog, Vegan Appetite.
*This post contains affiliate links. If the product is purchased by linking through this review, VegKitchen receives a modest commission, which helps maintain our site and helps it to continue growing!