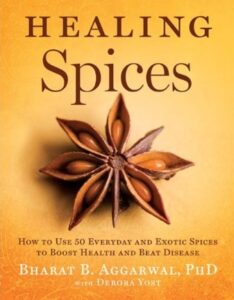 Healing Spices: How to Use 50 Everyday and Exotic Spices to Boost Health and Beat Disease* by Dr. Bharat B. Aggarwal with Debra Yost (Sterling Publishing, 2011), shows us that its not only the whole foods we put into our bodies and the vitamins we take that can improve our health, but that the spices we use to liven up our foods can help heal our bodies and prevent us from being prey to more than 150 health conditions.
As the foremost expert on the therapeutic use of culinary spices, Dr. Aggarwal starts this guide off with a bit of his own history, and how he came about studying the healing power of spices. Growing up in India, he knew their system of natural healing, using spices and herbs to thwart and care for illnesses, not only using them in food, but also putting some directly on cuts or your forehead to cure a fever, to name but one example.
Part One of Healing Spices give a great overview of how to read and use the book, as well as an explanation of what a Spice is exactly and their history. The format of this book is great, you can jump around from spice to spice, recipe to recipe, spice to recipe…or you can start at the beginning and go to the end. Dr. Aggarwal asks that readers: "Just promise me one thing: Don't be intimidated by spices that are unfamiliar to you, or what appears to be a lot of spices in a recipe."
Starting with Ajowan and ending with Wasabi, each entry gives a significant amount of information, including: what the spice is made up of, what it does/heals/prevents, what spices it pairs best with, foods it works well with, a recipe and how to buy the spice. In addition to having very simple drawings of each spice/plant in entries there is a eight page guide in the center of the book with colored photos of each of the 50 spices.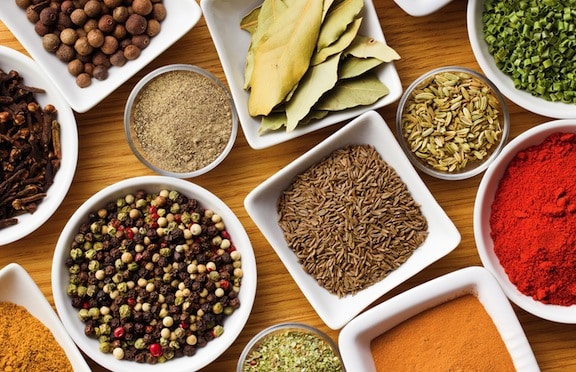 My favorite part of this book is the A-to-Z guide towards the back of the book that is grouped according to the 'condition' you're trying to help or stop. It makes it so that if you're in a rush and looking for a quick answer you can easily open up and find what you need advice on. The best thing about healing spices is that they can't hurt you, they can only help you—and make things taste great!
In addition to the spice entries and the 'condition-by-condition' guide, we are given an entire section on Special Spice Combos, which includes Spice Mixes and Rubs From Around the World and Currying Flavor (creating powders and pastes).
I think that Healing Spices* is a must have for every kitchen—after reading it, I'm planning on going on a spice shopping trip, making mixtures and filling my pantry!
*This post contains affiliate links. If the product is purchased by linking through this review, VegKitchen receives a modest commission, which helps maintain our site and helps it to continue growing!