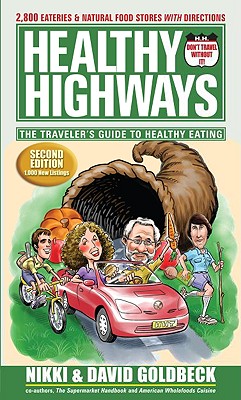 Healthy Highways* (second edition) by Nikki & David Goldbeck is a must for any health-conscious traveler. Covering every state in the U.S., it gives a "healthy" if not exhaustive listing of where to eat on the road, and includes natural foods stores and food co-ops in addition to restaurants, recognizing that it gets pricey to eat each and every meal out while traveling.
We took the book with us on our recent trip to Washington, DC, and thus discovered the wonderful Sticky Fingers Bakery (completely vegan, yummy baked goods, and the most amazing dairy-free grilled cheese sandwiches ever!). We missed visiting Java Green, but we'll look forward to that on our next trip. Healthy Highways provides phone numbers, hours, and even basic directions from main highway points, all in a compact book that will easily fit into any glove compartment. Whether driving or flying, I'm not going to leave home without Healthy Highways.*
*This post contains affiliate links. If the product is purchased by linking through this review, VegKitchen receives a modest commission, which helps maintain our site and helps it to continue growing!