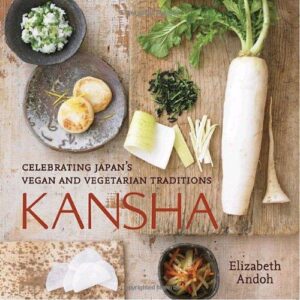 [Contributed by Adriana Pope, reprinted from Vegan Corner] I had the pleasure of speaking with Elizabeth Andoh while she was in Osaka, Japan preparing for her upcoming US book tour. Her newly released cookbook Kansha: Celebrating Japan's Vegan and Vegetarian Traditions* focuses on the ancient Buddhist philosophy of using every part of your ingredients in the cooking process.
Although her recipes are deeply rooted in ancient techniques, her recipes are stunningly modern. Dozens of mouth-watering recipes Lotus Root Dumpling soup, Skillet-Seared Daikon with Yuzu, and faux Glazed Eel rouse the senses. I have to admit, this book is a bit on the challenging side because most of the recipes call for foreign ingredients, but this book contains rare culinary secrets about how to create authentic tasting Japanese dishes without using any animal products. The title of this book Kansha is a double entendre in the Japanese language which means "nature and appreciation." Kansha encourages us to prepare nutritionally sound and aesthetically satisfying meals that avoid waste, conserve energy, and preserve and sustain our natural resources. Plus, we've included a special recipe at the end of this interview so you can see how wonderful these recipes really are!
VC: What inspired you to create an all-vegan cookbook even though you're not vegan?
EA: My diet is almost entirely plant based. I am familiar with the challenges of trying to maintain the vegan diet, as well as the reaction that others have it to. This is part of what fueled my desire to have a book specifically on this. My goal was to point out that it's all about abundance, not absence.
VC: How can I practice Kansha in the kitchen?
EA: One of the inherent values of Kansha is no waste and using the food fully. If you 're a taking a daikon… its got the peel, the tuft, the leaves, the center core, the different segments; they all have flavor characters and textures, but every part of that vegetable should be used and nothing should go to waste.
VC: What Japanese pantry ingredients do you suggest vegans acquaint themselves with?

EA: The simplest and most effect way of creating intense flavor without using animal products is cooking with Kombu, also known as kelp. The three most popular types of kombu are: Rausu, ma kombu, and hidaka. Hidaka is the easiest to extract flavor from and more readily available to people who live outside of Japan.
Once it's been used to make stalk, it can be used in a variety of ways in cooking. Part of the Japanese notion of being a great cook is to have an extensive repertoire for using one ingredient. And indeed, the ancient notion of Kondate Zukushi is using something and making an entire meal out of it in a premeditated way. People should view food as having a lot of potential; think of every vegetable as multi-tasking. Every vegetable has the potential to be lots of different things.
VC: What are you most excited about during your upcoming book tour?

EA: When I visit the cooking school in Portland, Oregon [Portland Culinary Alliance] my plans are to make an impromptu soup with any vegetable scraps that the students have leftover from cooking their previous meals. The students are really excited about it, and it will be a lot of fun.
________________________
[A note from Nava: The recipes in this book are very authentic, which means that their ingredients will be challenging to find for non-urban dwellers without access to Asian groceries. So for this sampling, I chose a recipe whose ingredients are readily accessible.]
Warm and Spicy Cabbage and Pepper Slaw
Reprinted fromKansha: Celebrating Japan's Vegan and Vegetarian Traditions* by Elizabeth Andoh
Cabbage, both briefly cooked and raw (finely shredded), is found on menus year-round in Japan, though springtime brings sweet, crisp yet tender-leaved heads of vitamin-packed haru kyabetsu to market. They are fabulous, and even the most skeptical eaters may rethink their opinion of cabbage. Outside Japan, I would substitute with crinkly leaved Savoy cabbage or tender, young Brussels sprouts.
Serves: 4
Cut the cabbage in half, remove the core segment, and slice the ore into paper-thin shreds. Set the slices aside. Cut eh leafy portion of the cabbage into ¼-inch-wide strips. Keep the two shapes in separate piles. If using Brussels sprouts, trim and then quarter them through their stems.
In a small bowl, mix the miso with the stock and set aside.
Heat the oil in a skillet or wok over medium heat. Begin by stir-frying the shredded core of the cabbage or the Brussels sprouts, for about 1 minute, or until the pieces go limp. Then add the onion and continue stir-frying for about 2 minutes, or until the onion wilts, begins to color slightly, and becomes very aromatic. Add the leafy cabbage strips and the peppers and continue to stir-fry for 40 to 50 seconds, or until fragrant and slightly wilted.
Sprinkle with the salt, then add the saké. Stir-fry vigorously for 10 to 15 seconds, then pour in the miso mixture around the outer rim of the pan. Raise the heat to high and stir-fry vigorously for 30 seconds, or until the vegetables are slightly glazed.
Serve immediately, slightly mounded, in small individual bowls, or serve family style from a large bowl. Or, let cool, chill, and serve chilled. The slaw will keep in the refrigerator, tightly covered, for up to 4 days.
*This post contains affiliate links. If the product is purchased by linking through this review, VegKitchen receives a modest commission, which helps maintain our site and helps it to continue growing!