Summer hangs on by its fingernails, with its unofficial end not coming until next Monday, a late Labor Day on September 7th. And to prove its point, it's still hot, even for this time of year, almost everywhere. So this week, we'll keep the heat down to a bare minimum in these easy late-summer meals. 
Greek-Flavored Lentil Salad with Tofu Feta —above — is easy enough to make for everyday meals, and impressive enough to serve on special occasions. So if you miss out on making it today, consider it for your Labor Day weekend festivites. All you need to finish the meal is a crusty bread or pita and some hummus to spread on it. End with fresh summer fruit.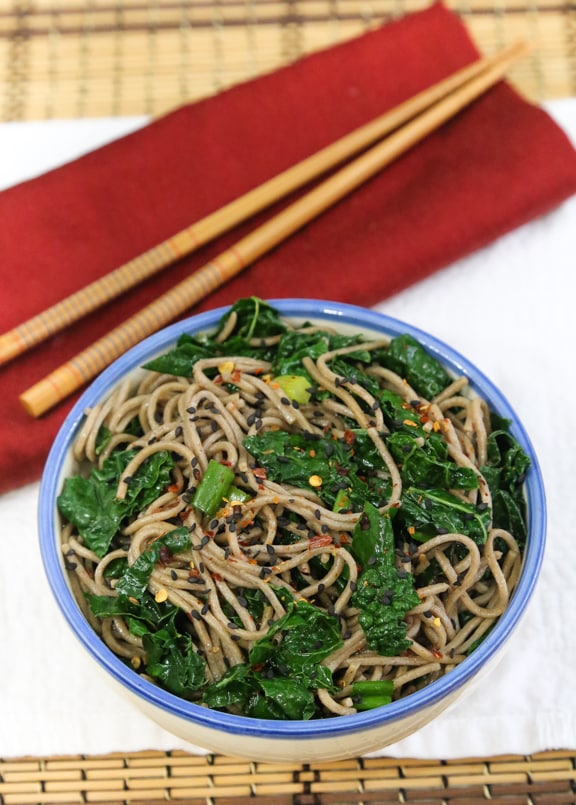 Sesame-Ginger Soba Noodles and Greens is a simple noodle dish is laced with lots of kale or collard greens and flavored with a piquant ginger dressing. For an easy meal, serve with veggie spring rolls from your natural foods store's frozen foods section, and a platter of slices of baked tofu, tomatoes and cucumbers.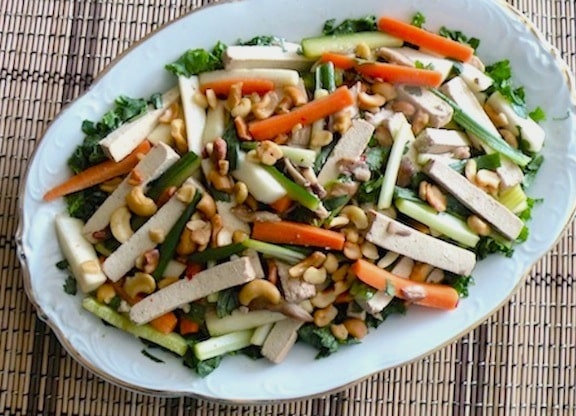 Chinese-Style Shredded Cold Vegetables and Tofu is a veganized version of an Asian cold dish thatn features matchstick-cut vegetables and a chewy baked tofu. If you have leftovers of last night's cold noodles, this would be a perfect pairing. If not, serve with any simple cold noodle or rice dish.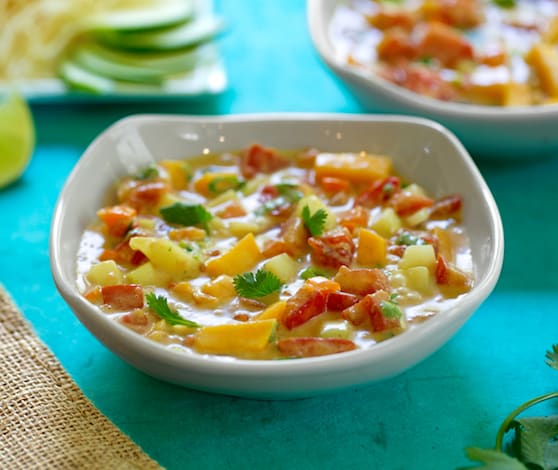 Think of this no-cook Cold Tomato-Mango Coconut Soup as a Thai-flavored gazpacho. It's best with really lush summer tomatoes. Serve with a cold noodle dish for a quick summer meal. Leftovers from the last two nights would be great to finish up with this meal!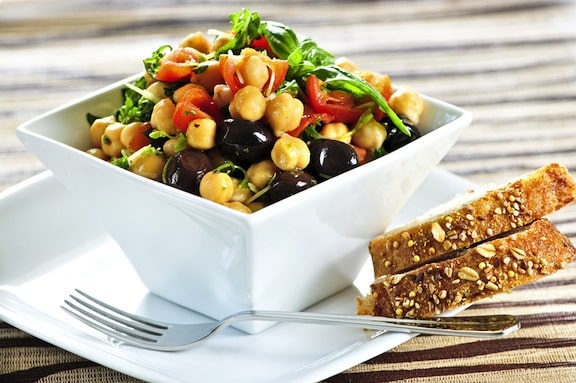 End the week on a really easy note with Chickpea Salad with Tomatoes and Basil. Serve side-by-side with a potato salad or slaw, or with any simple summer cold soup — if you have last night's available, so much the better. Either way, add some fresh corn.