Here's a dressed-up potato salad that's easy to make, with the warming touch of leeks. It's great with grilled dishes, and is a nice potluck or company dish for spring and summer. 
Serves: 6
4 medium-large red-skinned or Yukon gold potatoes, scrubbed
(about 2 pounds)
4 slender leeks or 2 large leeks, white and palest green parts only
1 tablespoon extra-virgin olive oil
6- to 8-ounce jar marinated artichoke hearts, halved or quartered,
with a little of their liquid
1 medium red bell pepper, cut into narrow, 1-inch strips
1 cup steamed fresh or frozen green peas
Prepared or homemade Vinaigrette dressing
(or try Grainy Mustard Vinaigrette), as needed (start with about ⅓ cup)
Salt and freshly ground pepper to taste
1 to 2 scallions, green parts only, thinly sliced, or several minced fresh chives
Finely chopped fresh dill or parsley, as desired
2 tablespoons toasted sunflower seeds
Cook or microwave the potatoes in their skins until done but still firm. When cool enough to handle, but still warm, cut in approximately ¾-inch chunks. Place in a serving bowl.
Trim the leeks and cut in half lengthwise. Cut ¼-inch thick crosswise, then rinse well in a colander. Separate the rings and mix them up a bit with your hands, to make sure you get rid of all the grit.
Heat the olive oil in a large skillet or steep-sided stir-fry pan along with ¼ cup water. Add the leeks, then cover and cook until tender, stirring occasionally, about 8 to 10 minutes. Add a bit more water if the skillet gets dry; on the other hand, if any liquid remains, drain it off.
Add the leeks, artichoke hearts, bell pepper and peas to the bowl with the potatoes. Add enough vinaigrette to moisten the ingredients.
Stir in the scallions, dill or parsley, and sunflower seeds. Season with salt and pepper and stir together gently and thoroughly. Serve at once or let stand at room temperature until needed.
Nutrition information
Per serving: Calories: 267;  Total fat: 7g;  Protein: 4g; Carbs: 46g Sodium: 86mg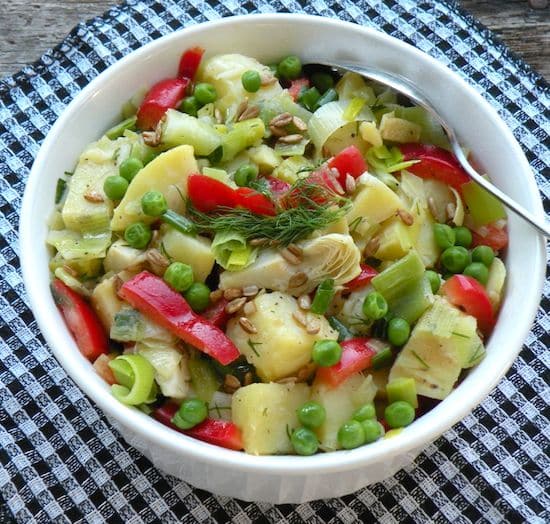 See more of VegKitchen's recipes for

potato salads.

Here are more recipes for

onions, garlic, and leeks.