Though most of us love summer, let's hope that this final week in July puts an end to the over-the-top heat. Now we can look forward to the (usually) balmier weather in August. The plus side is that fresh produce of all sorts is continues to be in abundance, so let's take full advantage of it this week in ways that don't require too much heat in the kitchen. Note the judicious use of leftovers from one meal to the next!
The only cooking you'll need to do for Greek-Style Pasta Salad above is the pasta itself. Everything else gets tossed in and seasoned with fresh herbs and your favorite vinaigrette. Pick up some fresh pita, hummus, and stuffed grape leaves to go along with it.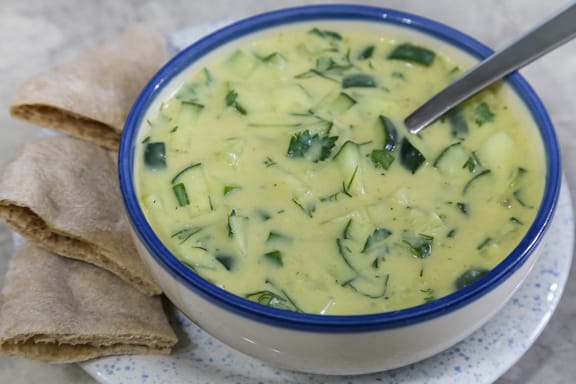 Here's a nearly-instant Cold Curried Cucumber Soup to build your meal around. You can use up some of the herbs you got for yesterday's salad, and use up the fresh pita and hummus you purchased as well. Any leftover salad from yesterday's meal? Serve it with this soup. Add some fresh corn on the cob as well, if you'd like.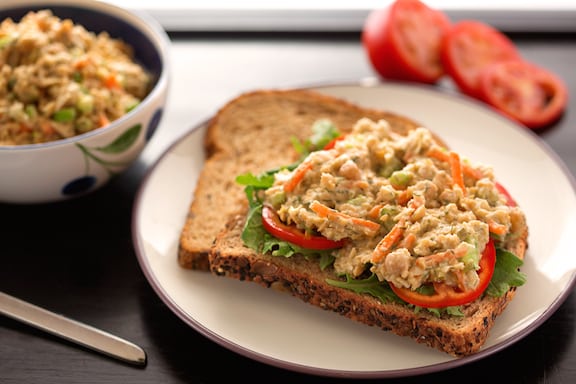 Get out of the kitchen quickly with Sharon's Chickpea Salad or Sandwich Spread. Serve with fresh bread or on a bed of greens. Add some of last night's corn and the cob to the meal, and a simple salad or a platter of fresh veggies and olives. Or swap out the savory salad for a summery fruit salad.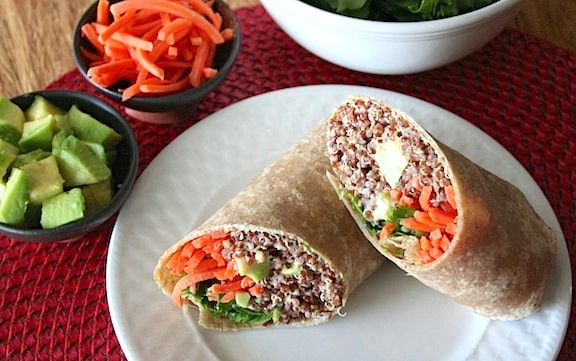 Once you have cooked quinoa on hand, these delectable Asian-Flavored Quinoa Wraps come together fast. Cook some extra quinoa for tomorrow night's dinner. Serve with any kind of fresh tomato salad. For dessert, serve refreshing bowls of your favorite nondairy ice cream topped with blueberries.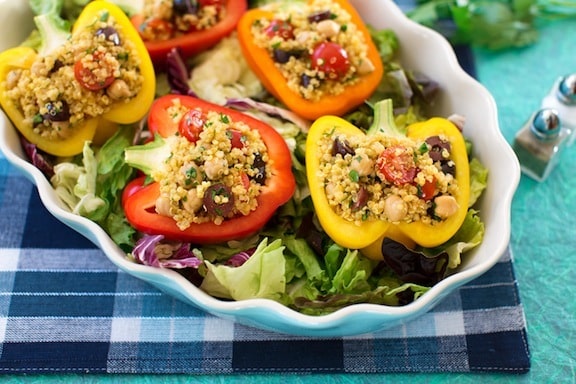 Laura Theodore's Chickpea and Quinoa Salad in Sweet Pepper Boats is a festive way to end the week. The only ingredient that needs cooking is the quinoa, and if you find a way to do that ahead of time, this comes together quickly. Serve with stone-ground tortilla chips and your favorite salsa and/or guacamole.