Ground almonds replace the flour and add sweetness to the topping for this fabulous raspberry fruit crisp. Contributed by Leslie Cerier, from Going Wild in the Kitchen.*
Serves: 4 to 6
Topping:
¾ cup almonds
2 cups rolled oats
¼ cup plain or black walnuts, halved
¼ cup whole cashews
½ teaspoon sea salt
½ cup maple syrup
¼ cup canola oil
Filling:
1 ½ cups fresh or frozen raspberries
1 ½ cups sliced pears
1 cup peeled, sliced apples
½ cup fresh or frozen blueberries
Preheat the oven to 375 degrees F.
To make the topping, place the almonds in a food processor and grind to a meal. Transfer to a large mixing bowl along with the oats, walnuts, cashews, and salt, and mix well. Add the maple syrup and oil, and stir until well blended.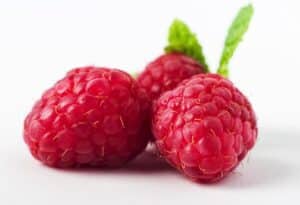 Arrange the raspberries, pears, apples, and blueberries in the bottom of a 2-quart baking dish.
Cover with the topping, pour the juice on top, and bake 30 minutes, or until the fruit is hot and bubbly and the topping is crisp. Serve warm, spooned into bowls.
Leslie Cerier is a gourmet organic caterer, cooking instructor, nutritional expert, advocate for sustainable agriculture, and award-winning photographer. She is the author of Gluten-Free Recipes for the Conscious Cook,Going Wild in the Kitchen,* The Quick and Easy Organic Gourmet* and coauthor of Sea Vegetable Celebration.* A pioneer and national authority on wheat-free baking, cooking with wild foods and whole grains, she has developed recipes for organic food companies and published dozens of articles on vegetarian cooking, nutrition, and organic lifestyle. You can visit her website at LeslieCerier.com. *This post contains affiliate links. If the product is purchased by linking through this review, VegKitchen receives a modest commission, which helps maintain our site and helps it to continue growing!