I've had the original edition of Raw Food Made Easy for 1 or 2 People by Jennifer Corbleet for some time now. In the summer, I like to try for at least 60% raw food, simply because eating raw makes so much sense when fresh fruits and veggies are at their most abundant.
But much as I love my Vitamix for making fresh smoothies and all manner of soups and sauces, I could never seem to get with the program of dehydrating and sprouting that's prevalent in the raw food world. It sometimes seems like you need to start something on Monday in order to have it for dinner on Wednesday.
That's not true of this book, and that's why I've always liked it! The recipes are simple and to the point; no planning days in advance to enjoy a tasty raw meal. Just the opposite — so long as you have the ingredients (which are, mercifully, easy to find), these recipes are ready in minutes. I recently received the revised edition of Raw Food Made Easy for 1 or 2 People,* featuring not only 50 new recipes, but an enticing design and lots of full-color photos.
This book is for anyone, not just those who subscribe full-time to the raw lifestyle. It's also not stridently raw — in fact, one of my favorite recipes from the book, simply titled Ramen, calls for bringing broth and a few veggies to a boil, then removing from the heat. The remaining ingredients, including thin strands of spiral-sliced zucchini (which in this case are ramen noodles in the raw). It's a heartwarming soup that can be made and enjoyed within 15 to 20 minutes. I doubled the recipe, knowing that my family of four would really enjoy this, and they most definitely did.
On hot days, I enjoy cold soups that need no cooking at all, so I was drawn to the Cream of Cucumber Soup, which consists of romaine lettuce, cucumber, and just half an avocado. I was expecting the soup to be good, but it really exceeded my expectations. The avocado and a mere 2 tablespoons of extra-virgin oil gave the soup a surprising richness. And did I mention easy? Basically everything gets thrown in the blender, giving you a summer soup in 10 minutes or less. I had a leftover ear of corn, so I garnished the soup with a few kernels and a sprinkling of cilantro.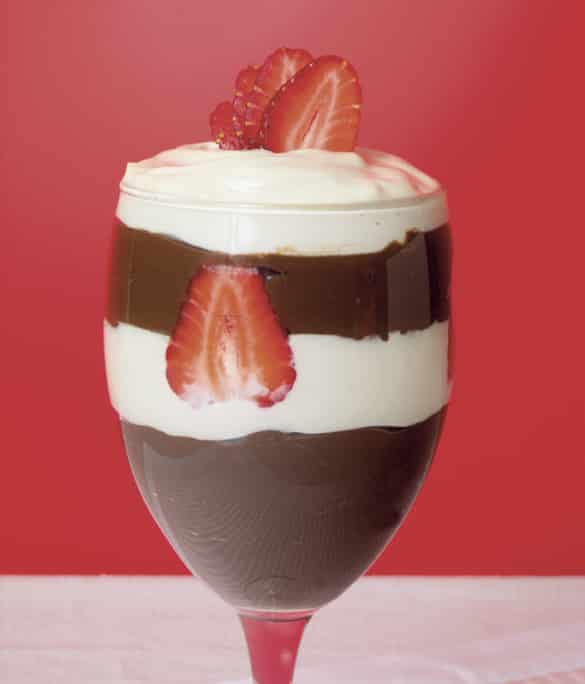 I don't have much of a sweet tooth, but once in a while I enjoy a naturally sweetened treat. But I'm never motivated to make fancy desserts that try my patience, so once again, Jenny's desserts are suited to my style in the kitchen. The parfait of raw Chocolate Mousse (a combination of avocado, dates, agave, and cocoa or carob) layered with Vanilla Creme Sauce (made of cashews) consisted of two contrasting puddings and got the thumbs up from everyone.
Who doesn't love a good Thai-Style Salad? Jenny's extravaganza of red cabbage, carrot, bell pepper, apples, cashews and coconut didn't disappoint. Next time, I'll try it with Mock Peanut Sauce variation. Other recipes I've marked to try include Mediterranean Kale, Latin American Cabbage, Mango Salsa, and Almond Cookies.
If you're curious about raw food, or simply want to add more to your life, there are few books on the subject more friendly and less intimidating than the new, revised Raw Food Made Easy for 1 or 2 People.*
*This post contains affiliate links. If the product is purchased by linking through this review, VegKitchen receives a modest commission, which helps maintain our site and helps it to continue growing!