This easy and colorful seitan stir-fry, embellished with broccoli, zucchini, bell pepper, and pineapple makes a delicious and nourishing meal served over rice or noodles. Complete the meal with one of VegKitchen's many slaw-style salads. To vary this dish, you can substitute tofu for the seitan. Adapted from The Vegetarian Family Cookbook. Photos by Evan Atlas.
Serves: 4 or more
Sauce:
2 tablespoons arrowroot or organic cornstarch, dissolved in a little water
Reserved pineapple juice (see below)
2 tablespoons reduced-sodium soy sauce
3 tablespoons rice vinegar or white wine vinegar
2 tablespoons agave nectar
1 ½ tablespoons olive oil
1 medium onion, chopped
2 medium broccoli crowns, cut into bite-sized pieces
2 medium red bell peppers, cut into 1-inch dice
1 medium zucchini, halved lengthwise, and cut into ½-inch chunks
2 medium tomatoes, diced
20-ounce can pineapple chunks in unsweetened juice, drained, juice reserved
1 pound seitan or 

Homemade Seitan

,

cut into strips
Hot cooked rice or Asian noodles
Chopped peanuts or cashews, optional
Combine the ingredients for the sauce in a small bowl and stir together.
Heat the oil in a stir-fry pan or wok. Add the onion and sauté over medium-high heat, covered, until limp, about 3 to 4 minutes. Add the bell peppers and zucchini and sauté, covered, another 5 minutes, stirring occasionally. Stir in the tomatoes, pineapple chunks, and seitan.
Pour the sauce into the skillet, bring it to a simmer, and cook at a steady simmer for another 5 minutes. Taste, and if needed, adjust the sweet-sour balance with more agave and/or vinegar.
Serve at once over rice or noodles, topping each serving with a small amount of peanuts or cashews, if desired.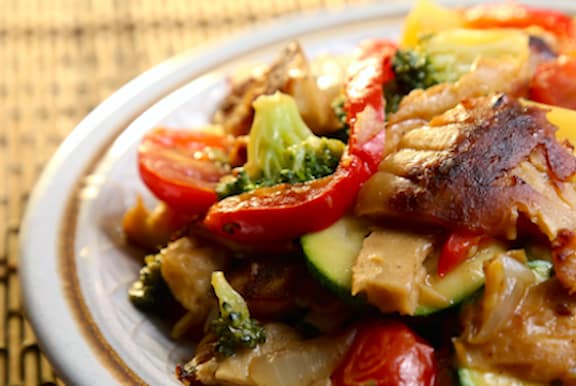 Here are more: