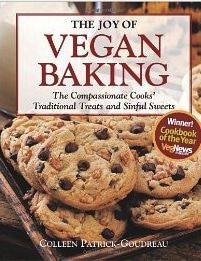 The Joy of Vegan Baking* is a wonderful introduction to vegan baking, with dessert recipes for both experienced and beginner cooks. Author Colleen Patrick-Goudreau is a long-time vegan, animal activist, and founder of Compassionate Cooks.

Too many vegan dessert recipes are so full of healthy ingredients that the dessert seems more like ship ballast than birthday cake. That's not a problem in Patrick-Goudreau's cookbook.
The Joy of Vegan Baking, Defending Desserts:"Whenever we get to the dessert portion of my cooking classes, invariably there is someone in the audience who asks whether he or she could use maple syrup instead of sugar, carob instead of chocolate, prunes instead of oil, etc. I remind that person that we're making chocolate cake — no matter what I do to it, it's not going to turn into broccoli. There's a time for broccoli and there's a time for chocolate cake."
The Joy of Vegan Baking offers a range of delectable desserts that could never be mistaken for broccoli. I didn't make the chocolate cake, but the lemon blueberry muffins, lemon bars, coconut pudding, and pancakes that I tested were easy to make and eaten by my family with gratifying enthusiasm.
In addition to the recipes, Patrick-Goudreau offers an in depth explanation of dairy and egg substitutions that will allow her readers to make other non-vegan dessert recipes vegan. She also has several useful appendices covering such topics as baking terms, ingredients, and more.
Patrick-Goudreau makes a compelling argument for the vegan lifestyle in her introduction. As she points out: 'There are no neutral actions ... We get to choose not whether we want to make a difference but whether we want to make a positive difference or a negative difference.'
This review was contributed by Judy Kingsbury, from The Savvy Vegetarian.
*This post contains affiliate links. If the product is purchased by linking through this review, VegKitchen receives a modest commission, which helps maintain our site and helps it to continue growing!