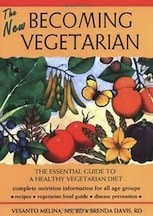 The New Becoming Vegetarian: The Essential Guide To A Healthy Vegetarian Diet* is the updated version of Becoming Vegetarian, which came out in 1994, written by the same authors, Vesanto Melina, MS, RD and Brenda Davis, RD, along with Victoria Harrison, RD.

Our blurb on the original Becoming Vegetarian describes it as "completely relevant" and a book that I felt they wrote just to help me out. That's still the case.
The New Becoming Vegetarian has been completely rewritten, re-organized, with significant new material. It's still an excellent book, which I highly recommend. But now, it's the nutrition reference that every vegetarian should own.
Here's Why: The New Becoming Vegetarian benefits from all the additional knowledge, experience, confidence and authority that Melina and Davis have acquired in nine years, the scientific studies, the new information that has come to light, vegetarian issues that weren't considered in 1994, and the collective experience of the exponentially growing world wide vegetarian movement.
Entire Chapters are devoted to vegetarian protein, Vitamin B12, fats, bone density, and body weight, with much more information and stronger emphasis on these critical nutritional areas. This book debunks myths, like the one that carbs are bad, and puts up big warning signs in the danger zones - e.g. low cal vegetarian diets, and nutritionally challenged diets, and goes into depth on the life stages of a vegetarian. The various charts and graphs used throughout illustrate the concepts very well.
The chapter on veganism has been expanded to it's own book, Becoming Vegan, with an excellent section on raising children as vegan. The thoughtful and compassionate chapter on vegetarian diplomacy is still there, as well as the practical and supportive chapters on shopping, and cooking vegetarian.
The New Becoming Vegetarian is extremely clearly written and organized, and easy for anybody to read and understand. However, this isn't a simple lightweight book. It's scientific, well documented, densely packed with vital information, and requires your full attention. I've had this book for a couple of months now, I read it almost every day, and I've yet to read it all. Many sections I've read several times, and I refer to some sections over and over again.
The only quibble I have with this wonderful book is that organicand Non-GMO aren't emphasized. I understand that the authors are aiming at a mainstream following, and sticking to their field of expertise. However, considering the health and environmental damages of factory farming and GMO, and the way the truth is carefully concealed from us, I would have liked to see Melina and Davis endorse these movements. Next book maybe, or a banner for someone else to carry.
That doesn't detract from The New Becoming Vegetarian as a valuable vegetarian nutritional reference. I highly recommend it to all vegetarians, and to anyone considering a vegetarian diet, or having a vegetarian child or partner. My thanks once again to Vesanto Melina and Brenda Davis.
This review was contributed by Judy Kingsbury, from The Savvy Vegetarian.
*This post contains affiliate links. If the product is purchased by linking through this review, VegKitchen receives a modest commission, which helps maintain our site and helps it to continue growing!