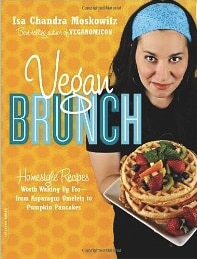 At this point in her cookbook writing career, I think Isa could put out a book titled 137 Ways to Cook Brussels Sprouts and it would not only be a best seller, but a favorite on vegan message boards everywhere (Really. Her roasted brussels sprouts recipe is great.). After the success of Vegan with a Vengeance,* Vegan Cupcakes Take Over the World, and Veganomicon,* it's little surprise that Vegan Brunch got such hype (and then lived up to it).
Isa's Basic Scrambled Tofu recipe is quite good. I'd gotten so used to my own hodgepodge of spices, nootch, and turmeric that it was refreshing to try someone else's recipe. Our first attempt came out a bit salty, but we cut back the second time around and it was nearly perfect. We also enjoyed the swiss chard frittata quite a bit.
The Perfect Pancakes lived up to their name. The secret ingredient here is maple syrup; having it in the pancakes as well as on top of them makes a big difference. We made it with half all-purpose flour and half spelt flour with very good results.
Other big-time winners (and recipients of the rare "double plus" rating in our notes): Chesapeake Tempeh Cakes (which do a surprisingly good job of capturing the flavor and spirit of crab cakes considering Isa had never actually eaten one before — do yourself a favor, though, and double the sauce… it's really tasty), Whole Wheat Crepes (super quick and super tasty), and Red Flannel Hash (a great way to use those beets from the CSA that you don't know what to do with).
The two recipes that I've enjoyed the most so far are the ones I was most anticipating. First: New York-style bagels, made from scratch. Sure, I had to get up at 7am to start making them in order to have them ready by 10, but it was totally worth it. That first morning they're crispy outside and chewy inside and just perfect. I had no idea that making bagels at home was possible, let alone with such good results. The second show stopper: Cherry Sage Sausages. Using a nifty cooking tip from fellow vegan chef Julie Hasson, Isa pairs chopped dried cherries with a surprisingly easy to make steamed seitan sausage. Fry these babies up and you will be 100% satisfied.
Only two times so far have we come up a bit disappointed. The Chive Spelt Mini-Biscuits sounded promising but came out funny tasting — I'm betting that it was due to bad baking soda or flour, though (which means I probably shouldn't be mentioning the recipe in a negative way, but I promise I'll correct this review if they come out better the second time around). We were also not as happy with the Banana Rabanada as we expected. Again, I'll give it a second chance because it just sounds so promising.
With sections dedicated to savory, sweet, sides, breads, toppings, and drinks, Isa takes you from the familiar to the exotic. The food photography is beautiful and as with her previous books, Isa's commentary is fun, useful, and eminently readable. She's got another winner here.
This review was contributed by Ryan MacMichael, reprinted from VegBlog. Go to Amazon.com to learn more  about Vegan Brunch: Homestyle Recipes Worth Waking Up For* by Isa Chandra Moskowitz.
*This post contains affiliate links. If the product is purchased by linking through this review, VegKitchen receives a modest commission, which helps maintain our site and helps it to continue growing!