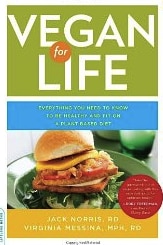 I gush. It's true. If I love something I can't help myself. This book was in my mailbox on Thursday. I finished it by noon on Friday. It's that good.
Jack Norris, RD and Ginny Messina, MPH, RD have teamed up for what I now consider the vegan resource on my bookshelf, Vegan for Life: Everything you need to know to be healthy and fit on a plant-based diet*.  (You may recall that Ginny, The Vegan RD, wrote a post on vegan nutrition for the Vegan 101 series on this blog.)
Why am I gushing? Vegan for Life* is comprehensive in its use of research (and the authors explain how and why and which research they use) and it's laid out so simply that me, a non-researcher, totally gets it. Jack and Ginny begin with nutrition and diet –this is the heart of the book — but also walk us through making the transition to a vegan diet, to raising vegan children, to vegan diets over fifty (hello, big 5.0., I'll see you in four years!), to managing disease, to stocking your kitchen, to basic cooking techniques to the ethics of veganism. It truly is the Vegan 101 manual I always wanted.
As I read the book I began to dog-ear pages that I wanted to share with you, to demonstrate the wealth of information in this book:
Tips for meeting protein needs
Meeting Vitamin B12 needs
Tips for getting enough calcium
Building healthy bones on a vegan diet
Omega-3 fats in plants
Meeting essential fatty acid needs
Vegetable oils in vegan diets
Meat iron versus plant
Meeting iodine needs
Food intolerances (with a sample daily meal plan that is free of
soy, tree nuts, peanuts and wheat)
What vegans eat (vegan authors, athletes, bloggers share some of their favorite foods)
Stocking the vegan pantry
Vegan on a budget
Health benefits of a vegan diet
Sports nutrition
Is it safe to eat soy?
Farm factory facts
Quick guide to cooking beans, grains and vegetables
And there's so much more. I'm only sharing my dog-eared pages!
If you're a new vegan, or a vegan who might be buying into the hype that a vegan diet is not sustainable, read this book.  If you're a vegan who wants a quick resource at your fingertips or the perfect book to hand over to your vegan-curious family member or friend read this book.
I'm done gushing. Go read Vegan for Life.*
Originally published on JL Goes Vegan.

*This post contains affiliate links. If the product is purchased by linking through this review, VegKitchen receives a modest commission, which helps maintain our site and helps it to continue growing!