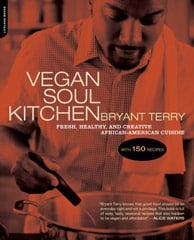 Vegan Soul Kitchen: Fresh, Healthy, and Creative African-American Cuisine* by Bryant Terry fills a niche that's been long left empty: good, healthy vegan food rooted in traditional African-American cuisine. It's one of many excellent cookbooks released this year and is definitely one that belongs on your shelf if you're looking to get more veggies into your diet.
Our two favorite dishes from Vegan Soul Kitchen come from the "salads, slaws, and dressing" chapter and both are great for dinner or potlucks. The first is Roasted Red Potato Salad with Parsley-Pine Nut Pesto. It takes a little while to prepare, but is a really flavorful alternative to the mayo-heavy potato salad that usually finds its way onto summer picnic tables. A few pages later comes the recipe we've made more than any other in the book, Wild Style Salad (Rock the Bells Remix). Sure, I was predisposed to liking it given that it's named after one of the greatest movies of all time (and the "remix" refers to one of old school hip-hop's best tracks), but I suspect even if you're completely unfamiliar with Fab 5 Freddy's fine acting and L.L.'s brash teenage braggadocio, you'll dig this salad. Its base is wild rice, four different colored bell peppers, and some raisins and cashews. The dressing is a mixture of apple cider vinegar, lemon juice, Dijon, agave, and some salt, pepper, and oil. The end result is a bright, vibrant, filling salad that's packed with protein, minerals, and B vitamins. Love it, love it, love it.
Since we're smack in the middle of autumn here, we've also tried out two of the recipes from the "root vegetables and winter squashes" section of the "So Fresh and So Green Green" chapter. We enjoyed both the smooth and sweet Roasted Sweet Potato Puree with Coconut Milk as a dip/spread and the Cumin-Cayenne Mashed Potatoes with Carmelized Onions, which provides just enough of a kick without being overpowering.
Other dishes we've tried: Citrus Collards with Raisins Redux (a great way to get your greens – also try his Collard Confetti, made with the leftover stems, with some sugar and balsamic), Sweet Sweetback's Salad with Roasted Beet Vinaigrette (not for everyone's tastes, but very bold if you dig arugula, beets, and candied walnuts), and the Carrot-Cranberry-Walnut Salad with Creamy Walnut Vinaigrette (the one recipe we've tried that was underwhelming).
In addition to being filled with great recipes organized in unique ways (there's a whole chapter just for watermelon!), Vegan Soul Kitchen is a really entertaining read. The stories behind some of the food are longer than the recipes themselves and each dish is given a suggested music soundtrack ranging from MF Doom to Ann Peebles to Grant Green to DJ Spooky remixes of Charlie Parker. A fan even compiled two imixes on iTunes of 170 of the songs referenced in the book.
So, a big thumbs up for Vegan Soul Kitchen. If you don't know, now you know…
This review was contributed by Ryan MacMichael, reprinted from VegBlog. Go to Amazon.com to learn more about Vegan Soul Kitchen* by Bryant Terry.
*This post contains affiliate links. If the product is purchased by linking through this review, VegKitchen receives a modest commission, which helps maintain our site and helps it to continue growing!