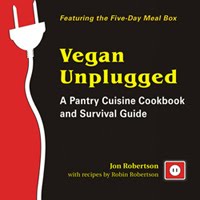 Vegan Unplugged: A Pantry Cuisine Cookbook and Survival Guide* by Jon Roberson with recipes by Robin Robertson has arrived just in time for hurricane, storm, and flood season, when so many people lose power. It's a practical guide to stocking the pantry for emergencies and continuing to eat well when access to the usual fresh foods is limited.
But Vegan Unplugged goes far beyond what to do during power outages; it's great for road trips, hotel stays, boating, camping, and for simple dorm-room meals. There are tips on alternative methods of cooking, like camping stoves and gas grills; a 5-day basic survival kit, and much more. The pantry guide is an excellent resource for the everyday veg kitchen, not just for when the lights go out.
Here are a couple of simple examples of what you can make with what's in the pantry.
AMAZING TECHNICOLOR CHICKPEA SALAD
4 servings
When you need something to make you smile, try this salad. A combination of chickpeas, beets,  and pineapple, it delivers good nutrition while lighting up your taste buds. The vibrant pink color may make you reach for your sunglasses.
1 (8-ounce) can sliced beets, drained
1 (15.5-ounce) can chickpeas, drained
1 (8-ounce) can chunk pineapple, drained with juice reserved
1 tablespoon olive oil
1 tablespoon lemon juice
¼ teaspoon sugar
Salt and black pepper
Cut the beets into ¼-inch dice and transfer to a medium bowl. Add the chickpeas and pineapple chunks.
Drizzle on about ⅓ cup of the reserved pineapple juice, the oil, lemon juice, and sugar. Season with salt and pepper, and mix well.
SKILLET PEACH CRUMBLE
4 servings
Similar to a fruit crisp, this dessert is made in a skillet on a stovetop instead of in the oven. The basis of the crumble topping is healthful, toothsome oats. Yum. It's also great made with apple or blueberry pie filling and can be a go-to dessert even when you're plugged in but don't feel like heating up the oven.
A note from Nava: This one is an example of a recipe that assumes you have some source of stovetop cooking, like a camping stove or gas range, but no refrigeration; so it's made entirely of pantry staples.
⅔ cup old-fashioned or quick-cooking oats
¼ cup light brown sugar or a natural sweetener
1 tablespoon peanut butter
1 tablespoon olive oil
1 teaspoon ground cinnamon
⅛ teaspoon salt
1 (28-ounce) can sliced peaches, drained
In a medium bowl, combine the oats,sugar, peanut butter, oil, cinnamon, and salt. Mix well and cook in a 10-inch skillet over medium heat until toasted, stirring frequently to avoid burning, about 5 minutes. Scrape topping mixture back into the bowl.
In the same skillet, spread the peach slices in the same direction in concentric rows. Sprinkle the reserved topping on top of the fruit. Cover and cook over low heat until hot, about 10 minutes.
Recipes from Vegan Unplugged* by Jon Robertson and Robin Robertson, ©2010, Vegan Heritage Press
*This post contains affiliate links. If the product is purchased by linking through this review, VegKitchen receives a modest commission, which helps maintain our site and helps it to continue growing!