Considered a "superfood" for its superior nutritional profile, quinoa cooks in a mere 15 minutes, and its fluffy texture and nutty flavor and aroma make it extremely versatile. Here are VegKitchen's most visited and best-loved quinoa recipes.
Quinoa, Corn, and Bean Salad, with avocado, is a sturdy salad with southwestern flavors. Do try it with the optional jícama when this crispy veggie is in season; it adds a nice touch of texture and flavor. Pictured above.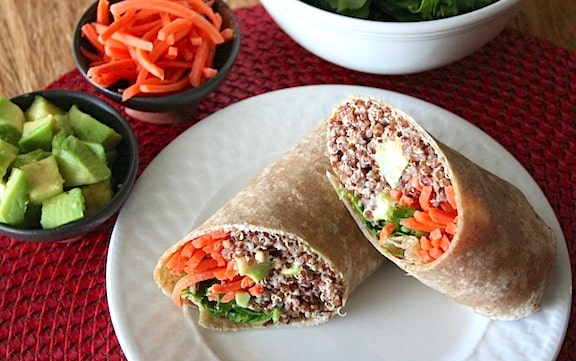 Asian-Flavored Quinoa Wraps, contributed by Wendy Polisi are delectable and come together very quickly, especially if you have some leftover cooked quinoa in the fridge.
Quinoa, Broccoli, and Vegan Cheese Casserole; photo by Rachael Braun
Quinoa, Broccoli, and Vegan Cheese Casserole is easy to make and it's both nourishing and comforting. Serve with baked sweet potatoes (start the sweet potatoes in the oven about 45 minutes before starting to bake the casserole) and a salad of dark greens and ripe tomatoes.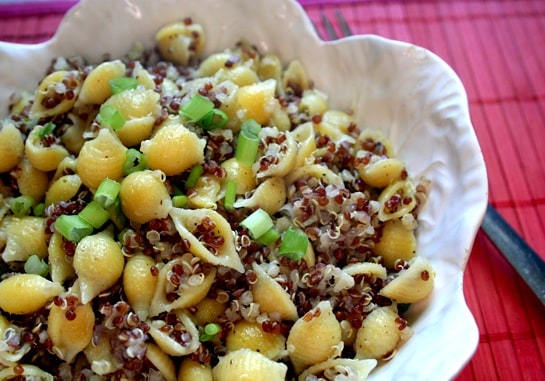 "Seashells in the Sand" (Quinoa and Seashell Noodle Pilaf) is a simple combo of tiny seashell pasta and high-protein quinoa. I'm not usually one for "cute" recipe names, but both the name and the presentation worked wonders to tempt my kids to learn to love whole grains. Adults will enjoy this dish embellished with fresh herbs and toasted almonds; the kids will more likely enjoy it without.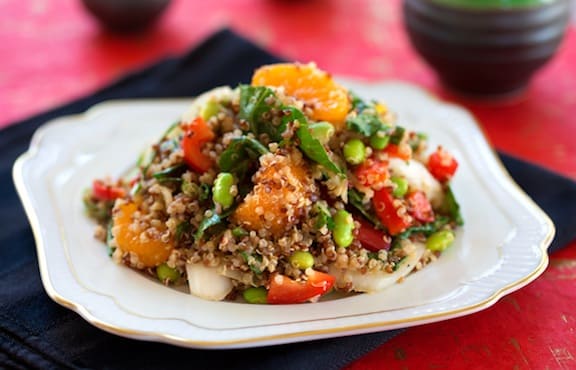 Quinoa with Edamame and Oranges is a high-protein grain dish. It's flexible, too—use a different grain if you'd like; use a different green other than bok choy (kale would work); and if you can't find edamame or prefer not to use these tasty green soybeans, substitute green peas.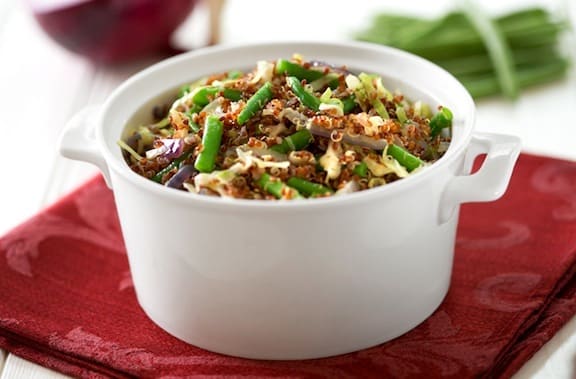 Quinoa with Cabbage and Green Beans is an easy dish to highlight super-nutritious quinoa. With a flavorful sauté of onion, cabbage, and green beans, this needs very little in the way of seasoning. Serve with a simple bean dish and a colorful salad for a simple meal.