pChristmas and Hanukkah 2015 are now over (unless you follow the 12 days rule) and most of us are officially full. So this is a good week to eat lighter, easier, and decidedly non-holiday type foods —that is, until Thursday's New Year's Eve celebration, followed by New Year's Day brunches and other such gatherings. Ah, well, we'll start fresh next week … Meanwhile, let's start this post-holiday Monday with Spicy Asian Peanut-Ginger Noodles, above. It's quick, easy, flexible (use any veggies you have in the fridge) and easily completed with a simple tofu dish and salad.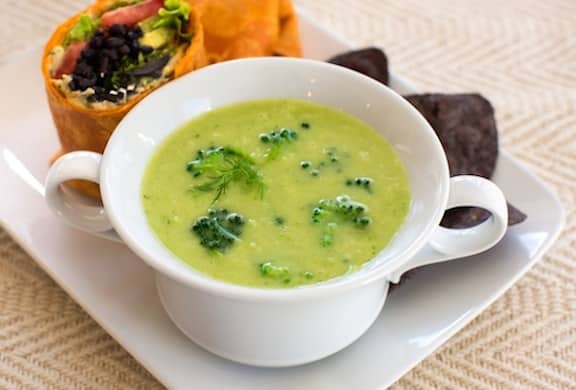 Vegan Cream of Broccoli Soup is substantial yet not heavy, getting its creamy base from pureed white beans or tofu. The addition of green peas at the end of cooking time brightens the color and heightens the flavor of the soup. Serve with a wrap or sandwich, or any leftovers of last night's noodles.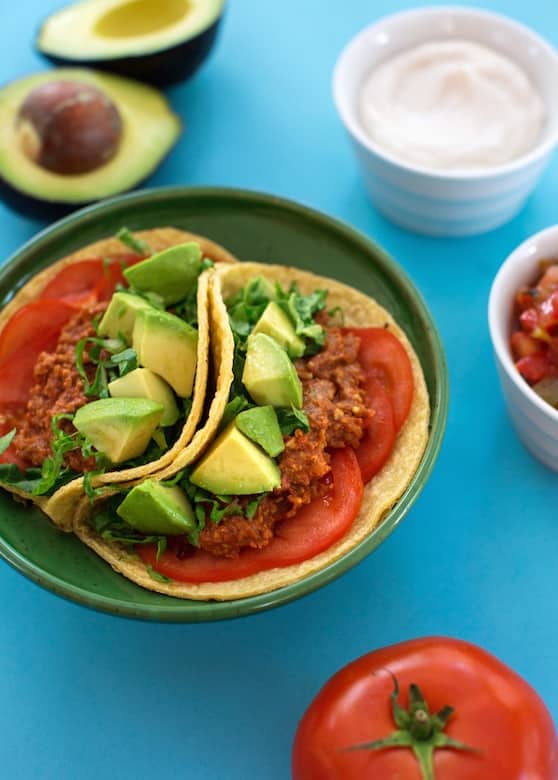 Get through midweek with Tempeh and Walnut Soft Tacos. Even tempeh skeptics will be won over by this tasty taco filling that goes a long way. Use leftovers to boost protein and add texture to bean dishes and stews. The taco accompaniments are basically your salad, so you need not add anything else to this meal, unless you want to serve it with salsa and tortilla chips.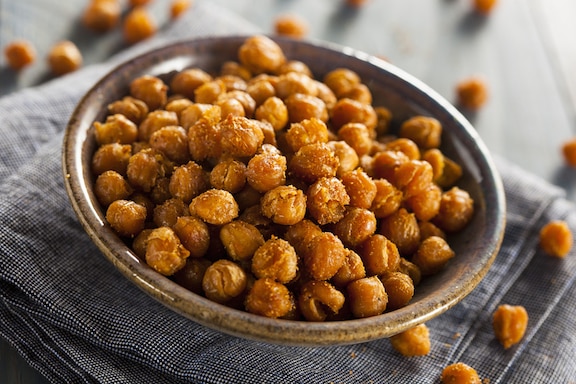 We can think of no better way to ring in the New Year than with an array of tasty vegan appetizers (say, a selection of 4 or 5) and wine or cocktails. If you don't want to be overwhelmed by our wide array of appetizer selections, here are our favorites — 8 Easy, Amazing Vegan Appetizers. But if you do want to be bowled over by more selections, by all means go to our landing page filled with Vegan Appetizer Recipes.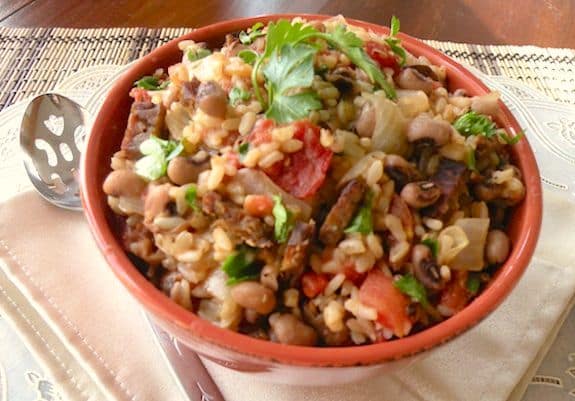 Here's a vegan rendition of a classic southern dish known as Hoppin' John, featuring black-eyed peas and rice, often served on New Year's Day for good luck. It makes a delicious meal with any coleslaw-style salad coleslaw and cornbread. If you prefer to go the brunch route for New Year's Day, we've got you covered there, too, with our Festive Vegan Brunch Recipes and Menus.