Happy almost fall! After a warm summer, produce should still be abundant, so let's keep using those fresh tomatoes, squashes, and corn while we still can. Composed Sweet Potato, Quinoa, and Corn Salad is a colorful main dish that's simple to prepare, yet has a festive "company's coming" look. For a bigger meal, serve with vegan quesadillas or soft tacos. If you can cook the sweet potatoes and quinoa ahead of time, this will come together in a flash when you want to serve it.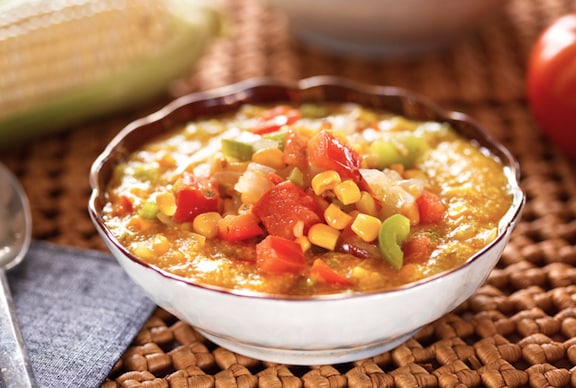 Grits with Fresh Corn and Tomatoes, spiked with chili peppers is an inviting late summer dish — it's good for a quick dinner or weekend brunch. Serve with one of our bountiful bean salads.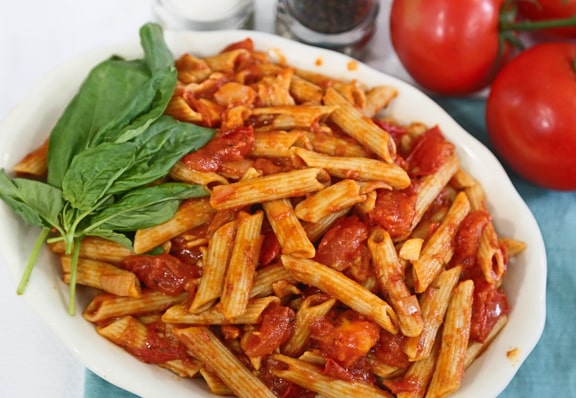 It doesn't take a lot to veganize the classic Italian-American recipe for Penne alla Vodka — simply replace the heavy cream that's traditionally used in the recipe with nondairy milk or creamer. It's a great way to use up those late summer tomatoes! Serve with a colorful salad and a steamed green veggie — broccoli or green beans are particularly good.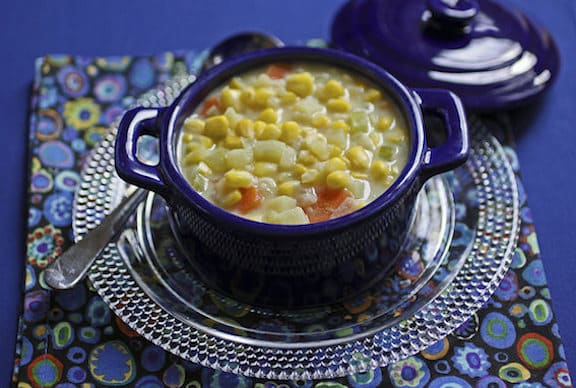 It is fall, after all, and darn it, even if it is still warm outside, I want some soup! If you do, too, you'll enjoy this Creamy Corn Chowder. The mild, familiar flavors will entice kids of all ages to enjoy a soothing bowl of soup. Serve with fresh bread and a colorful salad.
End the week with Quinoa and Pinto Bean Sloppy Joes, a VegKitchen reader favorite. Fresh corn is a perfect companion. And in place of the slaw we usually recommend with this, a simple tomato salad, or just some sliced tomatoes, is a great way to complete the meal.