There's something about pesto that immediately brings summer to mind — of course, it's that magical aroma of basil. And though basil is a must-have ingredient of classic pesto sauces, there are countless variations on the theme when it comes to vegan pesto recipes. Here are 10 recipes for pesto as well as dishes that incorporate the pleasantly pungent, green flavor of the classic sauce — minus the usual dairy. You'll find ideas for pesto pasta, of course, but going beyond that to potato salad, pizza, and as a delectable spread for bread as well.
Pasta with Pesto, Potatoes, and Green Beans (at top) is a classic rustic Italian combination. It may seem odd to combine pasta and potatoes, but it does work well, and is extra hearty. It's carb heaven, maybe, but still healthy, especially if you use whole-grain pasta.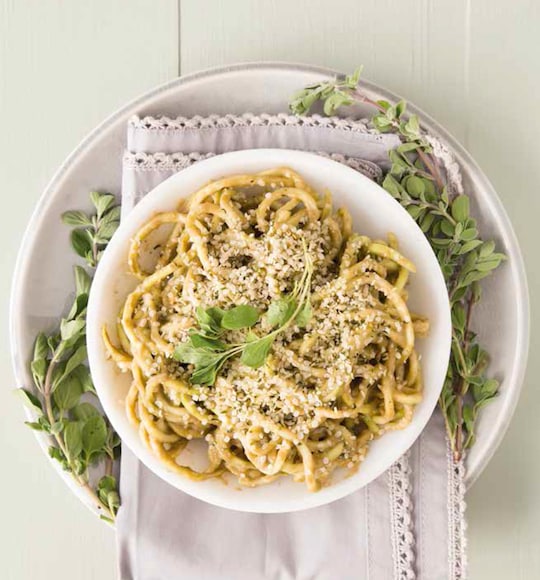 Broccoli and avocado pesto, shown here in Creamy Pesto Zucchini Noodles by Laura-Jane Koers offers up a veggie-filled variation on classic pesto that has a rich texture and is beautiful to look at.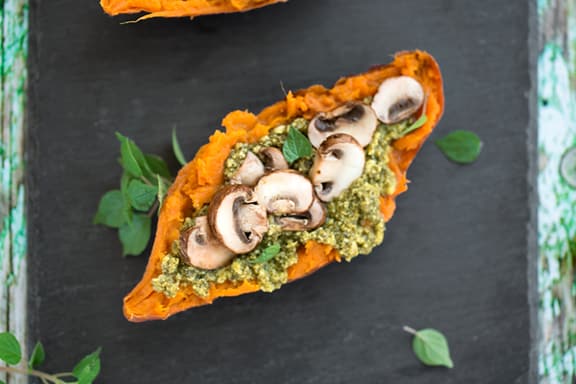 Here's a shortcut to a pleasant pesto recipes from our Vegan Food Hacks division. Store-bought vegan pesto combined with the smooth sweet potato and earthy mushrooms adds up to a dish that goes beyond each of these three already-delicious components. Best yet, this Pesto and Mushroom-Stuffed Sweet Potato Dinner gives you a suggestion for a full meal that's hardly any effort to make.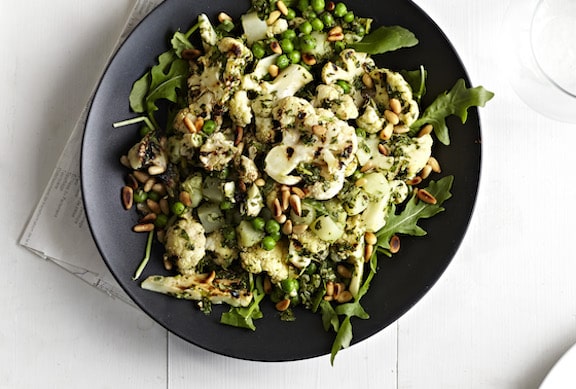 Pesto Cauliflower & Potato Salad by Terry Romero presents a classic combination of pesto and potatoes is lightened up with irresistible grilled cauliflower. For a more substantial pesto entrée, replace half or all of the cauliflower with pasta, preferably those tight little twists called gemelli.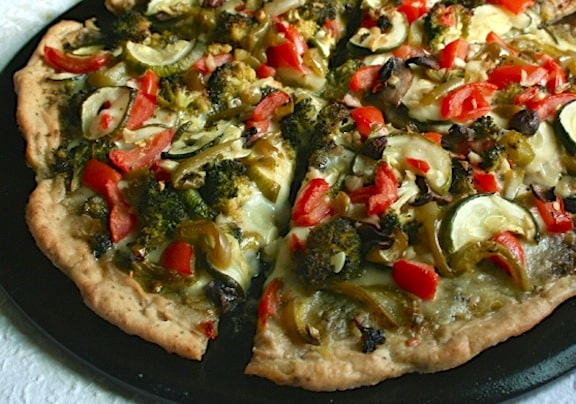 If you like a very veggie-filled pizza, Verdant Veggie Pesto Pizza is for you! It's piled generously with broccoli, bell pepper, and zucchini. And in place of the usual tomato sauce, this one features a delectable spinach-miso pesto as the base.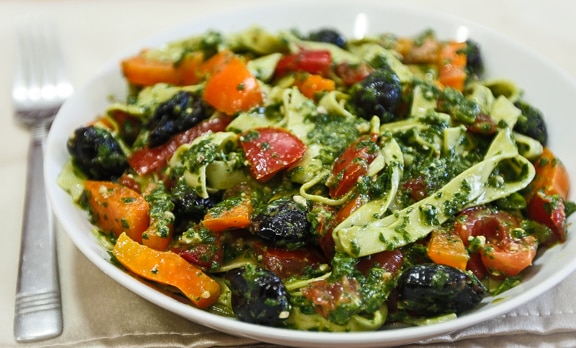 Udon Noodles with Spinach-Miso Pesto is an offbeat dish combining the Asian flavor of miso with the peppers, tomatoes, and olives of Italian cuisine — makes a luscious meal all year round. It's good served warm or even at room temperature. It also makes use of the same pesto as used on the pizza, above. Serve with a bountiful salad of greens and tomatoes.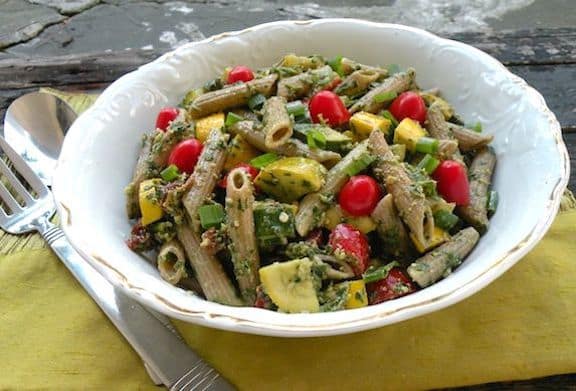 Pasta Salad with Parsley Pesto and Two Squashes, a flavorful summer pasta salad, is a good choice for a vegan/vegetarian potluck, yet easy enough to make as part of an everyday meal. It's delicious with grilled vegetables and vegan burgers.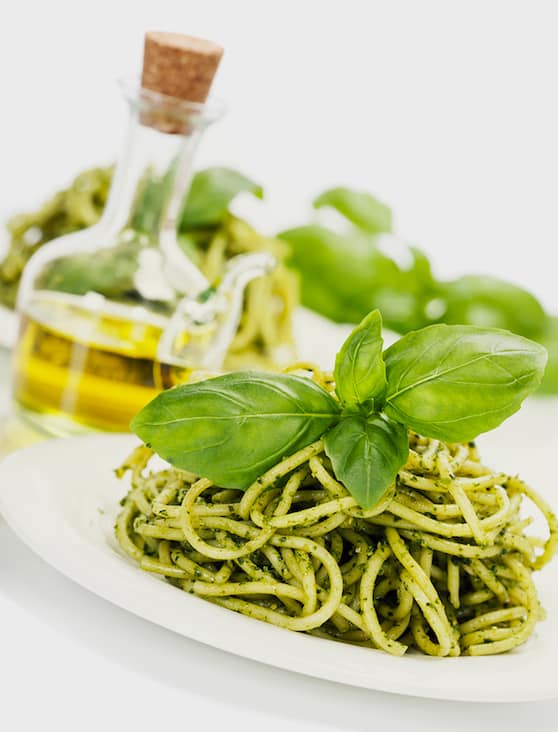 Pistachio Pesto is an intriguing alternative to standard pesto; the secret ingredient is arugula which adds extra bite. Serve on pasta, or as a sauce for small new potatoes.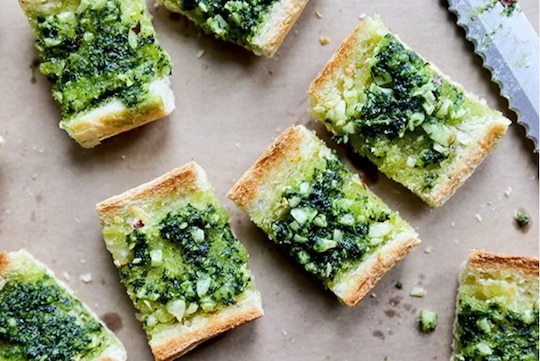 Vegan Garlic Bread with Kale Pesto from OhMyVeggies is a great one to serve alongside your favorite Italian dish. Or add a few slices of fresh tomato on top once it comes out of the oven for a delicious open faced sandwich.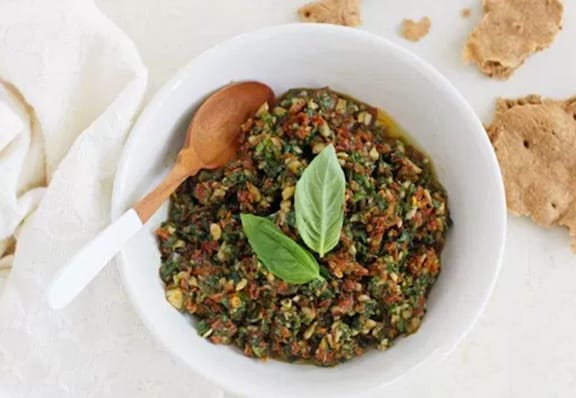 Finally, and also from OhMyVeggies is Vegan Sun-Dried Tomato Pesto may not be the prettiest pesto on the block, what it lacks for in looks, it most certainly makes up for in taste. Packed with sun-dried tomatoes, sunflower seeds and a touch of balsamic vinegar, it's the perfect complement to just about any dish or smeared on a piece of toast.