Here are a few ways to make the most of the veggies on the grill, some tried and true (eggplant, peppers, and some that you may not have considered (cabbage, asparagus). 
First up, Grilled Pineapple (above) is amazing. It's the perfect complement for savory vegan proteins (tofu, tempeh, seitan, or vegan sausage) and grilled veggies.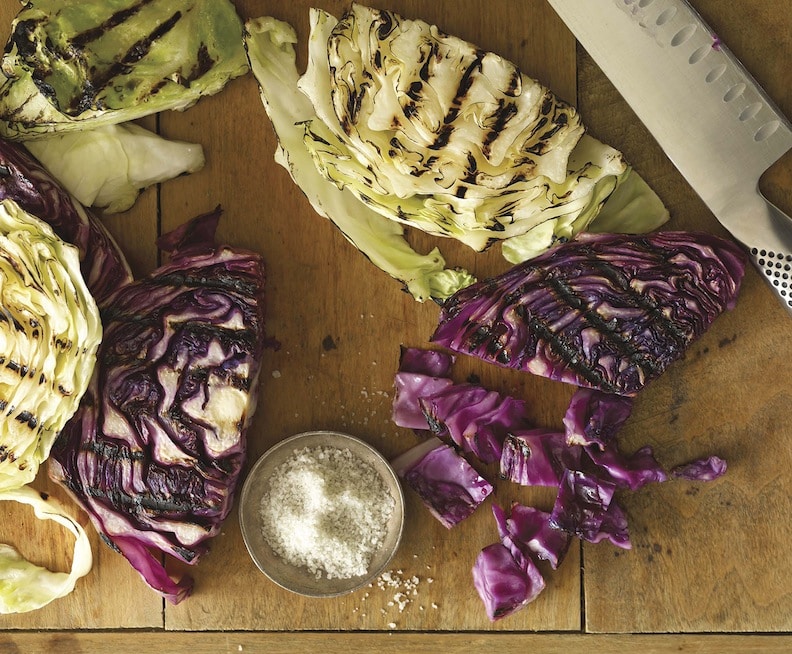 Be prepared for a revelation, says Joe Yonan about Grilled Cabbage. Besides adding smoky flavor, grilling brings out the vegetable's natural sweetness. And you though you didn't like cabbage, huh?
For Grilled Asparagus with Spring Onion - Radish "Butter," Betsy Dijulio knew she wanted to grill asparagus and knew she wanted something special on top, and was inspired by the simplest and most elegant appetizer — radishes spread with butter (vegan buttery spread, in this case).
Eggplant was just made to be grilled, and in Grilled Eggplant Teriyaki, an Asian-flavored marinade brings out the best of its subtle flavor. I can't get enough of this smoky, flavorful dish!
A grilled version of the classic French stew called ratatouille, Grilled Ratatouille becomes a glistening warm salad. It features the characteristic ingredients of this dish, including eggplant, onions, zucchini, and bell pepper.
Fresh Grill Roasted Peppers say "summertime." Their understated sweetness catapults so many foods to the next flavor level. Try them atop crusty bread, seasoned with fresh basil, salt, pepper, olive oil.
Still hungry? Check out these other delicious vegan grilling recipes.