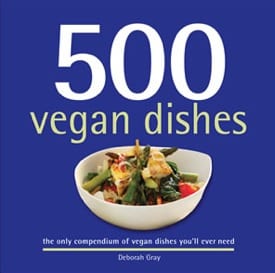 Whether you're just starting out on a vegan diet or are already a fan of plant-based meals, 500 Vegan Dishes* (Sellers Publishing, 2011) is a great go-to book for vegan substitutions and tons of recipes. Deborah Gray offers information and recipes in a highly readable format. She starts out by giving an introduction with a brief overview and jumps into ingredients, listed alphabetically and with great tips, along with charts of cooking times and descriptions. Another helpful section within the ingredients are the recipes and tips on animal-free substitutions, like almond and coconut milk, nondairy cream cheese and mayonnaise.
Although there are not exactly 500 dishes in this book, they are made up of basic recipes that can be altered with numerous variations—this format gives you so many ideas and options. The way the recipes are broken down is great, too: breakfasts and brunches, soups, appetizers, salads, vegetable dishes, bean, lentil and nutty dishes, rice, grain and pasta dishes, side dishes and desserts. Each chapter gives you the basic recipes upfront and then goes into the variations. There are just so many that you'll never get bored and you'll be able to please anyone's palate. Another thing I love about the recipes is that they avoid imitation meats, which I personally avoid.
Not only do these dishes sound amazing, but the photos that accompany them are incredibly enticing! Some of my favorites: Zucchini Fritters with Tzatziki, Spicy Spinach and Buckwheat Crêpes, Lentil and Rice-Stuffed Tomatoes, Strawberry Tart, and Banana Cake and Passion Fruit Glaze. And of course, the variations of these dishes look delicious too! I would recommend this book for any vegan kitchen, especially if you want to be a bit more adventurous!
Here are two recipes from the book right here on VegKitchen:
Deborah Gray is a writer and editor, who contributes to food and parenting magazines and has written The Green Website Guide for Better Living and Vegetarian Cooking Made Easy,* and The Baker's Bible.*
*This post contains affiliate links. If the product is purchased by linking through this review, VegKitchen receives a modest commission, which helps maintain our site and helps it to continue growing!