One of the world's most recognized authorities on chia, Wayne Coates, PhD (himself a distance runner), has put together a compact yet greatly informative book, Chia: The Complete Guide to the Ultimate Superfood.* Packed with everything you want to know about chia, this book also offers 75 recipes to help you incorporate chia seeds into your daily repertoire. 
Chia seeds are gaining traction as a superfood, packing amazing benefits into a tiny containers, about the size of poppy seeds. And yes, it must be said, these are the same seeds that were long known for growing "chia pets." What can I say, we all did strange things in the seventies. But now we're learning that there are better uses for chia seeds!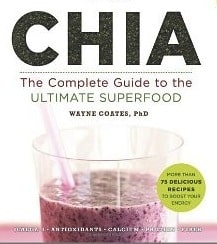 Chia seeds are known for their abundance of omega-3 fatty acids, making them a great alternative from fish oil for vegans. They are also an excellent source of calcium amino acids, and fiber. These tiny seeds actually have more of the beneficial fats than salmon. The omega fatty acids can improve your heart health and cholesterol levels, and can be helpful aids in losing weight.
They are also anti-inflammatory and great for the joints and muscles. The gel that is formed around the seed with the help of water has no calories and makes you feel fuller. And their energy-promoting properties have inspired runners to adopt chia seeds to boost stamina.
I'm completely sold! Now, I stir chia seeds into beverages, or mix a couple of tablespoons into half a cup of chocolate almond milk to make a kind of sticky pudding. It's not exactly my idea of a treat, but an easy way to get myself to have 2 tablespoons of chia seeds per day, the average recommended amount. The recipes in this book give you lots of ways to make chia more palatable that the aforementioned pudding, from simply whirling some into your green smoothie to incorporating them into delectable baked goods.
One of the benefits of chia most touted in the book is weight loss. There are full chapters titled How to Use Chia to Lose Weight, and Chia and Weight Maintenance, describing how and why these seeds aid in weight loss.
There are a lot of claims made in this book, making chia seeds seem almost like a miracle food. I've only been "doing" chia for a couple of weeks, so I can't attest as yet to the benefits. I do need a boost in the calcium, energy, and joint aches departments.
And like all women in the universe, I'd love to lose 5 to 8 pounds. Even if chia seeds don't prove a cure-all, they're easy to incorporate into daily fare, and from all I've read in this book and elsewhere, it sure doesn't hurt to use them. Along with hemp seeds, which I really like for their versatility, I can at least be assured that as a vegan, I'm getting high-quality protein and my full share of omega-3 fatty acids. If I get even a few of chia's other benefits, it will be icing on the cake.
Please note, this book is not vegetarian or vegan but I chose to review it because there are many ways that those on plant-based diets can benefit from the information in this book. Learn more about Chia: The Complete Guide to the Ultimate Superfood on Amazon.com.
For more from this book here on VegKitchen:
See more of VegKitchen's book reviews.
*This post contains affiliate links. If the product is purchased by linking through this review, VegKitchen receives a modest commission, which helps maintain our site and helps it to continue growing!