The other day while grocery shopping I noticed a huge Halloween display. Talk about scary —and just plain wrong! It's still August; who wants to think of the short days and chilly nights of late October? Best to stay in the present and focus on enjoying late summer produce, especially tomatoes, squashes, and corn, which are featured abundantly in this week's meal plan. Start the week with garlicky and smoky Black Bean and Summer Squash Soft Tacos. They're easy to make and even easier to serve, as everyone assembles their own tacos at the table. Complete the meal with one of our Easy and Tasty Slaws and some sliced ripe tomatoes.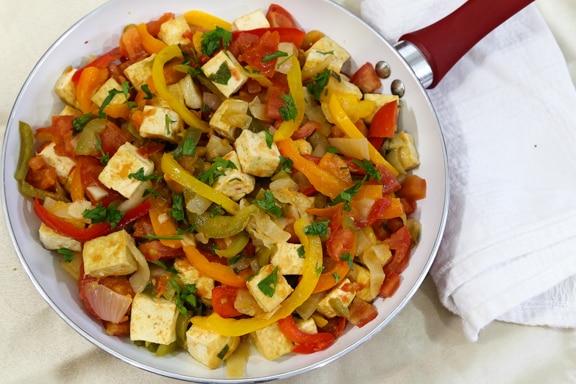 Summer Tofu Skillet with Tomatoes and Bell Peppers is an enticing way to showcase tofu with colorful peppers in a stovetop sauté. It's a good summer main dish when you want dinner on the table quickly. Fresh corn is a perfect companion, and a seasonal fruit salad is a nice finish.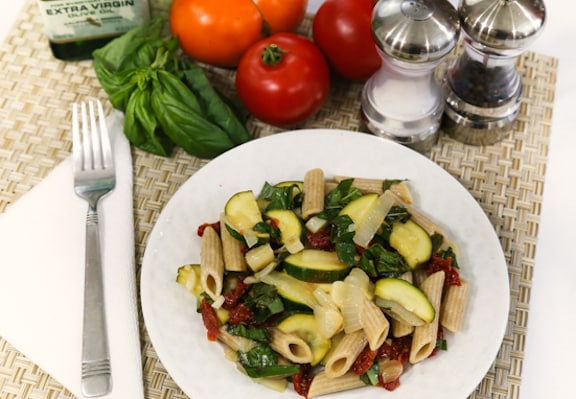 Make the most of fragrant basil with Leslie Cerier's Basil and Sun-Dried Tomato Pasta. Make sure to get a big bunch, as you'll need some for Friday night's dinner, too. As with last night's dinner, fresh corn is a great companion. A simple salad completes the meal.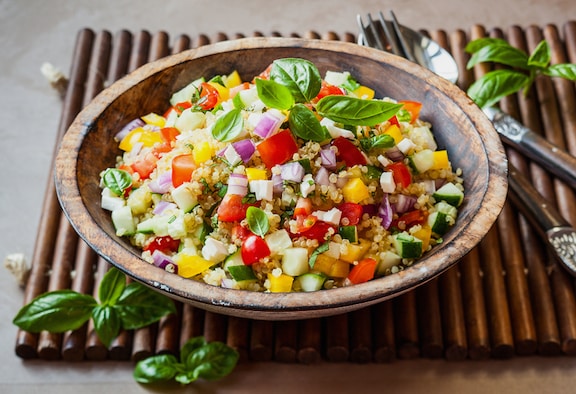 Summer Garden Quinoa Salad is somewhat like tabbouli, but it's more about the ripe summer tomatoes and other garden veggies. Make sure to use the most flavorful summer tomatoes for best results! Serve with homemade Hummus (or purchased, for a shortcut) fresh pita, olives, and grape leaves for a mezze-style dinner.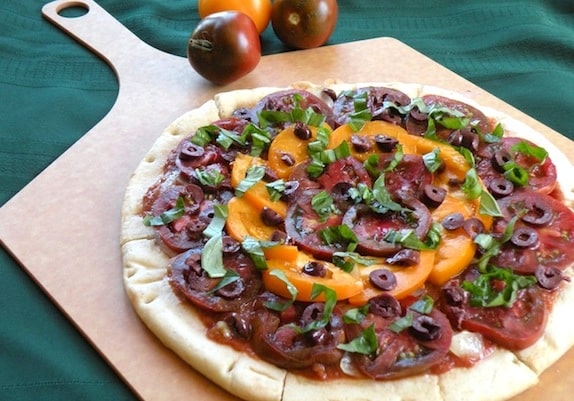 End the week with a summery pizza night featuring flavor-packed Garlicky Fresh Tomato and Basil Pizza. Serve with a big salad with some chickpeas or black beans added for extra protein, and end the meal with fresh fruit and non-dairy ice cream.