Reviewed by Dianne Wenz. I'm a big fan of my slow cooker and an even bigger fan of Robin Robertson, so earlier in the year when I heard that she was working on a new vegan slow cooker cookbook, I began to eagerly await the date of it's release. Fortunately, the wait is now over, and I am now lucky enough to have a copy of Fresh from the Vegan Slow Cooker in my possession! 

This book arrived right on time, as I find that fall and winter are the perfect seasons for slow cooking since the dishes they produce tend to be warm and comforting. I do have a few friends who use their slow cookers quite often in the summertime however, as the slow cooker makes it easy to avoid having to turn their ovens on and add to the already sweltering heat. I've already bookmarked about 30 of the 200 recipes in Fresh from the Vegan Slow Cooker, so my slow cooker will be working overtime this fall.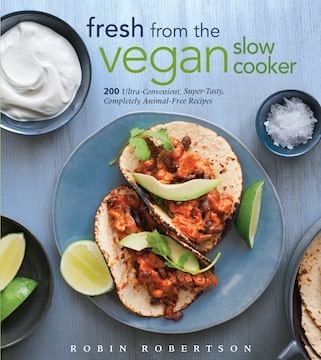 If you're new to slow cookers, you're in luck, because Robin starts the book out with an extensive chapter on slow cooker basics. Everything you could possibly imagine cooking up in your slow cooker is covered here, from snacks and appetizers to dessert and drinks with a plethora of tasty dishes in between. Did you know that you can make pizza in a slow cooker? I didn't either! You can even make bread, marmalade and cheesecake! Robin's simple instructions make cooking just about anything in the slow cooker seem easy. She also gives gluten-free and soy-free options, so there's really something for everyone here.
The first thing I made was African Inspired Peanut Stew.  This is my favorite type of fall dish – sweet potatoes, beans and greens in a creamy peanutty sauce. Perfection!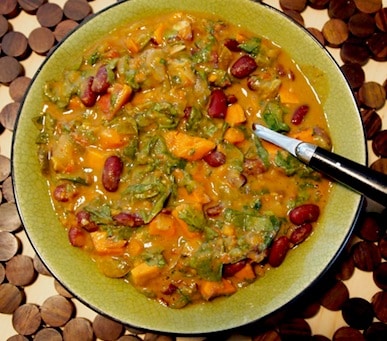 I made Wine Braised Seitan and Cremini Mushrooms because I'm a total sucker for mushrooms and wine sauce. This is the perfect type of slow cooker meal, as the seitan soaks up sauce really nicely. I cheated here and used store bought seitan instead of making my own. I also added potatoes to the dish because I didn't feel like cooking up any noodles or rice to serve with the dish later.
The Rustic Potpie Topped with Chive Biscuits is the ultimate in comfort food. I will admit that I was skeptical about the biscuits cooking thoroughly on top of the rest of the dish, but they cooked up quite nicely. I substituted chickpeas for the seitan that the recipe calls for, and they worked really well with the rest of the ingredients. This reminded me of the Swanson's frozen potpies I was very fond of when I was little, but it was much healthier and, of course, vegan.