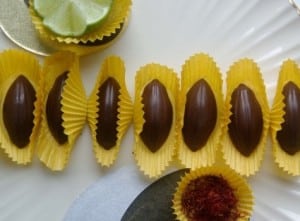 Admittedly, this holiday is a bit of fluff, but for many, it's a way to show love and appreciation in a small and sweet way. If you're looking for a fun and frugal token of your affection, here are some of VegKitchen's featured products that would be appreciated by the sweeties in your life: 
Lagusta's Luscious: Fine Handmade Confections: Delicious chocolates made form organic, fair trade, and vegan ingredients.
The Literary Ladies' Guide to the Writing Life: My personal love letter to twelve classic women authors, highlighting the observations and wisdom they share with all women who love to write.
Vegan Holiday Kitchen: While there's no Valentine's Day section per se, there are plenty of luscious yet healthy desserts, plus lots of ideas for special dinners that can be tailored to any special occasion.
If you'd rather give the gift of fitness rather than food, I'm just in love with my Fitbit Wireless Personal Trainer, which has inspired me to find a way to walk 5 to 6 miles, at least 5 days every week for the last few months!
Finally, if you're looking for durable cookware, discover Jacob Bromwell. VegKitchen reviews their popcorn popper, but you can click through that post to see more great products (all American-made) on their site. 15% discount for VegKitchen readers; see coupon code.