Hemp seeds are a fantastic addition to any healthy diet, packed with easily digestible protein and a multitude of nutrients. Rare among plant-based foods, they provide complete protein with all 10 essential amino acids — something valuable to vegans and vegetarians. Learn more in Hemp Seeds Boost Vegan Nutrition. Read on for more hemp seeds nutrition benefits and 10 tasty recipes.
More good news —hemp seed is very rarely an allergen, unlike many other nuts and seeds. And unlike flaxseeds, you need not grind them to reap their benefits. Compared with chia seeds, another popular superfood, hemp seeds don't cause stomach upset. Another unexpected perk: Hemp is an eco-friendly crop that's naturally pest- and weed-resistant, which means that it can be grown without pesticides and herbicide.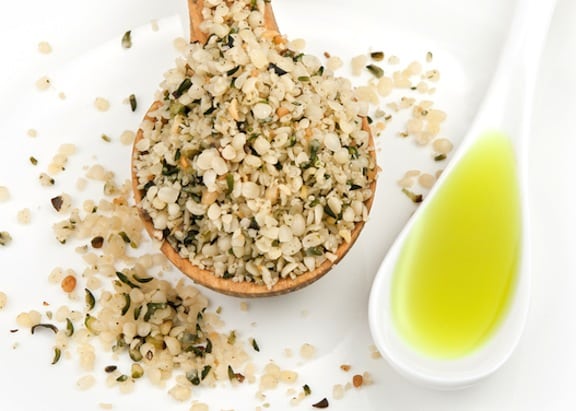 Hemp seeds nutrition and  health benefits

Making hemp seeds part of your daily fare can give your overall health and well-being a boost. Some of the benefits attributed to hemp seeds include:
Cardiovascular health: These tiny seeds are a great source of the fatty acids arginine and gamma-linolenic acid, whose intake is associated with lower risk of heart disease.
Skin booster: The healthy fats in hemp seeds may assist in skin conditions like eczema and general dry and itchiness.
Great source of digestible protein: Not only do they provide complete protein with all the essential amino acids, their protein is more digestible and usable than that in many nuts, grains, and other seeds. This can be helpful to athletes and other active people.
PMS and menopause: Hemp seeds are rich in GLA (gamma-linolenic acid), which has been shown to improve hormone imbalances and ease the symptoms of PMS and menopause.
For studies and sources on the benefits of hemp seeds, see 6 Evidence-Based Benefits of Hemp Seeds.
Hemp seeds nutrition benefits
High in fiber.

Rich in minerals including magnesium, iron, zinc, and potassium.

Abundant in omega-3 fatty acids, as well as a specific omega-6 fatty acid (GLA) not found in any other food.

Compared with chia and flaxseeds, hemp has the edge in terms of soluble fiber. It's higher than the other two seeds in protein. This chart shows how hemp seeds compare with chia and flax in terms of nutrients Here's a handy chart comparing the major nutrients in chia, hemp, and flax seeds, reprinted from

Quick and Dirty Tips

: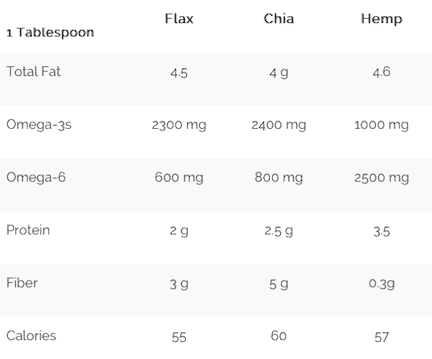 How to use hemp seeds nutrition in food
Hemp seed has a very mild, nutty flavor.  Like the other seeds, they're good in hot or cold cereals, smoothies, and soups, or just sprinkled on salads, casseroles, noodle dishes, or cooked grains. Just incorporate a tablespoon or two into your daily fare this way to reap the benefits. You can also try these tasty recipes that highlight hemp seeds: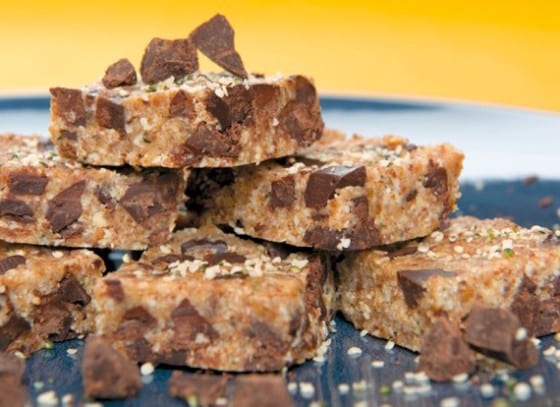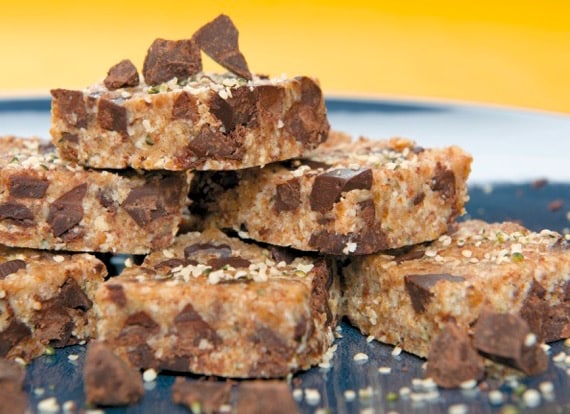 Hemp-Chocolate Chunk Blondies are the perfect power-packed pick-me-up with nuts, hemp seeds, dates, and chunks of dark chocolate. No need to reach for an unhealthy snack!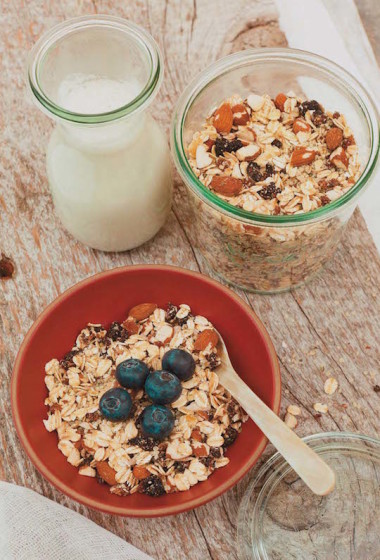 Cherry-Hemp Muesli is a simple European–inspired breakfast cereal that is easy to make and convenient to keep on hand for a quick breakfast. It's especially great to take with you when traveling.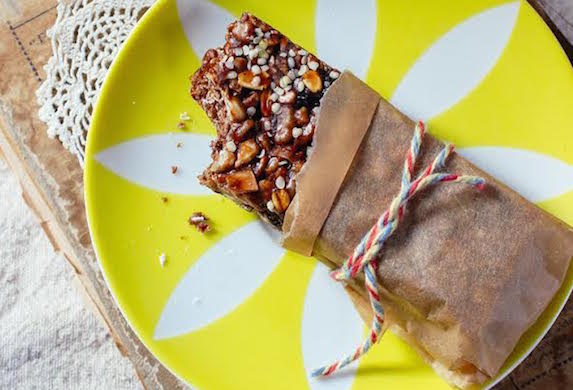 Pack up these nutritious Chocolate and Cherry Hemp Bars for a hike, or enjoy them as a simple treat. They're an amped-up, antioxidant- and protein-rich version of a rice crispy treat.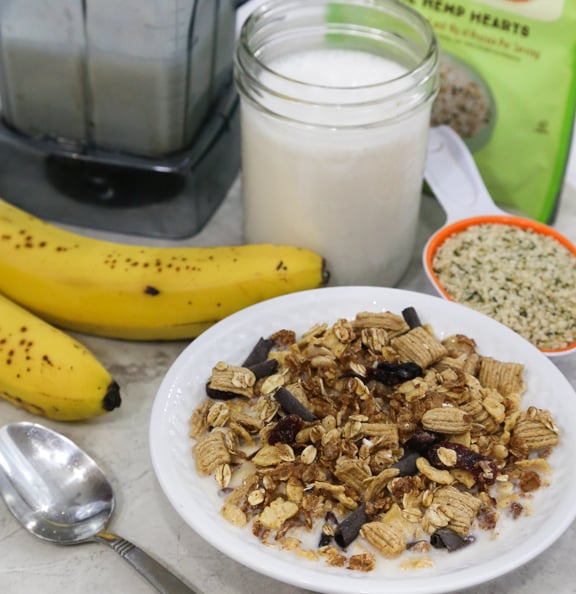 Hemp milk is delicious! Here's how to make homemade hemp milk, which is more economical and tastier than what you can buy.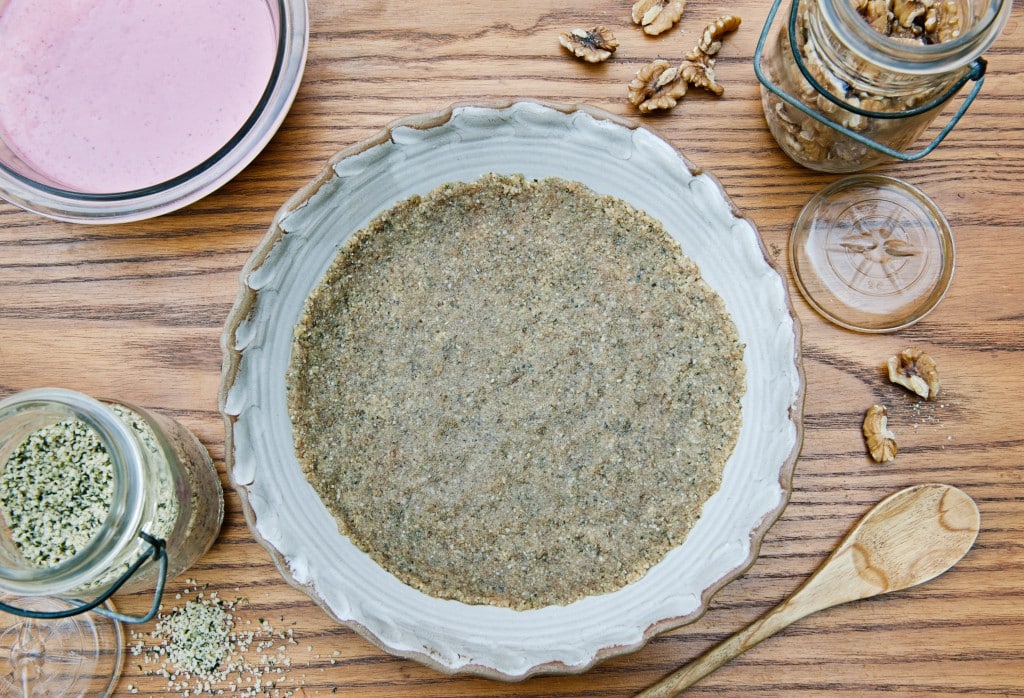 Walnuts and hemp seeds offer a tasty source of Omega 3s in this quick and easy raw Hemp Walnut Pie Crust. Fill it with your favorite fruit filling for a no-bake pie everyone will love.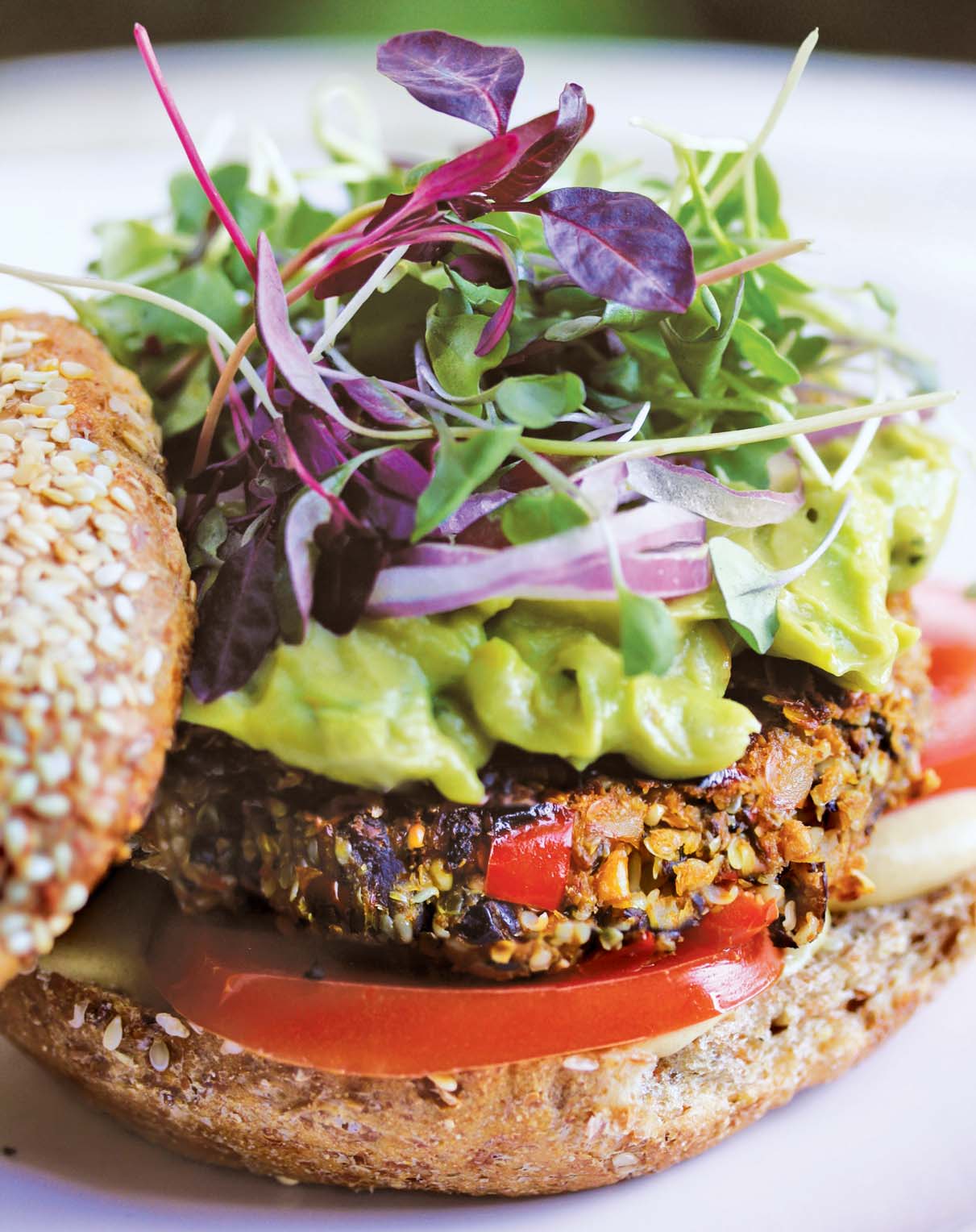 Perfectly aligned spices celebrate three plant-based protein sources: black beans, hemp seeds, and quinoa. These vegan Black Bean-Hemp Protein Patties.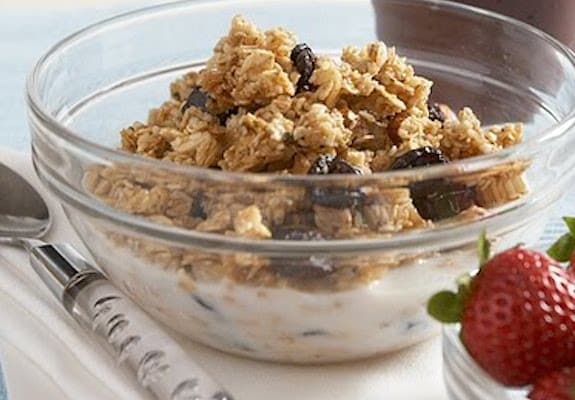 Hemp-anola (hemp granola) uses less oil than many granola recipe, for a lighter breakfast. Plus, hemp seeds add extra protein to this already nutritious cereal.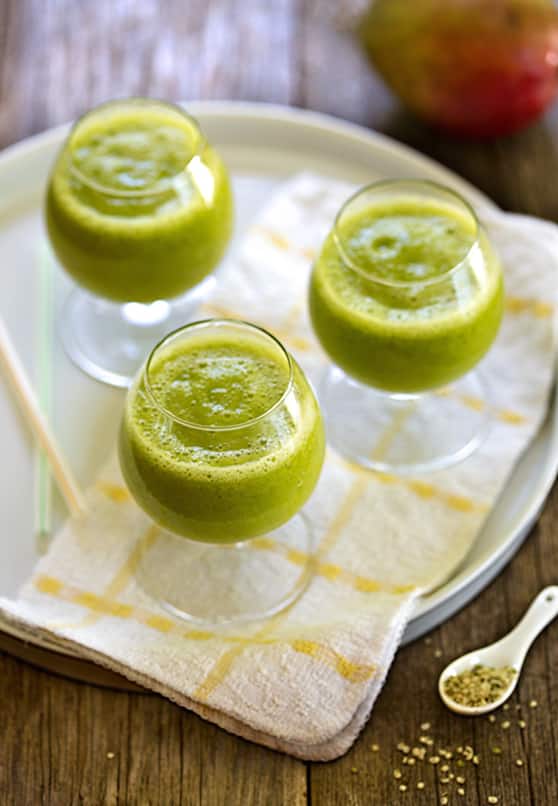 In this mild green Power Smoothie, dark leafy greens, hemp, chia, and fruit add up to a killer morning drink.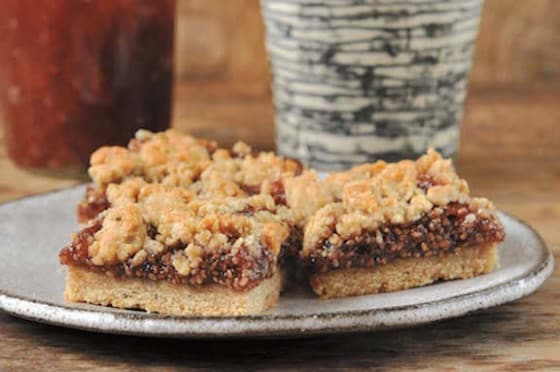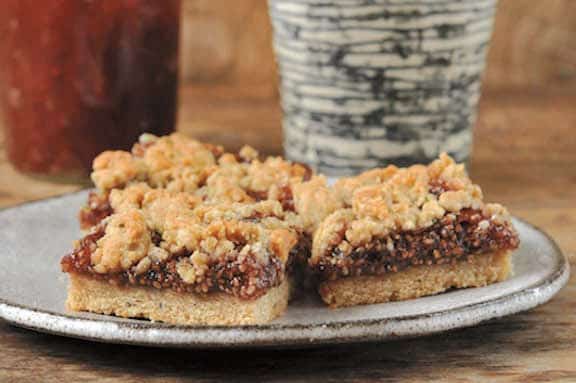 The good news about Sesame-Berry Squares is they're quite nutritious on top of being delicious—so thumbs way up if you feel like having seconds. In addition to sesame seeds, this treat contains plenty of hemp seeds, too.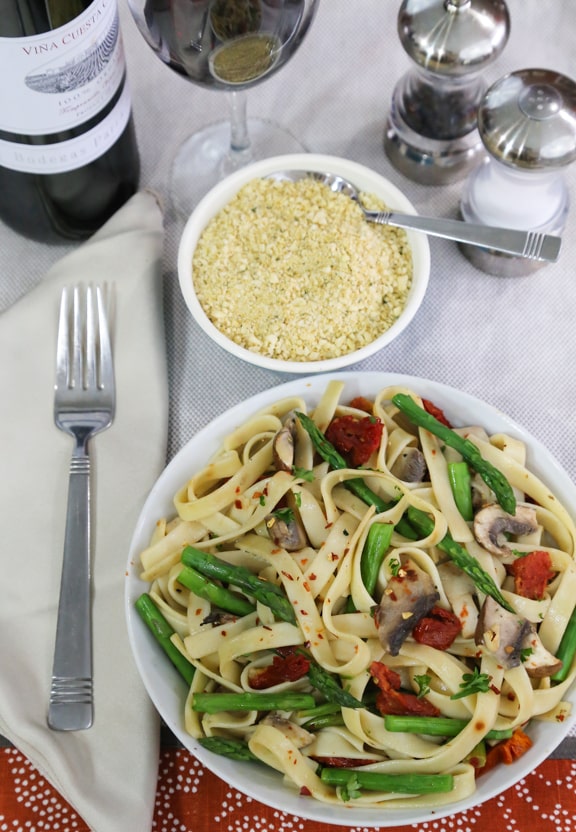 Store-bought vegan Parmesan topping is OK, but homemade Vegan Cashew or Almond Parmesan-Style Cheez is better! This nutritious nut-based dairy-free topping can be made in minutes, and you can incorporate plenty of hemp seed into it. Delicious on pastas and other savory dishes.
How do you get your hemp seeds nutrition? Shout out your favorite recipes in the comments!