If you're at all on top of food trends, you know what a big deal kale has become over the last few years. And for good reason — it's one of the most nutrient-dense foods on the planet. If you're already a kale fan, step it up a notch by learning how to make delicious raw kale salads—sometimes referred to as massaged kale salads. By massaging this hardy green, you'll see it soften, become brighter green, and feel it become more tender right in your (lightly oiled) hands. Most important, it will have a more pleasant mouth feel and flavor, making it a fantastic ingredient for a wide variety of salads, like our Southwestern Kale Salad, shown at top.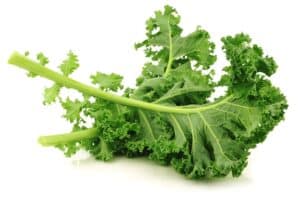 My favorite kind of kale for raw salads is the common curly green kale, at right. Lacinato kale (below) works well, too, as long as it isn't too large and tough to begin with. Here's how to massage kale:
1. Strip the kale leaves from the stems. If you want to use the stems, slice them very thinly and set aside; if not, discard them.
2. Cut the kale into ribbons or bite-size pieces.
3. Give the kale a good rinse, then dry it thoroughly. You can let the kale air-dry on a clean kitchen towel, blot between layers of paper towel, or twirl in a salad spinner. Transfer to a serving bowl.
4. Rub a small amount of olive oil onto your palms and massage the kale leaves for thirty to sixty seconds. Massage the ribbons until they turn bright green and soften. You can also use salad dressing to do this; some people even enjoy massaging their kale with mashed avocado. Any of these will work.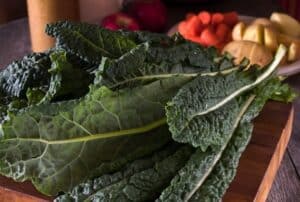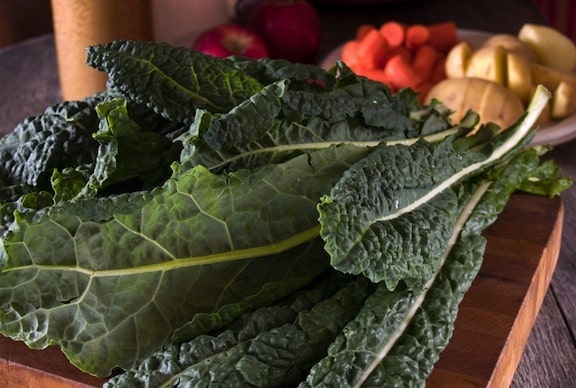 Once kale prepared in this way, you can create an amazing array of salads. Even when kale isn't the main leafy green in a salad, use this technique to prepare just a few leaves for adding to any kind of green salad, grain salad, or pasta salad. Try the easy ideas below or refer to the recipes for kale slaws that follow. Then use your creativity to create your own.
For each of these salads, start with a medium bunch of kale (about eight ounces), though you can use more or less to taste. Finish each salad with salt and freshly ground pepper, though this is optional. 
Mediterranean Kale Salad: To the massaged kale, add two or three medium chopped ripe fresh tomatoes, strips of sun-dried tomato, plenty of bell pepper strips, and chopped or whole cured black olives. If you're looking to bolster the protein content of the meal, add a cup or two of cooked or canned (drained and rinsed) chickpeas. Top the salad with thinly sliced fresh basil leaves.
Colorful Kale and Avocado Salad: Add a peeled and diced avocado, plus thinly sliced red cabbage to taste, sliced carrots, diced yellow squash, halved red and/or yellow fresh grape tomatoes, and sunflower or pumpkin seeds. Add a little more olive oil in addition to what you used for massaging, if you like, and some freshly squeezed or bottled lemon or lime juice.
Asian-Flavored Kale Salad: Massage the kale with dark sesame oil instead of olive oil, though this isn't mandatory. Add a medium red bell pepper, cut into narrow slices, three stalks bok choy with leaves, sliced (or 1 sliced baby bok choy), and one or two thinly sliced scallions. Dress with a sesame-ginger dressing (homemade or prepared). Nice optional additions include some crushed toasted peanuts or cashews, a drained can of baby corn, and four ounces or so of baked tofu, cut into narrow strips. This is a wonderful accompaniment to your favorite homemade Asian-style meals.
Here are a few more kale salad recipes: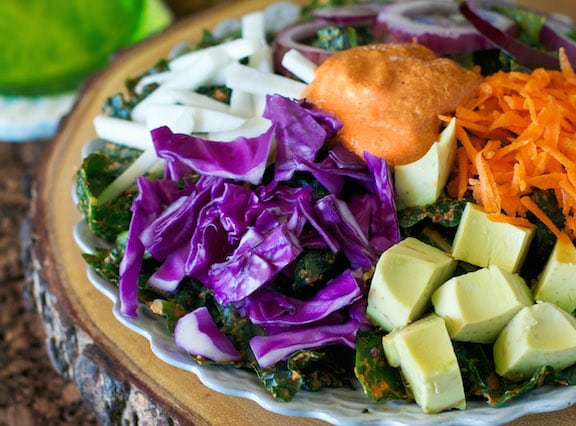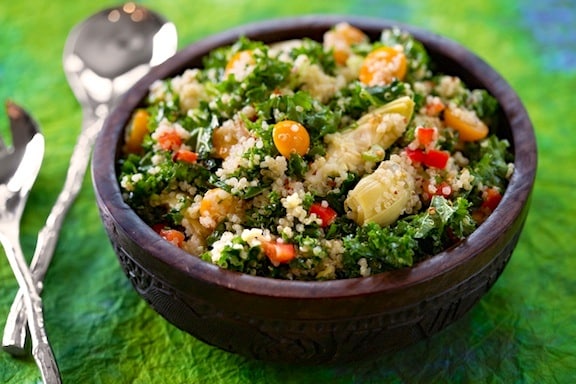 Kale, Quinoa, and Artichoke Salad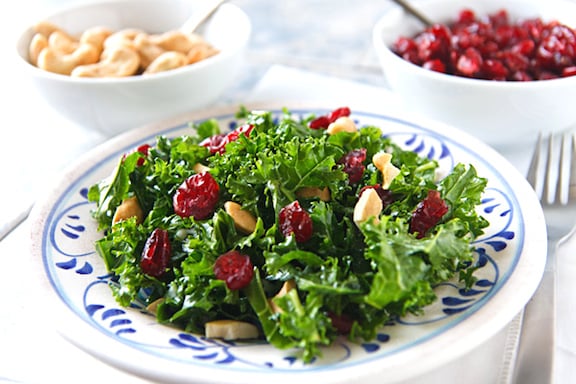 Masaged Kale Salad with Cranberries and Cashews