Ice Pop Joy by Anni Daulter is divided into several sections: Pure Fruit Pops, Veggie Pops, Yogurt Pops, Tofu Pops, Herbal Tea Pops, Chocolate Pops, and Specialty Pops. All recipes look quick and easy to make — pretty much simply combine the ingredients in a blender, then pour into popsicle molds.
A few are a bit fancier, with two or more layers or precooked ingredients, but even those look simple to accomplish. Each and every one of this book's recipes includes a color photo, some featuring really adorable kids enjoying the ice pops.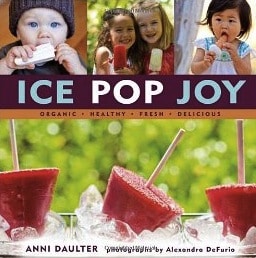 Here's a sampling of some of the recipes: Peace Pops contain carrots, strawberries, and mango; Cool-n-Fresh pops are made of cucumber, pineapple, lemon, and zucchini; Peanut Butter & Chocolate Classic pops consists of semi-sweet chocolate chips, organic peanut butter, wheat germ, bananas and soymilk.
Purple Fantastic Tofu pops are made with pears blueberres, raisins, sliken tofu and agave nectar. You get the idea — foods you want your kids to eat, fashioned into ice pops that look as enticing as they taste. And honestly, there's no reason why adults wouldn't enjoy these icy treats as well!
Sample recipes from Ice Pop Joy*:
If you're intrigued by the idea of making ice pops, you can find molds anywhere cookware is sold —even your supermarket. Explore some of the popular and very inexpensive choices on Amazon, such as Tovolo Groovy Ice Pop Molds and Okra Ice Pop Molds. 
*This post contains affiliate links. If the product is purchased by linking through this review, VegKitchen receives a modest commission, which helps maintain our site and helps it to continue growing!