Is this you: Are you someone who vows to eat more salad? Are you always promising yourself that you'll do better at eating some fresh raw foods with lunch or dinner? Making a simple salad isn't a big deal most of the time, but there are times when chopping a bunch of veggies can be less than appealing — whether you're hurrying to pack your lunch or coming home tired after a long day. Our no-chop power greens salad comes to the rescue. There's nothing to it other than layering a few veggies (and seeds) that need no prep at all. And it's easy on the eyes, too.
With this salad, there's also no need to measure. Use as much as you need to make one salad or two, or more. 
Serves: As many as needed
Time to table: 5 minutes
What you need

Baby power greens mix (see note)

Pre-grated carrots

Yellow and/or red cherry or grape tomatoes

Pitted green and/or black olives

Pumpkin or sunflower seeds

Your favorite dressing or olive oil and vinegar
What to do
1  For each salad, layer the greens, carrots, tomatoes, olives, and seeds on a plate or in a shallow bowl. As mentioned, no need to measure. Just use as much or as little of each ingredient as you'd like.
2  Drizzle with dressing, and enjoy!
Note: Find baby power greens near the spinach and spring mixes. What's included in power greens mix is baby kale, spinach, chard, and other greens.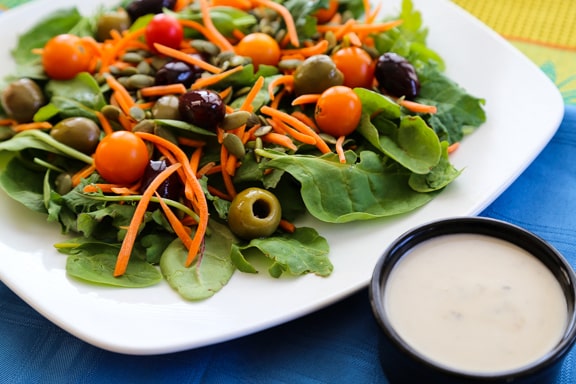 Photos: Evan Atlas