For those of us who love olives, tossing them into salads isn't enough! You'll find a listing of some our favorite super-tasty olive recipes after your introduction of some of the most popular varieties.
First, a few fast facts: Olives belong to the group of fruit called drupes that also includes mangos, plums and almonds, among others. They have been used for over 2,000 years by various cultures all over the world for food as well as medicine.
One serving of olives has only 25 calories and 2.5 grams of fat and count as a serving of fruit. Olives have no trans fats, no cholesterol, are low in carbohydrates and free of allergens. They are packed with monounsaturated fatty acids (the good fats!), vitamin A, C and E, iron, calcium and natural antioxidants.
Tip: If you're adding olives to cooked dishes, make sure to do so at the end. If cooked too long, they're prone to turn bitter or lose their flavor altogether.
Kalamata
Dark purple in color and almond shaped, these plump, large olives are available pitted or unpitted, with a meaty texture and a rich, salty flavor. Kalamatas are great alone, in pasta dishes, salads or with cheese or veggies.
Manzanilla (Spanish olive)
Round, green and fleshy, Manzillas are small to medium sized and come pitted or whole, with a somewhat nutty flavor. They're commonly used for stuffing with garlic or pimiento peppers. Manzillas go great with cheese or made into a hummus and are usually used in martinis.
Castelvetrano
Oval shaped, these olives are an intense green color, which sometimes turn to a brownish-green. Salty and sweet, Castelvetranos are milder than other olives so they won't overpower dishes when used. They go well in salads and sauces. These olives are commonly used to make olive oil.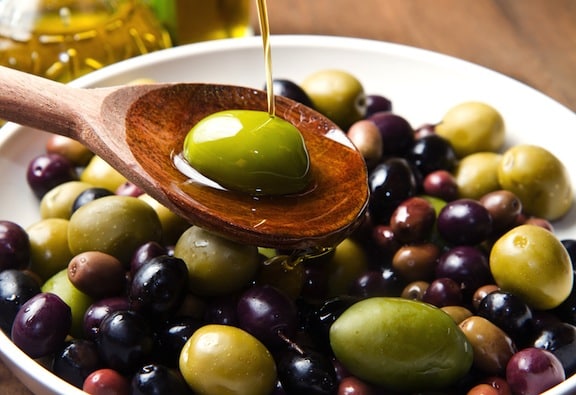 Greek black
These large, round olives are riper than some others, giving them their dark coloring. Greek black olives have a distinctive flavor that's salty and tangy. They are often eaten as a snack or appetizer and make a great addition to pizzas, salads, and pasta dishes. They're also good for making dips and spreads for bread and veggies. Although delicious, keep in mind these have the most sodium.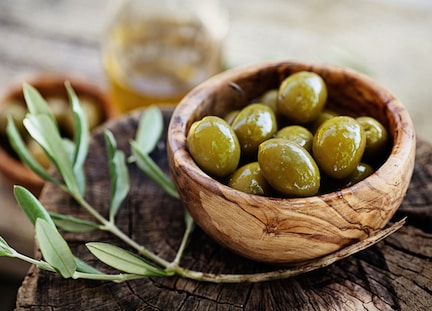 Picholine
Bright green and 'torpedo' shaped, these French olives offer a subtle saltiness with hints of herbal, floral, and fruity flavor. Because their crops tend to be smaller, they are less abundant than other olives. When produced in France they're preserved in Mediterranean herbs. Picholine are great alone and are good used as an appetizer with wine.
Niçoise
These small, oval olives range in color from purple to dark brown to black. Their mellow taste is a bit tart and nutty. The flesh is lean because of the large pit, but is still firm and juicy. Like the Picholine, Niçoise olives have small crops and are more available in the region of the French Riviera. When you buy these in the deli, they're most likely Niçoise-style olives.
Explore Vegkitchen's olive recipes:
Penne or Ziti with Roasted Eggplant, Bell Peppers and Olives