Delicious, vegan, raw, gluten-free, soy-free and easy to make meals…sounds hard to do but Amber Shea Crawley has done it in her book Practically Raw: Flexible Raw Recipes Anyone Can Make*(Vegan Heritage Press, 2012). Every recipe gets you excited to make and enjoy it. What's different about this book is that it presents both raw and cooked and baked options, all fairly easy, with additional substitutions and variations throughout.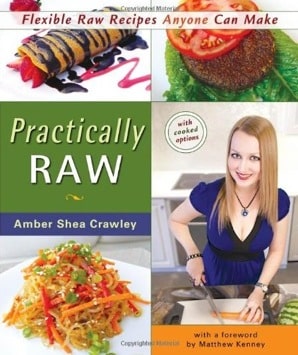 Even if you're not totally committed to a raw diet you'll love what's in this book. If you're interested in expiring a more raw diet, this book gives you a way to ease into it.  Amber Shea Crawley gives information on the benefits of a raw diet; here are a few:
Raw food has more of what your body wants and less of what it doesn't want, it's gentle on you digestion, they can help you live longer, help you maintain your ideal weight, and it is kind to the planet and animals. The beginning of the book really breaks it down for you, giving you everything you need to know about setting up your kitchen and pantry, as well as preparing some foods (like freezing bananas), guidelines and techniques. Within each chapter, some of the recipes include even more information and tips on certain ingredients, prep and cooking for a larger group.
Reading through these recipes and looking at all the pictures make my mouth water! And don't worry about your budget or if you don't enjoy the taste of an ingredient, because Crawley has made these easy to switch up so that they can accommodate you and your lifestyle. Everyone can and will enjoy these inventive and amazing recipes! We tried a few recipes from the book. A particular favorite was the Deconstructed Sushi Bowl. This clever salad presents all the delicious flavors of veggie sushi, without the bother of making rolls. The "rice" is actually very finely minced raw cauliflower. This one is definitely a keeper.
The Pizza Kale Chips are an unusual take on the ever-popular snack. The pizza-flavored sauce is make from raw sunflower seeds, dried tomatoes, nutritional yeast, and a few other ingredients. This sauce is insanely delicious, and would make a good dip on its own, or thinned out, as a salad dressing. The chips never really got crispy for us, though they still tasted good and were definitely edible! We may have added a bit too much water to the sauce, or maybe these work better in the dehydrator rather than with the oven option, as we did.
The Warm Apple-Walnut Cobbler was pure heaven. How clever to make a "caramel" sauce from sweet dates and almond milk. One of those "wish I thought of that" moments! It's a flexible dessert that can be served completely raw, dehydrated, or baked. We couldn't wait to try it and just served it raw, and it was spot-on.
Practically Raw* is filled with enticing photos and is written in a breezy, inviting style. We are looking forward to enjoying more raw and almost-raw recipes from this book as the weather gets warmer!
Amber Shea Crawley studied culinary and dedicates herself to raw and vegan cooking. She studied at the Matthew Kenney Academy and also received her Nutrition Educator certification at the Living Light Culinary Arts Institute. You can visit her blog at almostveganchef.com.
*This post contains affiliate links. If the product is purchased by linking through this review, VegKitchen receives a modest commission, which helps maintain our site and helps it to continue growing!