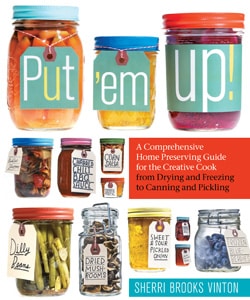 Sherri Brooks Vinton's Put 'Em Up!: A Comprehensive Home Preserving Guide for the Creative Cook*, is a must-have book for every green kitchen and is the best guide and crash course in drying, freezing, canning, and pickling so you can enjoy seasonal foods all year-round. She breaks down and illustrates all the steps, changing the mindset that home food preservation is difficult, dangerous, and time-consuming. I was still wondering, "Why do it?"…Vinton's answer: "Home-preserved foods are…delicious, high quality, economical, green, and traditional"… this was enough to make me check to see what tools I already had on hand to start a simple recipe.
I'm crazy about the simple yet eye-catching layout of the pages, and also the amazing accessibility of the book. Part One is dedicated to the various techniques of home food preparation (Blanching, Agua Fresca and Granita, Jams and Jellies, Vinegar & Fermented Pickles, Salsas, Chutneys and Relishes, Butters, Sauces and Ketchups) and preservation (refrigeration, freezing, infusion, drying and the Boiling-Water Method). So if you like the idea of food preservation but aren't inclined to buy a big canning pot and the other equipment that goes with it, there are so many other intriguing and easy ways to preserve fruits and vegetables, as described in this user-friendly guide.
Taking all the intimidating out of the process are simple drawings and straightforward step-by-step instructions—Vinton couldn't have made it easier. Even by going into the science of the foods and methods, it's all laid out in a way that excites instead of frightens. I never really thought about making jams or jellies before but I never thought it would be as simple or have so many varieties. Some I find most intriguing: Chili-Tomato Jam, Fennel and Onion Jam, and Sweet Pepper Jam; can't wait to try them!
Part Two is where you can find all the delicious recipes Sherri Brooks Vinton has created for preserving fresh foods. The recipes are categorized by food and you can easily flip through and find exactly what you want, as there are colorful labels at the edge of each page. For example, if your farm market or CSA has a bounty of beets, you simply find the section on beets alphabetically in the book and see the various methods described. On the first page of each category, Vinton offers a few paragraphs of information, ideas, a story and/or recommendations to introduce and give some ideas on the food before you start in on the recipes. Three recipes for you to sample are here on VegKitchen:
The back of the book is filled with useful resources for further reading, finding the right equipment, national organizations and local sources, where you can find information about when and where to find local foods. There is also an index, but you probably won't need it, because of the labels on each page! She also (on all the left pages within the recipes) gives the page numbers for the methods of refrigerating, freezing, canning, infusing and drying so you can effortlessly jump back to refresh your memory, if/when needed.
Sherri Brooks Vinton founded the FarmFriendly LLC to help make people aware of and to support local agriculture. In addition to Put 'Em Up!*, she has also written The Real Food Revival: Aisle by Aisle, Morsel by Morsel.*  For more on Sherri, visit her website.
*This post contains affiliate links. If the product is purchased by linking through this review, VegKitchen receives a modest commission, which helps maintain our site and helps it to continue growing!