Sesame seeds are worth more than their weight in gold! Sesame seeds' health benefits and uses in the kitchen are plentiful. Their flavor is mild and nutty, though it greatly intensifies when expressed into oil or are ground into a paste (known as tahini) or into a butter.

When buying sesame seeds, look for the whole, unhulled variety, which have not been stripped of their nutritious, deep-tan hulls. If they look shiny and white, this tips you off that they've ben refined. Look for black sesame seeds as well. They add visual interest to simple dishes. Whole sesame seeds will keep well for many months in a tightly lidded jar in a cool, dry place. Refrigerate them during the summer. 
Sesame seeds are 48 percent fat, with roughly equal parts polyunsaturates and monounsaturated and only a small proportion of saturated fat. Sesame seeds are about 18 percent protein. Two tablespoons contain 110 calories.
Sesame seeds are valued for their high vitamin E content. They are also rich in minerals iron, zinc, potassium, and phosphorous and provide substantial amounts of the B vitamins niacin and folacin. 
Sesame seeds are an excellent garnish sprinkled on almost any types of casserole, stir-fried vegetables, Asian noodles dishes such as vegetable lo mien, and green salads. 

Sesame seeds may be sprinkled over or incorporated into yeast breads, quick breads, crackers, and muffins.

Use whole or ground sesame seeds in granola or sprinkle a tablespoon or so over a serving of cold cereal. 

Toss a small quantity of sesame seeds into simple cooked grains such as brown rice or bulgur or into grain pilafs.

Incorporate them into homemade energy bars and other unbaked or baked desserts.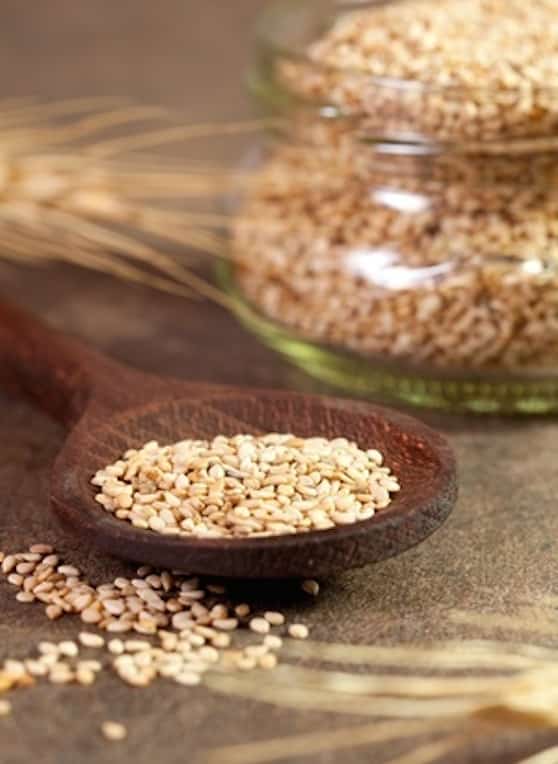 A few recipes that highlight sesame seeds:
For lots more features on healthy lifestyle, please explore our Healthy Vegan Kitchen page.
Here are more of VegKitchen's Natural Food Guides.