A review of The Blooming Platter Cookbook by Betsy Dijulio, contributed by Bryanna Clark Grogan: Betsy's writing makes one feel that a good friend is writing to one, sharing special recipes and sometimes the stories behind her inspiration.
Reading statements such as: "...I have been consumed by what I like to call intense 'investigative' home-cooking and entertaining — fueled by the advent of the food networks — ultimately leading to part-time free-lance food writing and a bit of teaching. I remain an 'independent study' student of all things culinary." and "For as long as I can remember, food has been the blaze that marked the path of my life.", as well as her preference for soy milk, make me feel sure that Betsy is a "kindred spirit" (as Anne Shirley of Green Gables fame was wont to say).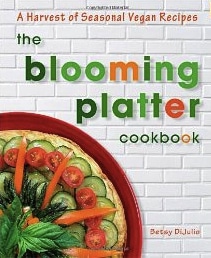 My overall impression after studying the book is that it is the work of a curious, inventive, creative, and discerning cook, whose sometimes rather unusual combinations of fruits, vegetables and herbs, and savory and sweet ingredients in the same recipe, are not only spot-on, but inspire quite a few "why didn't I think of that?" moments. Even without the lovely photos, one would find the recipes colorful and balanced, evidence of Betsy's artistic nature (she is a practicing artist and an art teacher).
Consider Creamy Summer Torta with Figs, with its savory, herbal vegan cheese filling and Balsamic reduction; or the startling Beet Muhammara  (the Turkish spread usually made with red peppers, here replaced by beets, walnuts, garlic, spices and pomegranate molasses); Blackberry and Corn Salad; Butternut Squash Bisque with Cranberry Gremolata; Curried Red-Lentil "Cheesecake" with Tamarind Sauce, to name but a few on my list of "got to make this" recipes. All I can say is, "Bravo, Betsy!"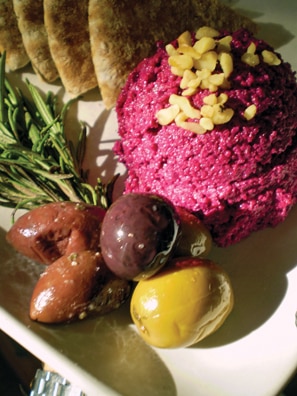 (Oh, and by the way, there are a fair number of "basic" recipes in the book which you will probably want to use often in your own recipes, too—White Bean Sausages, at least four homemade vegan cheeses, and Blue Cheese Sauce.)  
You're going to find many recipes in The Blooming Platter Cookbook* that will surely send you into the kitchen on a colorful culinary adventure—perhaps not the same recipes that call to me, but, believe me, there's something  for everyone in this lovely, delectable, and eminently usable vegan cookbook. Enjoy!
A pair of recipes from this book here on vegkitchen:
Read more of VegKitchen's book reviews.

*This post contains affiliate links. If the product is purchased by linking through this review, VegKitchen receives a modest commission, which helps maintain our site and helps it to continue growing!