Reviewed by Rachael Braun. This book is packed with everything you need to know about gluten-free vegan cooking. The Complete Idiot's Guide to Gluten-Free Vegan Cooking* (Alpha Books, 2011) by Julieanna Hever and Beverly Lynn Bennett starts by giving you an amazing overview of gluten intolerance, where to find hidden gluten, and the benefits of a vegan diet.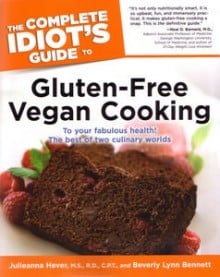 It can be hard to have one dietary restriction, but with two in the mix, things can get complicated. This book will give you a new view on all you can do and make it apparent that you need never feel deprived! There are so many ingredients you can create delicious and nutritious meals with.
In addition, there are lists of things like nuts and seeds that you can keep on hand at all times and add to almost any meal. For example, flax and chia seeds are excellent sources of omega-3 fatty acids and I have them in my kitchen at all times. I love sprinkling flaxseeds on my gluten-free pizza before putting it in the oven, for instance. Another great tip—put your leftovers in the freezer for later, maybe for an occasion you have to bring your own food to because you know there won't be any gluten-free and vegan options.
Part 2 of the Guide starts in on the recipes. of which there are plenty! And for each recipe there are variations, tips, and definitions. Everything is covered, from your three square meals a day to snacks, sweets, and baked goods. If you're gluten-free AND vegan, this book is a must-have for your kitchen. Even if you feel you have a good grasp on your unique diet, this guide will surely show you something new. Here are a a trio of recipes from  The Complete Idiot's Guide to Gluten-Free Vegan Cooking* here at VegKitchen:
Julieanna Hever is a plant-based dietitian who is also a personal trainer and a health and nutrition counselor. Hever gives many lectures and writes columns for various publications. She is also involved in the documentary, To Your Health. Check out her other guide The Complete Idiot's Guide to Plant-Based Nutrition* and her website toyourhealthnutrition.com. Beverly Lynn Bennett is a vegan chef and writer that has been featured in many publications, television programs and online. She has written two other guides, The Complete Idiot's Guide to Vegan Living* and Vegan Cooking,* as well as an e-book Eat Your Veggies! You can learn more and visit her at veganchef.com.
*This post contains affiliate links. If the product is purchased by linking through this review, VegKitchen receives a modest commission, which helps maintain our site and helps it to continue growing!