Sweltering temps have blanketed the Northeast again just as Hannah Kaminsky's third book, Vegan a la Mode,* has hit the shelves. Icy cold treats are the perfect solution and Kaminsky's sumptuous photos and highly creative recipes will have you ordering an ice cream maker before you can click out of this post.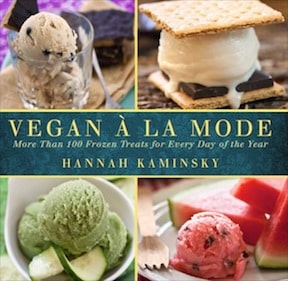 She sets the stage for her recipe categories with a glossary of ingredients to help guide us through any unfamiliar items (Ricemellow Creme as a vegan equivalent for Marshmallow Fluff, who knew?). She also covers useful basics like the distinction between semi-sweet and bittersweet chocolate and which non-dairy margarine tastes and performs the best.
"Kitchen Tools and Toys" covers essential recommendations for how to chose ice cream machines, popsicle molds and even ice cream scoopers (bet you haven't thought about spring loaded vs. spade).
Reading straight through "Essential Techniques" I learned more about toasting and grinding whole spices and how to assemble ice cream sandwiches, than I ever thought I would be interested in.
But the joy of this volume is in the creative categories and recipes within.
"Bakery and Candy Shoppe Inspirations" includes "blueberry muffin ice cream" for die hard berry pickers while "cookie monster ice cream" is perfect to welcome the kids home from a sweltering day at camp or beach.
Hannah doesn't fool me into imagining that only basics will be covered in her chapter, "Chocolate and Vanilla." I know to expect more, being a loyal reader of her Bittersweet blog posts. Still, "Naked Frozen Yogurt" is a starting point for toppings and mix ins.
I love full throttle flavor and texture in my ice cream and gravitate to "Mouse Tracks," which she introduces in her whimsical way:
"Confusion over the origins of the name 'moose tracks' can be excused with just one glance at this swirled and speckled flavor, absolutely stuffed to the brim with sweet buried treasures …  Since the original name makes so little sense, I like to believe that my modification to 'mouse tracks' is a fittingly inexplicable alteration." See why I love her writing?
Care for something distinctly adult? Check out Turkish Coffee Ice Cream and imagine fragrant cardamom matching the punch of deep espresso flavor.
Avocado (a whole one!) and freshly crushed peppermint leaves combined with raw cashews, resulting in grassy brightness in her recipe for Winter Mint Ice Cream. Kaminsky suggests substituting basil leaves and chocolate chips as an alternative in this unexpected recipe.
She thinks WAY out of the box and asks us to join her on her fanciful journey. I'm game!
For kosher keepers hankering for ice cream after their meat meals, or for anyone lactose intolerant, or vegan,  this volume is a godsend.
Sample recipes from Vegan a la Mode:*
Reviewed by Liz Arronson Reuven of Kosher Like Me.
See more of Hannah Kaminsky's recipes on VegKitchen.
Read more of VegKitchen's 

book reviews.
--
*This post contains affiliate links. If the product is purchased by linking through this review, VegKitchen receives a modest commission, which helps maintain our site and helps it to continue growing!