Want cookbooks that are like having a good friend helping you out in the kitchen? Look no further than  Quick and Easy Vegan Comfort Food by Alicia C. Simpson (The Experiment, 2009) and Quick and Easy Vegan Celebrations* (The Experiment, 2010). Alicia got tired of starving at parties with no vegan options and not being able to enjoy those great 'down-home' comfort foods she grew up with. You can't ask for more with these two cookbooks, Alicia makes vegan cooking non-intimidating and comfortable.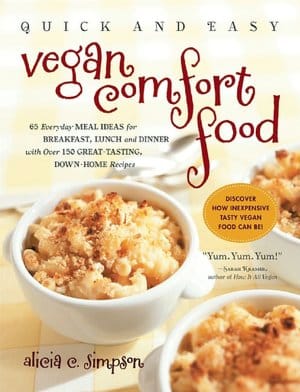 In Quick and Easy Vegan Comfort Food,* after an introduction of her road to veganism, Alicia starts out by putting some vegan myths to rest and giving charts on proteins, calcium and iron found in many ingredients of a vegan diet. She goes into detail of some staples of the diet and what you should have on hand in your pantry.
Aliciaalso has guides to dairy-free substitutions, homemade egg replacers, grains, herbs and spices and cookware. Before she even breaks into the recipes we are given a whole chapter on energy-boosting green smoothies and 65 meal ideas which pairs some of her recipes together for a great little feast for breakfast, dinner and on the go! Alicia continues by breaking the book down into these chapters: Breakfast, Side Dishes, Soups and Salads, Main Courses, Sauces, Dips and Dressings and finally Desserts. One of my favorite features of this book is that Alicia gives some recipes a $ symbol, highlighting 'budget-friendly' recipes!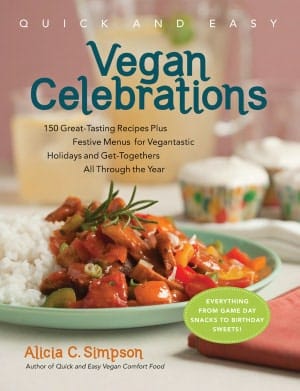 Alicia makes Quick and Easy Vegan Celebrations* just as warm and comforting her other book and allows you to be stress free when planning for a party, whether you're throwing it or going to it. She has made a menu for each holiday and makes each recipe accommodating for a small group or a large gathering. Again, she makes sure to add sections planning what you should have on hand in the kitchen and good substitutions, as well as the cookware and gadgets needed.
There's a chapter for each holiday and celebration: New Year's Eve, Game Day Spread, Valentine's Day, Mardi Gras, St. Patrick's Day, Easter, Cinco de Mayo, Independence Day, Halloween, Thanksgiving, Hanukkah, Christmas, Kwanzaa, Birthday Sweets and ends with The Basics, a helpful section. I know a lot of people that will be thankful I told them about this book, especially those that have to cook for many different diets and many different holidays at the same time!
Find some of Alicia's recipes on VegKitchen:
Alicia C. Simpson lives and cooks in Atlanta, Georgia where she is the founder of Lici's Sweet Treats Organic Bakery. Her new book, Quick and Easy LOW-CAL Vegan Comfort Food* is due to come out in January 2012. She is also the creator of two blogs, Vegan Guinea Pig and The Lady and Seitan. You can visit her website here.
*This post contains affiliate links. If the product is purchased by linking through this review, VegKitchen receives a modest commission, which helps maintain our site and helps it to continue growing!