Carrots are a fantastic vegetable to incorporate into your daily diet — filled with Vitamins A and C, they're also a great source of fiber. Most kids and picky eaters don't object to carrots even if veggies aren't their thing. Whole carrots, baby carrots, grated carrots — they're all good. Grated carrots can go into so many kinds of dishes or star in other, but if you're not inclined to peel and grate whole carrots, take advantage of pre-grated carrots from the supermarket.
In our Vegan Food Hacks kitchen, we love them, and even when other kinds of carrots are in the fridge, as they usually are, there's often a bag of them on hand to toss into all manner of dishes or as a foundation for simple salads. Here's a sampling ways to use pre-grated carrots.
1  Wrap them up
Grated carrots add lots of color and crunch to the simplest of wraps. Try them in yummy Asian-Flavored Quinoa Wraps, shown at top.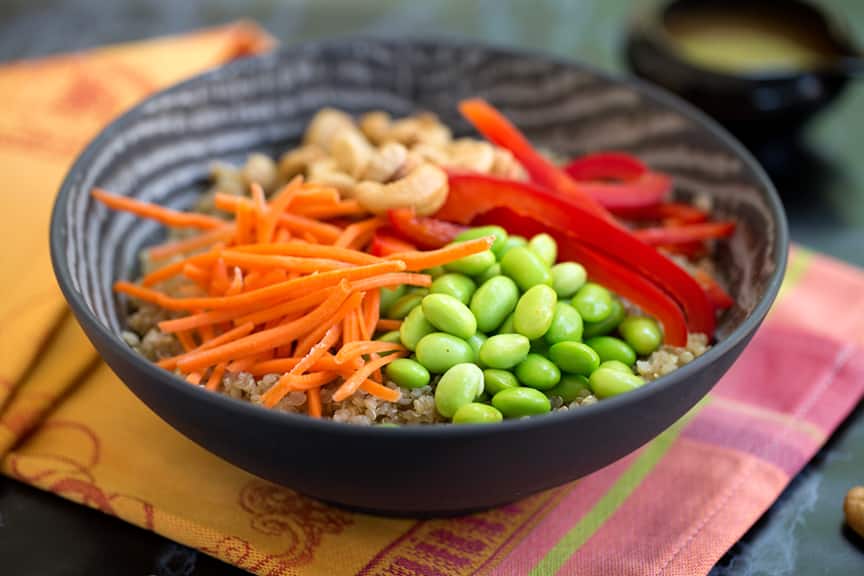 2  Use them as bowl toppers
The idea behind bowls is that they're one-dish (or more precisely, one-bowl) meals. You've got grains or noodles as the base, topped with a protein or two and a raw veggie or two. And we love using grated carrots as one of those veggies, as we've done in Colorful Quinoa Protein Bowl.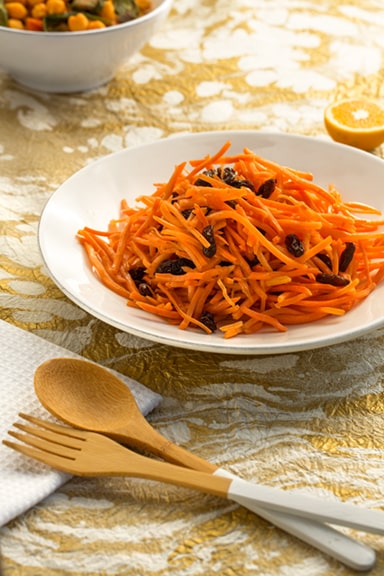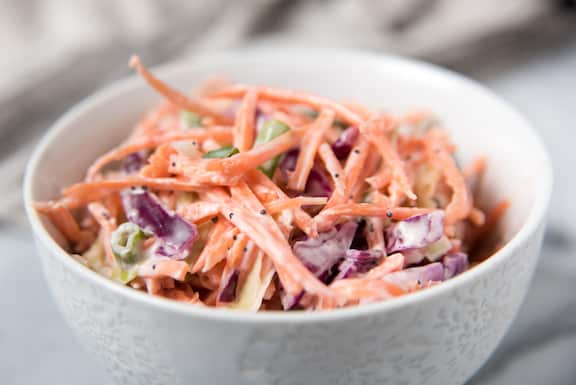 3  Start simple salads and slaws with them
Classic Carrot Raisin Salad goes with just about anything, and might just be the first that kids will enjoy, and you really don't need a recipe to make it; simply combine grated carrots with as many (or few) raisins as you'd like; add a splash of lemon juice and agave or maple syrup.
 You can also use grated carrots in equal measure (or more!) in slaw-style salads. Simply combine with shredded cabbage, or add to precut slaw to boost nutrition and flavor, and dress in vegan mayo (or other favorite dressing) with a splash of lemon juice.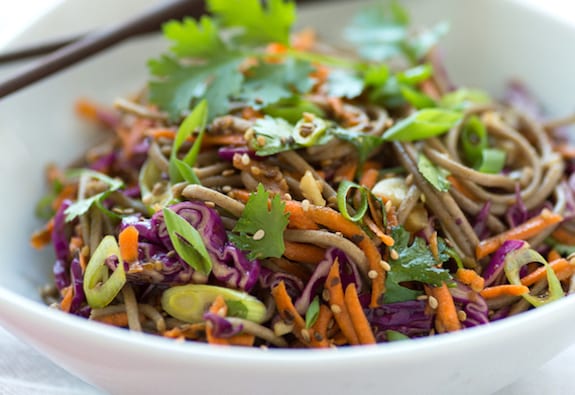 4  Partner with noodles 
Any stir-fried noodle dish can benefit from some grated carrots tossed in, whether lightly cooked or stir-fried, or combined raw with cooked noodles. Try Super-Easy Sesame Soba Noodles, which is great served warm or at room temperature.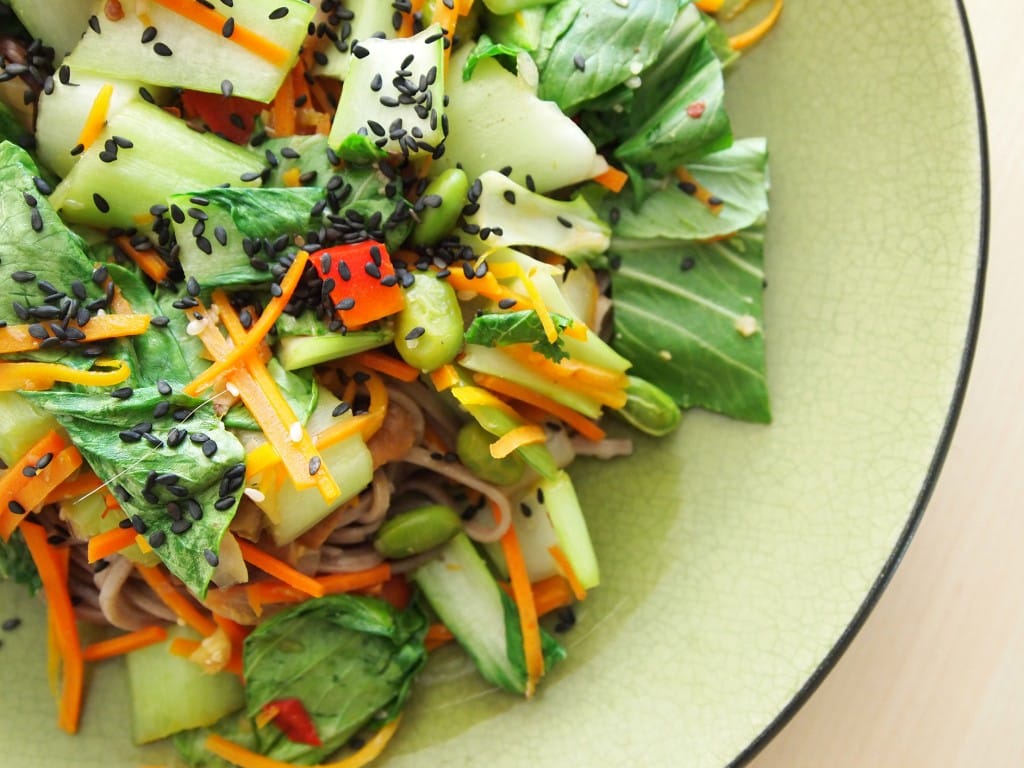 4  Stir into vegetable stir-fries
Toss a generous amount of pre-grated carrots into any kind of vegetable stir-fry to add even more color and nutrients. Case in point, Spicy Orange-Sesame Stir-Fry by Dianne Wenz. Need we say more?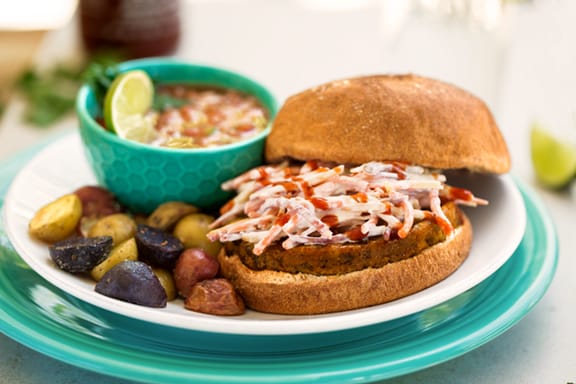 5  Embellish veggie burgers and sandwiches
Combine grated carrots with grated cabbage or precut slaw, or just use them on their own, to embellish homemade or store-bought veggie burgers. That's what we did for our Super-Quick Veggie Burger and Gazpacho Dinner.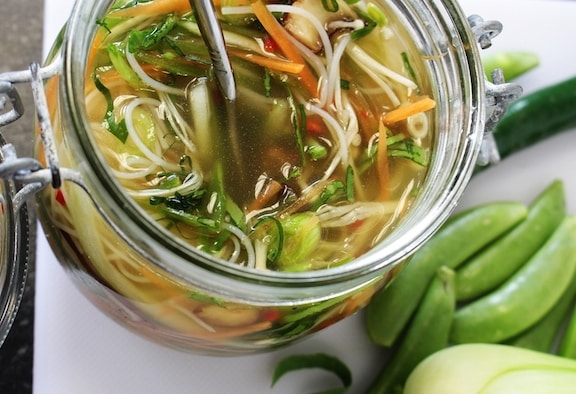 5 Simmer in soups
You can toss grated carrots into soups to your heart's content. They're a time-saver to use in borscht, in which lots of veggies need to be grated, and go especially well with Asian-style soups such as Asian Mushroom-Noodle Soup.