October is a month of surprises — hence the expression, "October surprise." That goes for the weather — you never know if you're going to get a heavy frost or a warm spell, making meal planning a bit of a challenge. These easy and tasty plant-based meals hit the happy medium — they're hearty and filling, but not the kind of cold-weather fare we'll soon be craving. First up, a simplified version of Chana Masala, a popular Indian dish deaturing tasty chickpeas. Serve with hot cooked grains and/or a fresh flatbread. A simple salad of tomatoes and cucumbers in coconut yogurt adds a refreshing note to the meal.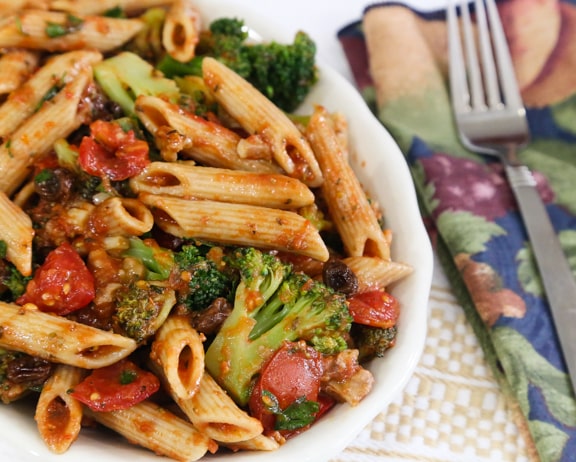 Penne and Broccoli with Tomatoes, Walnuts, and Raisins is filled with a variety of delicious flavors and textures. And a Robin Robertson recipe never disappoints. Put together one of our recipe-free Fruity, Nutty Mixed Greens Salads to accompany this flavorful pasta dish.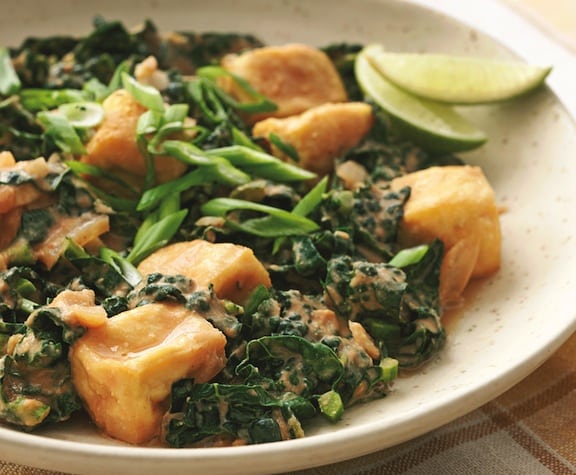 VegKitchen readers love Dr. Joel Fuhrman's Spicy Thai Braised Kale and Tofu. Peanut butter is the secret to this tasty, nutrition-packed dish.Serve with brown rice or quinoa and a colorful salad for a great weeknight meal.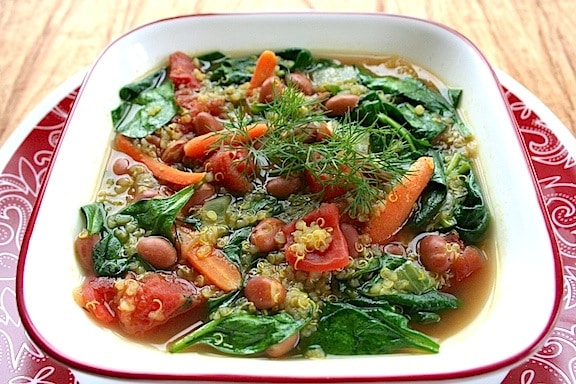 If you're craving soup but reluctant to start making one when you get home from work, Pink Bean, Quinoa, and Spinach Soup might be just the thing you're looking for. An appetizing, mildly spiced mélange of nourishing beans, quinoa, and greens, it's done in 30 minutes or less. Quinoa is an excellent source of protein, making this practically a meal in a bowl. Serve with a crusty bread and a platter of raw veggies and dip.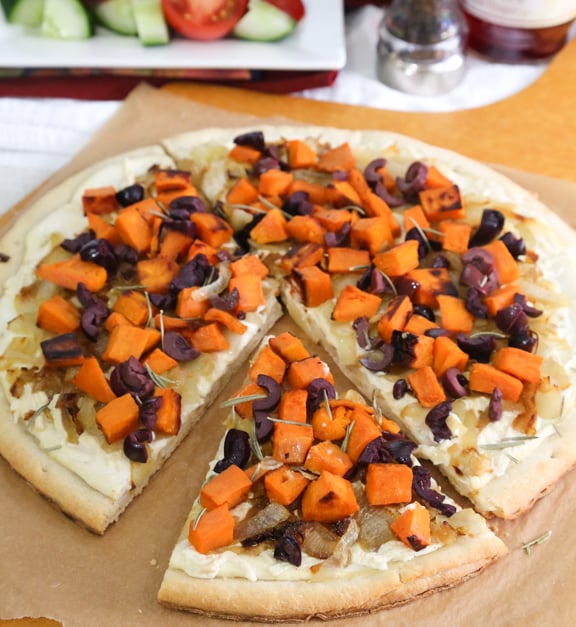 End the week with a delectably different kind of pizza night. White Pizza with Sweet Potato and Carmelized Onions is one of our fall favorites. All you need to complete the meal is a simple salad.