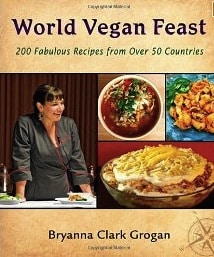 Open to any page of World Vegan Feast: 200 Fabulous Recipes from Over 50 Countries* and you know you're in the hands of a pro. Bryanna Clark Grogan has written 8 other cookbooks, and has more than two decades of experience as a chef, teacher, and journalist. Classics from a multitude of global cuisines are veganized with authentic flavors, ingredients, and techniques. This means that you may have to search for ingredients beyond supermarket shelves, and spend more than 30 minutes on a recipe, but if you're looking for adventure in the kitchen, with recipes you don't see everywhere else, this is the book for you.
This book offers a plethora of plant-based pleasures, from brunch fare (Creole French Toast with Hot Brown Sugar Sauce) to "international munchies" (Vietnamese-Style Mango Salad Rolls with Smoked Tofu) to fanciful main dishes (Moroccan Savory Celebration Pie) to sweets and breads (Scandinavian Christmas Bread). The recipes frequently require another recipe to be made first, as in the Pastry-Wrapped Russian Loaf, which lists two recipes within the recipe—Vegan Salmon, as well as Vegan Besciamella Sauce.
In this book, earthy fare like Seitan, Beer, and Caramelized Onion Stew (Belgian Carbonnade) sits side by side with veganized classics like Seitan Steak au Poivre. You'll find lots of cooking tips and techniques, and a resource guide for hard-to-find ingredients. It also has an excellent index, which is getting to be a rare thing in today's publishing world. Among these  200-plus recipes are also plenty of simple yet splendid recipes to sample. Here are two of them:
Italian Baked Fruit-Stuffed Peaches
And here are two additional recipes that Bryanna contributed to VegKitchen in the recent past:
World Vegan Feast* by Bryanna Clark Grogan is published by Vegan Heritage Press (© 2011).
*This post contains affiliate links. If the product is purchased by linking through this review, VegKitchen receives a modest commission, which helps maintain our site and helps it to continue growing!